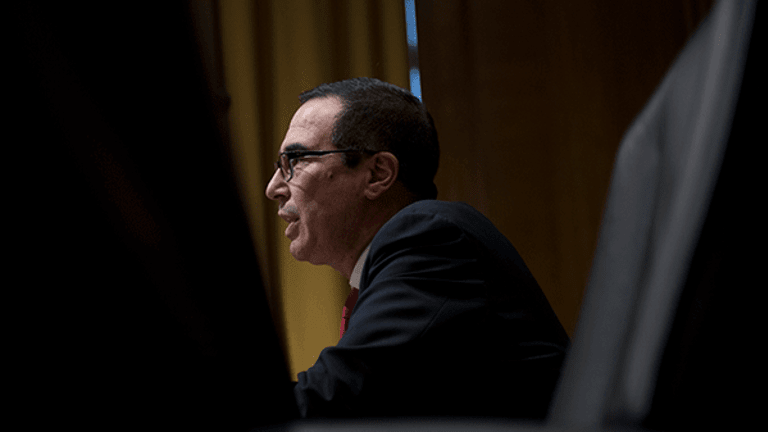 Mnuchin Puts Kibosh on Border Tax as House Debates Measure
Lawmakers may be wasting their time in continuing to debate the border adjustment tax.
Lawmakers may be wasting their time debating the border adjustment tax, because it looks like Team Trump won't go for it.
The House Ways and Means Committee on Tuesday hosted a panel to discuss the revenue-raising proposal that taxes imports and exempts exports. Elsewhere in Washington, Treasury Secretary Steven Mnuchin said the administration has doubts about the measure's ability to level the playing field.
The border adjustment tax, in its shortened version referred to as the BAT, is part of the Better Way tax blueprint put forth by House Republicans last summer. Intended to raise $1 trillion in revenues over the course of a decade, the measure has generated fierce opposition among retailers and garnered support from exporters and manufacturers. It would impose a 20% tax on importers.
President Trump has yet to weigh in definitively on the BAT, but Mnuchin speaking at the Peter G. Peterson Foundation Fiscal Summit on Tuesday gave the strongest signal yet as to which way the White House leans.
"One of the problems with the border adjusted tax is that it doesn't create a level playing field," he said. "It has very different impacts on different companies, it has the potential to pass on significant costs to the consumer, it has the potential of moving the currencies."
Mnuchin's remarks came as House Ways and Means Committee Chairman Kevin Brady (R-TX), Ranking Member Richard Neal (R-MA) and other members of Congress hosted a panel of executives and economists debating the merits of the BAT.
Target (TGT) CEO Brian Cornell and Archer Daniels Midland Company (ADM) Juan Luciano took opposing sides of the argument.
Cornell warned that the BAT would harm consumers and more than double his company's effective tax rate, which he said is already 35%. "It's not just us. More than 500 companies and associations feel the same way," he said, name-checking coffee shops, car dealers, grocery stories, gas stations and restaurants. "Under the new border adjustment tax, American families -- your constituents -- would pay more."
Luciano said the BAT would "level the playing field" for U.S. companies against foreign competitors.
Lawrence Lindsey, a conservative-leaning economist and CEO of the Lindsey Group, weighed in in favor of the BAT, while Reed College economist Kimberly Clausing argued against. William Simon, former president and CEO of Walmart (WMT) U.S., took a neutral approach. "Properly implemented, it is in the best interest of our country for this to be considered," he said.
Detractors of the BAT say it would create winners and losers and ultimately pass price increases onto consumers. Proponents of the tax say it is a fairer system.
Panelists on Tuesday debated a central theory of the border adjustment tax, which is that it would ultimately balance itself out through currency fluctuations. The idea behind the BAT is that it would cause the dollar to strengthen, but not everyone is so sure.
Cornell on Tuesday called it an "unproven and untested" theory. "That might work in a textbook," he said.
He noted that Federal Reserve Chair Janet Yellen expressed doubts about its effects in a Congressional hearing in February. "The problem is there's great uncertainty about how in reality markets would respond to these changes," she said.
Global currency trading average $5 trillion a day, and 88% of all trades involve the dollar, Clausing said on Tuesday. "The exchange rate is very difficult to forecast," she said.
Lindsey pushed back. "Markets move ahead of reality," he said.
To be sure, a dollar-strengthening border adjustment tax might not be welcomed by the Trump administration.
The president has openly fretted whether the dollar might be getting too strong. "It's very, very hard to compete when you have a strong dollar and other countries are devaluing their currency," he said in an April interview with the Wall Street Journal. He made similar remarks in January.
Representative Jim Renacci (R-OH) at Tuesday's hearing asked all five panelists whether they could guarantee that currency would adjust under the BAT so that there will be no effect on consumer costs.
Cornell was the only witness to answer. "No, I can't," he said. The rest remained silent.