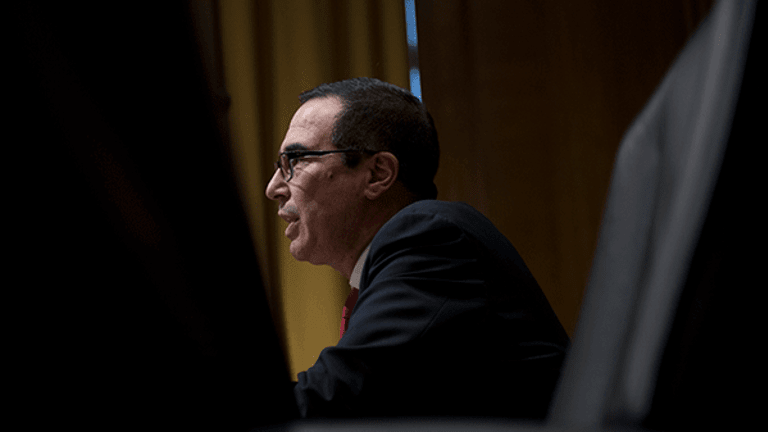 Mnuchin Calls for Congress to Raise Debt Ceiling, Heading Towards Potential Clash
Treasury Secretary Steve Mnuchin is calling on Congress to raise the debt ceiling, heading towards a potential clash with other members of the Trump administration.
Treasury Secretary Steve Mnuchin is calling on Congress to raise the debt ceiling, heading towards a potential clash with other members of the Trump administration.
The former Goldman Sachs (GS) - Get Goldman Sachs Group, Inc. Report  executive penned a letter to Speaker of the House Paul Ryan asking for him to increase the debt limit, set to expire on March 15. He said in the communication, dated Wednesday, that "honoring the full faith and credit of our outstanding debt is a critical commitment" and encouraged Congress to increase the limit "at the first opportunity so that we can proceed with our joint priorities."
Identical letters were sent to House Minority Leader Nancy Pelosi, Senate Minority Leader Chuck Schumer and Senate Majority Leader Mitch McConnell.
Mnuchin said Treasury intends to take "extraordinary measures" to prevent the United States from defaulting on its obligations.
The Treasury Department is suspending the sale of State and Local Government Series (SLGS) securities, he said, which are special-purpose Treasury securities issued to states and municipalities to help them conform to certain tax rules. The suspension of the securities, which count against the debt limit, will start on March 15 and last until the debt limit is raised or suspended.
A representative for Speaker Ryan did not immediately return request for comment on the letter.
Mnuchin's position comes as little surprise -- he said at his January confirmation hearing that he would like the U.S. to raise the debt ceiling "sooner or later." But it could put him at odds at others in the Trump administration -- namely, Office of Management and Budget Director Mick Mulvaney.
Mulvaney, a former member of the House of Representatives, is the co-founder of the conservative House Freedom Caucus and was a fierce debt hawk under President Obama, voting against raising the debt ceiling several times.
Mulvaney addressed the issue during his confirmation hearing in front of the Senate Budget Committee. He admitted that "bumping up against the debt ceiling is an undesired situation" and said it has been used to pass legislation on the deficit. In a written response to senators, he acknowledged that "defaulting on America's debts would have grave worldwide economic consequences" but added that he does not believe breaching the debt ceiling would "automatically or inevitably lead to that result."
White House Press Secretary Sean Spicer on Thursday addressed the issue today at his press briefing.
"I think we've got a few months to do that," he said, regarding addressing the debt ceiling. "Part of the reason why the President has addressed our budget the way he has is try to get our nation's debt deficit and budget in order. I think he's continuing to show a tremendous respect for tax payer money, the way we spend money and bring it down. But obviously, there are certain things that are a little beyond our control when we walked into this building and we're going to work with Secretary Mnuchin and Director Mulvaney to address this issue and obviously work with Congress."
"There is no daylight between the Director and Secretary Mnuchin,'' according to OMB communications director, John Czwartacki.
Congress struck agreements in 2013 and 2015 to suspend the debt ceiling, and it is being called upon to do the same now.
Updates to include comment from OMB.
Correction: Article previously identified Chuck Schumer as the Senate Majority Leader. He is the Senate Minority Leader.