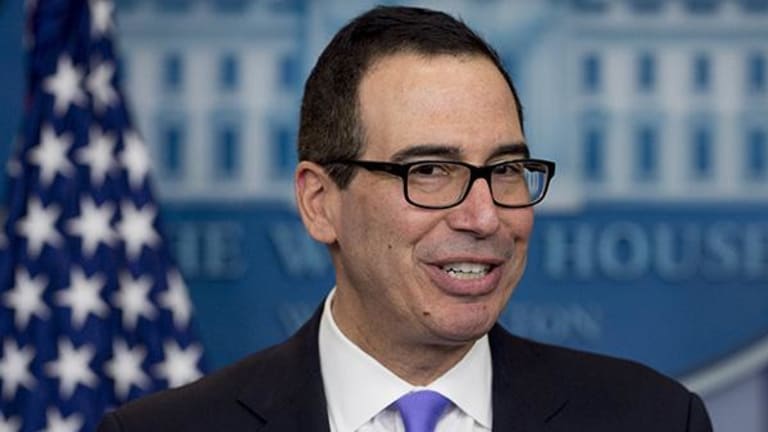 Mid-Cap Bank M&A Could Surge as GOP Looks to Overhaul Financial Regulations
The gulf between the Republican wish list on financial regulations and the legislative reality is large.
The gulf between the Republican wish list on financial regulations and the legislative reality is large.
The House of Representatives last week passed legislation to roll back large portions of the 2010 Dodd-Frank Act, and the Treasury Department on Monday released a 160-page report proposing changes to financial regulation in the United States. Despite the rhetoric coming from some corners of the GOP, a mass overhaul of the financial regulatory system is not on the horizon -- but there are some items that could make it through the legislative process.
"It's easy to mistake motion for progress when it comes to this issue," said Compass Point analyst Isaac Boltansky.
The House approved the 600 page Financial Choice Act championed by Representative Jeb Hensarling (R-TX) on Thursday, essentially sending it to the Senate to die. Senate Majority Leader Mitch McConnell (R-KY) in May told Bloomberg News he's "not optimistic" on dismantling Dodd-Frank. "RIP Choice Act," wrote Capital Alpha Partners' Ian Katz in a note to investors following the bill's House passage. "Choice will become like a house plant that gets moved to a spot where it doesn't get sunlight or water," he wrote.
But there is an upside to putting the Choice Act out to pasture -- it frees up the Senate Banking Committee, led by Senator Michael Crapo (R-ID), to start to put together legislation that has a better chance of becoming law.
"They're taking a much more moderate and realistic approach than the House Financial Services Committee had with the Choice Act," Katz said.
Legislation that seeks to reduce the regulatory burden on small, medium and community banks is the likeliest to garner bipartisan support in the Senate. Lawmakers on both sides of the aisle have long held that Dodd-Frank unfairly punished small banks, and heading into the 2018 elections, relief for community banks is an easy political flag to fly.
"It's been extremely difficult for community banks to comply with [Dodd-Frank] regulations, they just don't have the staff and resources to invest that the big banks had in place," said Rosemary Fanelli, managing director and regulatory affairs strategist at Duff & Phelps. "There are a couple of provisions that seem to engender some bipartisan support in both houses. The first one is easing the regulatory burden on community banks."
Thresholds for certain requirements might be addressed and adjusted through legislation out of the Senate. Banks with more than $10 billion in assets are currently required to establish a risk committee and undergo stress tests. Banks with over $50 billion are designated as systematically-important financial institutions.
"All parties agree that thresholds have no magic behind them," said James Ballentine, executive vice president of Congressional relations and political affairs at the American Bankers Association.
Raising the bank SIFI threshold above $50 billion to $125 billion to $150 billion is a realistic expectation, said Katz, though it won't be a slam dunk. Senator Elizabeth Warren (R-MA), a member of the banking committee, has warned upping the designation could be "really dangerous," but beyond the Massachusetts firebrand, there is bipartisan support for the measure. Even Barney Frank, one of the two legislators for whom Dodd-Frank is named, has admitted the $50 billion threshold is a mistake.
Such an increase could spur an uptick in M&A activity in the banking sector. "There is some pent-up demand for that," Katz said. "Right now, being in that spot of $30, $40 billion is not a great place for banks. Some of them would like to get a little bit bigger but don't want to trip that increased supervision that comes with getting bigger."
Regulatory relief for small banks would surely be cheered by companies such as Huntington Bancshares (HBAN) - Get Huntington Bancshares Incorporated (HBAN) Report , Comerica (CMA) - Get Comerica Incorporated Report , SVB Financial Group (SIVB) - Get SVB Financial Group Report , First Citizens BancShares (FCNCA) - Get First Citizens BancShares, Inc. Class A Report and People's United Financial (PBCT) - Get People's United Financial, Inc. Report . Zions Bancorp (ZION) - Get Zions Bancorporation (ZION) Report CEO Harris Simmons and South State Corporation (SSB) - Get South State Corporation Report CEO Robert Hill are scheduled to testify in a Senate Banking Committee hearing on Thursday.
Fanelli said too-big-to-fail provisions could be targeted in the Senate bill as well, namely, the orderly liquidation authority that essentially provides for a new liquidation process for bankrupt banks.
"The argument on the Republican side is that having a separate liquidation process for banking institutions has made banking practices more risky with the perception that there's a backstop," she said. "That's an area that has been extremely unpopular from a Main Street perspective."
She also pointed to the Regulatory Accountability Act put forth by Senators Rob Portman (R-OH) and Heidi Heitkamp (D-ND) as a potential avenue for financial regulatory changes. The bill would require cost-benefit analysis for regulations and improve transparency.
"There's some feeling that some administrative agencies do need to be more accountable to the Congress," she said.
The mortgage space could see some legislative changes, Ballentine said. "If there's any area post-Dodd-Frank, it's to ensure that lenders can continue to make loans to qualified borrowers," he said. "There seems to be some agreement on both sides of the aisle to address that issue."
Larry White, New York University economist and co-author of Regulating Wall Street: CHOICE Act vs. Dodd-Frank, that changing rules so that banks that meet a 10% leverage ratio requirement could be exempted from other regulatory requirements could make its way into law as well.
"This could make sense for smaller, non-systemic banks," he said. "For the larger systemic banks, 10% capital may not be enough, or 10% capital alone without other things like stress tests, like closer scrutiny, because these are the large systemic guys, these are the guys who, if they did get into trouble, could have contagion type effects."
White suggested the Volcker rule, which restricts banks from making certain types of speculative investments, might also be on the chopping block, but others expressed doubt.
"I just don't think it will be addressed legislatively," Boltansky said. "You've got to reduce the political calculus down to what will get eight Democratic votes in the Senate. Anything that can be construed as benefitting big banks isn't going to move."
"There seems to be a pretty realistic consensus on the part of [Treasury Secretary Steven] Mnuchin, some of the regulators and the Senate Republicans that you ease the Volcker rule but you don't get rid of it," Katz said.
The Consumer Financial Protection Bureau is likely also safe. "That's something that's near and dear, for example, to Senator Warren's heart, and I can imagine there could start to be very strong feelings about, 'Don't touch it,'" White said. "Whether the Senate could overcome that, I don't know."
In terms of timing, Ballentine said he hopes to see legislation by the end of 2017. Katz was more cautious, citing the fact that health care and tax reform appear to be on the GOP's agenda first. "It doesn't look like anything significant on financial regulatory reform will be done this year, I think we're looking at either the first quarter or first half of next year," he said.
Likewise, the approximately 150-page Treasury report outlines about 80 policy recommendations for financial oversight, but it's not a prescription for immediate mass deregulation.
Boltansky in a note on Tuesday characterized the report as a "series of relatively pragmatic proposals" that are "intended to more narrowly tailor the regulatory regime rather than implement wholesale rollbacks." He projects about half of the recommendations are likely to be implemented, including softening operational risk requirements, more transparent and less onerous stress testing, and asset threshold migration.
Some of its recommended alterations would buoy big banks including Goldman Sachs (GS) - Get Goldman Sachs Group, Inc. (GS) Report , Morgan Stanley (MS) - Get Morgan Stanley (MS) Report , JPMorgan Chase (JPM) - Get JPMorgan Chase & Co. (JPM) Report , Wells Fargo (WFC) - Get Wells Fargo & Company Report , Citigroup (C) - Get Citigroup Inc. Report and Bank of America (BAC) - Get Bank of America Corp Report as well as small and community banks.
"A lot of the recommendations could eventually become policy because many can be implemented by regulators," Katz said in a Tuesday note. "Still, changes will take time and there will be failures along the way."
Editors' pick: Originally published June 13.