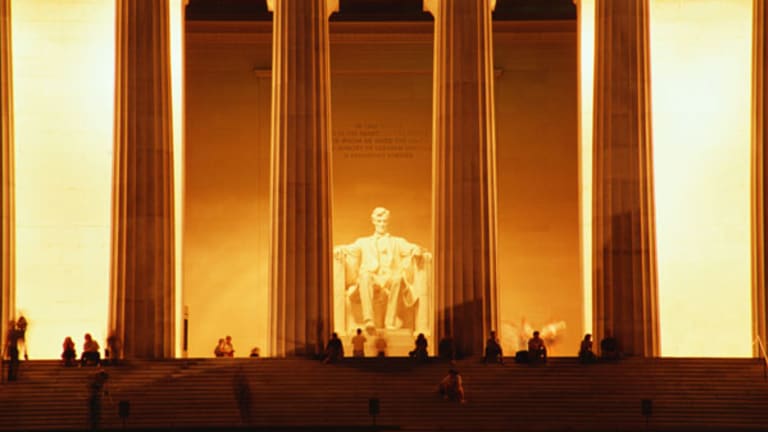 Romney Triumphs in Michigan, Arizona
Mitt Romney and Rick Santorum battled closely in Romney's home state of Michigan, while Arizona has gone to Romney as expected.
Updated from 9:11 p.m. ET with latest voting results.
NEW YORK (
) -- Mitt Romney triumphed Tuesday night on his campaign's most crucial day thus far, as the former Massachusetts governor seized Michigan to dispel fears of a loss in his childhood state and handily won Arizona.
A Santorum campaign source said that the former Pennsylvania called Romney: "Congratulated him on a good night," but "not 'conceded.' "
The Associated Press reporting:
Michigan results: Romney 41.7%; Rick Santorum 37.3%; Ron Paul 11.5%; Newt Gingrich 6.7%. Precincts reporting: 63.2%;
Arizona results: Romney 49.7%; Santorum 24.2%; Gingrich 16%; Paul 8.5%. Precincts reporting: 27.1%;
Romney has bagged Arizona's 29 winner-take-all delegates.
When asked at 9:40 p.m. ET if Santorum could make up their trailing margin to Romney, the source said in a message: "Doubt it, but we'll win some congressional districts and some delegates."
Romney, who grew up in Michigan and whose father was a three-term governor there, had struggled over the past three weeks to shake off Santorum as the former Pennsylvania senator connected with voters on social issues.
Romney's strategy had been to
consistently project slow economic growth on President Barack Obama in hopes of swaying jobs-minded voters to his camp.
"America is not seeing robust economic growth because such growth is impossible in the policy environment created by President Obama," Romney said Feb. 22 in a statement on his tax plan.
Santorum appeared poised to make a serious run at Michigan on Monday when he launched robo-calls to Democratic voters -- who can participate in Tuesday's primary -- that urged them to submit ballots.
Polls had shown
the pair to be in an incredibly tight race since Santorum scored a triple victory on Feb. 7 in Colorado, Minnesota and Missouri.
Both candidates were not without their gaffes as Romney slipped when he said his wife drives "two Cadillacs" and as
Santorum muddled a famous John F. Kennedy speech about religious tolerance.
Audiences also waited Tuesday to see
how many voters would turn out in what has already been a modestly attended primary season.
"Enthusiasm, particularly in a low-turnout election, makes a big difference; that's what we see all the time in caucus states," said John Clark, chairman of Western Michigan University's political science department. "So who is it that gets off their couch to go to the caucus meeting? Well, it's the people that are the most concerned and the most upset and the most ideologically extreme."
Even if Romney wins Michigan, sources in Santorum's campaign and GOP experts have said that a slim margin of victory would still expose weakness in the governor's campaign.
"I realize that Michigan is a big deal right now for Romney, and, quite frankly it should have been a slam dunk," said Barbara VanSyckel, Macomb County GOP chairwoman. Part of the reason Romney has struggled, VanSyckel said, could be down to Santorum's momentum out of his Colorado, Minnesota and Missouri victories.
Though Arizona's delegates at stake were only one less than the 30 delegates available in Michigan, the perception had been that a Romney loss in his home state would deal a critical blow to his national campaign. It appears he's overcome that worry.
Romney's victories could very well set the tone for Super Tuesday -- a watershed moment in the race for the GOP presidential nomination -- but he'll have to immediately return to the trail Wednesday if he hopes to wrap up the nomination. Currently, Santorum is surging in Ohio and has gained traction in Georgia; the two states award 142 delegates on March 6.
-- Written by Joe Deaux in New York.
>Contact by
.
>Follow Joe Deaux on
. Subscribe on
.