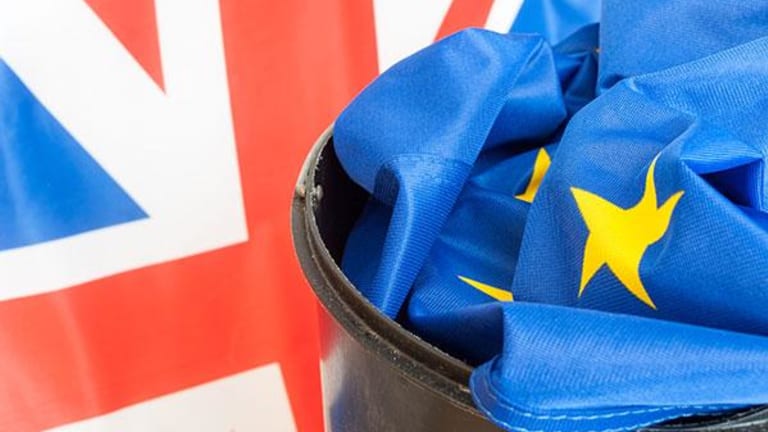 Merkel Insists Timing of Brexit Talks Is Up to U.K.
Germany gets France and Italy to agree that it is up to the U.K. government when to trigger formal negotiations on Brexit.
Germany gets France and Italy to agree that it is up to the U.K. government when to trigger formal negotiations on Brexit.
The leaders of Germany, France and Italy on Monday insisted there will be no negotiations with Britain on its departure from the European Union until London has formally declared its intention to leave the 28 nation bloc.
After meeting French President François Hollande and Italian Prime Minister Matteo Renzi in Berlin, German Chancellor Angela Merkel said she had agreed with her guests that there can be no further steps towards Brexit until the U.K. government has formally invoked Article 50 of the European treaties to say it wishes to leave.
"That means that, and we agree on this point, there will be neither informal nor formal talks on a British exit until the European Council has received the [U.K.'s] request for an exit from the European Union," she told a joint press conference.
Despite the apparent agreement on their positions, however, both Hollande and Renzi struck a slightly different tone. They emphasized the need to process the U.K.'s exit as quickly as possible and focus on the challenges facing the remaining 27 states, the BBC reported.
Germany and the U.K. are the European Union's two largest economies, while France and Italy are no. 3 and 4 respectively.
The press conference came after the European markets closed on Monday, but Merkel had already made her relatively dovish and conciliatory stance clear earlier in the day.
European stock markets fell less than might have been expected given the prospect of months and possibly years of uncertainty and tough negotiations to come.
Budget carrier EasyJet (ESYJY) , (EJTTF) plummeted over 22% and International Consolidated Airlines (ICAGY) (BABWF) , which owns both British Airways and Spain's Iberia was down 15.9%. Banks also continued their slide -- Barclays (BCS) - Get Report , (BCLYF) was down 17.35% -- and there were further falls in the construction sector.
Yet London's FTSE 100 index was down a relatively benign 2.55% on the day at 5,982.20. The more U.K. focused FTSE 250 was off 6.96% on the day at 14,967. In Frankfurt, the Dax closed down 3.02% at 9,268.66 and in Paris the Cac 40 finished the day off 2.97% at 3,984.72.
However, Britain's government has made it clear there will be no hasty declarations in Brussels, following the British people's shock 52% to 48% vote in favor of Brexit last week. U.K. Prime Minister David Cameron on Monday acknowledged that parliament must respect the result of the referendum -- despite the fact that there is a large majority in the elected House of Commons opposed to leaving the EU -- and announced the establishment of a team of officials to begin preparations for exit talks. He also rejected a repeat referendum, despite a petition for a rerun which has so far gathered millions of signatures.
But he told lawmakers he will not invoke Article 50 himself and trigger the formal start of negotiations. That will be the responsibility of his successor, who is expected to take office in September after a leadership election process due to start this week.
Nominations are due in on Wednesday, with the charismatic but flighty Boris Johnson, who led the "Vote Leave" campaign to victory, the odds-on favorite to win the battle.
For the moment, however, the country has a lame duck prime minister, and no effective opposition. The leader of the opposition Labour Party, Jeremy Corbyn faces a vote of no confidence from his own party after most of his shadow cabinet resigned their roles in protest at his weak leadership. Although he has appointed some loyalists to key posts as advisers and spokesmen shadowing government ministers, the majority of the parliamentary party are expected to vote against him.
Yet Corbyn has so far refused to resign and appears ready to let civil war rage within the party, believing that rank and file members will vote him back into office even after the parliamentary party has tried to depose him.