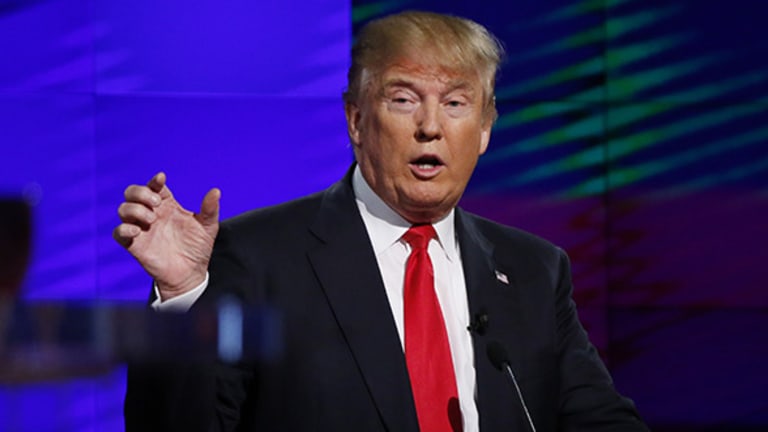 Meet Some First-Time Millennial Voters in Florida Who Support Donald Trump
Think Democrats have the younger generation of voters locked in with liberal messages of inclusion? Think again. At least some young voters are breaking for Trump and other conservatives.
MIAMI (TheStreet) -- In the Democratic Iowa caucus, Bernie Sanders beat Hillary Clinton among voters under 30 by a staggering margin: 84% to 14%. The liberal Vermont senator's message of political revolution and optimism for the future echoes Barack Obama's successful 2008 campaign that saw the youth vote rise to new highs. But Sanders isn't the only candidate appealing to younger voters. 
Students For Trump operates at dozens of college campuses across 30 states. The organization is not affiliated with the campaign but does support its efforts. 
Only a few hundred miles from the Miami area, there is a chapter in the panhandle at Florida State University. At Miami Dade College, the group hasn't officially launched but there are a handful of Trump supporters already active on campus. In addition to being the nation's second-largest institution of higher learning with 165,000 students, Miami Dade College has more Hispanic undergraduates than any other college in the U.S. 
Miami Dade College is a unique institution not only for the number of Hispanics that attend and its sheer size, but because it also host a dual enrollment high school on campus. Students attend college courses during the morning and take their required high school classes in the afternoon. I attended this special high school years ago and visited again this past week as the political world focused on Miami for back-to-back primary debates: first, the Democrats on Wednesday night; then, the Republicans on Thursday. I spoke with four seniors who will be legally able to vote for the first time this year about who they support and why.
These kids come from an ethnically diverse and liberal part of the country and are well-educated. Their futures seem bright. Their political views defy stereotypes and may surprise you. 
Jorge L. Martinez, 17 
Martinez is a Trump supporter all the way.
"Donald Trump is hands down the best candidate," he said.
Martinez identifies as "right wing" but doesn't want to be labeled as "conservative." He says that he's more of an Eisenhower Republican.
"I do believe in big government and government intervention, in some cases," he said.
For Martinez, the situations in Russia, Iran and China and foreign policy overall are the most pressing issues, followed by immigration. 
Martinez can't yet vote, but in November, he will be able to. When he can, he says he will vote for Trump. 
Isnavys Perez, 18
Perez is "feeling the 'Bern'." 
"The wealthy elite are the ones controlling all of this," she said.
Perez's family came to America legally from Cuba through the visa lottery in 2003. While she isn't a citizen yet, Perez herself will become a citizen before November and plans to vote. She believes socialism is good as long as it's not too extreme.
At the same time, she considers herself "moderate" Democrat because she has some conservative views in addition to her liberal ones. 
On immigration, she says, "we can accept a lot of people but we should know who we are accepting," alluding to mostly conservative calls to slow or halt immigration of refugees from Syria due to fears over terrorism. 
Daniel Shiekh, 18
While Shiekh says that he's leaning toward supporting Florida Senator Marco Rubio but likes Trump on certain issues. 
"Some change would always be nice," he said.
Shiekh Trump a "moderate" and considers his own political views to be somewhere between "conservative" and "moderate."
One of Shiekh's core political beliefs is that the immigration process needs to be changed and regulated better. 
Philipe Colon, 18
Colon does not openly support any candidate but that he would vote for Ohio Governor John Kasich if forced to choose. He also has something to say about the Trump-dominated rhetoric of this election cycle: 
"We shouldn't be building walls, we should be building bridges," he said, adding, "we should be using our diversity as a country as a strength rather than a weakness."
Colon is the son of immigrants who came to the United States during the Nicaraguan war. He believes immigration should be done legally.
This article is by a contributor.