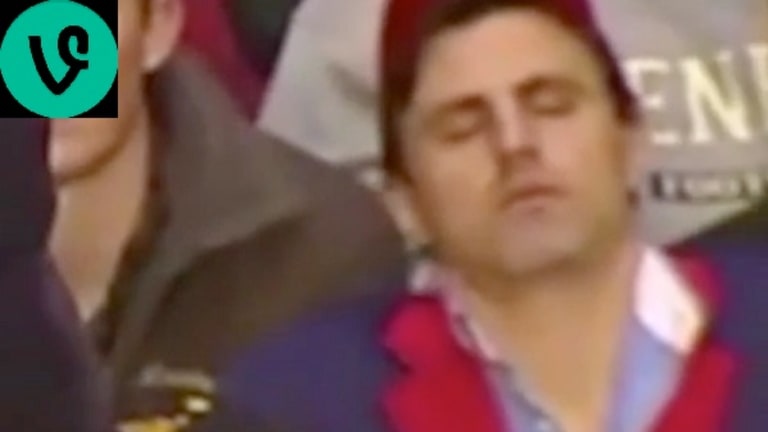 Meet Donald Trump's Troll, Donnie
By day, Zach Etkind makes "suiseys," a new kind of sports-dress apparel. At other times, he goes to Donald Trump rallies and trolls. At least he did this one time.
This story was originally published on 2/12.
Zach Etkind became an internet sensation this week thanks to some off-the-cuff antics at a televised Donald Trump rally at Clemson University in Pendleton, S.C. Seated just over the GOP frontrunner's left shoulder, he mocked Trump's expressions, held up a sign, and even pretended to nod off during his speech.
"It was actually a pretty spur-of-the moment type thing," he said in a phone interview. Days before, he had no intention of trolling Trump.
Etkind, a 28-year-old from the Massachusetts shore, about 45 minutes south of Boston, heard about the Trump rally over the weekend, and when he found out one of his friends, who is a supporter, would be attending, he decided to tag along. They wanted to sit behind Trump to be on television. The seats directly behind the billionaire are usually reserved for veterans. Luckily, an extra row freed up.
Etkind confirmed via text message with friends that he was indeed on television before the trolling antics began. He decided, essentially, to "just do a bunch of weird stuff." And he did.
Perhaps Etkind's biggest moment came when he held up a sign reading, "Trump likes his steak well done," referencing reports that The Donald ordered a $54 bone-in rib-eye be cooked well-done while dining in Manchester, N.H. the day before the state's primary.
"Frankly, anyone who does that could very well be a sociopath," Etkind said, admitting he is "probably more passionate about food than politics."
Etkind's thinking was that such a sign might do a better job of convincing Trump supporters to turn against him than political appeals.
"I'm sure the average Trump supporter appreciates a good medium-rare steak," he said.
The sign caught Trump's attention as well. "He saw my sign and shook his head," he said.
This isn't Etkind's first rodeo. He is also the star of YouTube channel Donnie Does, a parody channel that follows the adventures and hijinks of a provincial Bostonite abroad (fish outta watah?).
Describing the character as a "lovable Boston idiot," Etkind explained that Donnie is a persona he and his friends invented in high school based on many of the people they knew growing up. When he moved to China after graduating from Tufts University, he and a friend decided to introduce him to the world.
"We just thought it would be hilarious to bring this character out to China, especially when we saw how funny of a place China was," he said.
Donnie's adventures include a trip to a Chinese Ikea, an appearance on a Chinese dating show and sneaking into sporting events. Perhaps his biggest claim to fame is finaggling his way into the ring of a Manny Pacquiao-Brandon Rios boxing match in 2013.
Etkind has since moved back to the United States, relocating to South Carolina last May after inventing the suisey -- a half-suit, half-jersey jacket -- and licensing it to Clemson. In the Trump video, he can be seen wearing a New England Patriots suisey.
As to his latest claim to fame, Etkind appears somewhat amused. "I'm not very political," he said, though he did clarify he's no fan of Trump.
He assured us he and his rally companion are still friends but admitted other Trump supporters have gone on the offensive. No one confronted him while at the rally, but they've since taken to social media -- namely, YouTube and Twitter -- to attack.
"Trump supporters hitting me up are not too pleased," he said.
One Trump supporter encouraged his followers to "troll this mf'er" on Twitter.
"I heard, from very reputable sources, that Donnie has his way with goats on regular basis," one person commented on his YouTube channel.
"Why don't you go troll your mother's speeches you little f*******?" wrote another. (Etkind called it a "weak insult.")
Trolling the troll, of course, just gives the troll more power. One would think Trump's supporters might know that.