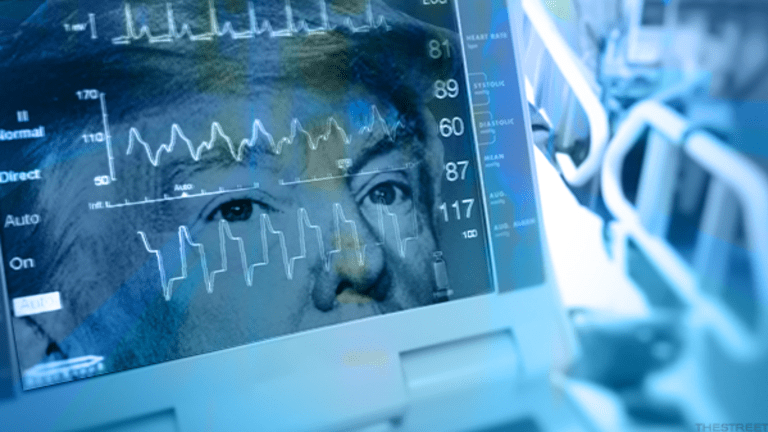 Markets Shouldn't Fret Over Senate Healthcare Woes, Goldman Says
Stocks turned lower after Senate Republicans delayed their healthcare vote, but on analyst says investors need to get over it.
Stocks turned lower after Senate Republicans delayed their healthcare vote, but one analyst said investors need to get over it.
Wall Street has long viewed the GOP's efforts to repeal and replace the Affordable Care Act as a indicator of what might happen to earnings-boosting tax reform that investors have counted on since President Donald Trump's election in November. Markets fell Tuesday when Republican leadership decided to put off a vote on the Better Care Reconciliation Act until after the July 4 recess, but Goldman Sachs (GS) - Get Report analyst Alec Phillips in a note said investors should take it easy: healthcare reform, one way or another, will be finished soon.
"At this point, enactment of broad health legislation like the House passed or the Senate is contemplating seems unlikely," Phillips wrote. "However, the prospects for passage should also be somewhat less important to broader financial markets than they might have been several months ago."
The debate over healthcare will probably end with enactment or a failed vote before lawmakers head out to their month-long August recess. Once it's done, it will clear the way for the budget process and tax legislation.
GOP leadership, including Treasury Secretary Steven Mnuchin, Vice President Mike Pence and Speaker of the House Paul Ryan (R-WI) have all set a goal of passing tax reform by the end of 2017 -- a pledge many on Wall Street view with skepticism. But if there's any hope of getting there, healthcare has to finish.
"Since Congress can consider only one reconciliation bill for tax and spending per budget cycle, and budget cycles cannot overlap, Congress must conclude its debate on the healthcare bill before it can formally begin considering tax reform," Phillips wrote.
Several Republican Senators have expressed opposition to their party's bill, which the Congressional Budget Office estimates would increase the number of people without health coverage by 22 million and cut the deficit by $321 billion through 2026.
Senate Majority Leader Mitch McConnell (R-KY) in a press conference on Tuesday said he remains "optimistic" he can get the 50 votes necessary to pass the BCRA but acknowledged it's an uphill battle. "We're going to continue the discussions within our conference on the differences we have," he said.
President Trump hosted all 52 GOP Senators at the White House on Tuesday afternoon and acknowledged that while he wants to tackle healthcare, it might not happen. "It will be great if we get it done," he said. "And if we don't get it done, it's just going to be something that we're not going to like. And that's okay, and I understand that very well."
"[A]t this stage, it seems fairly clear that intraparty disputes and a thin margin in the Senate have made sweeping reforms difficult," Phillips wrote. "As a result, eventual Senate passage of the health legislation wouldn't meaningfully change our expectation of what might be possible regarding tax reform, for example."
More of What's Trending on TheStreet:
Apple's iPhone Triggered Mind-Blowing Changes to How Investors Trade Stocks
Amazon Could Easily Own Whole Foods and Rite Aid or Express Scripts, This Top Analyst Says