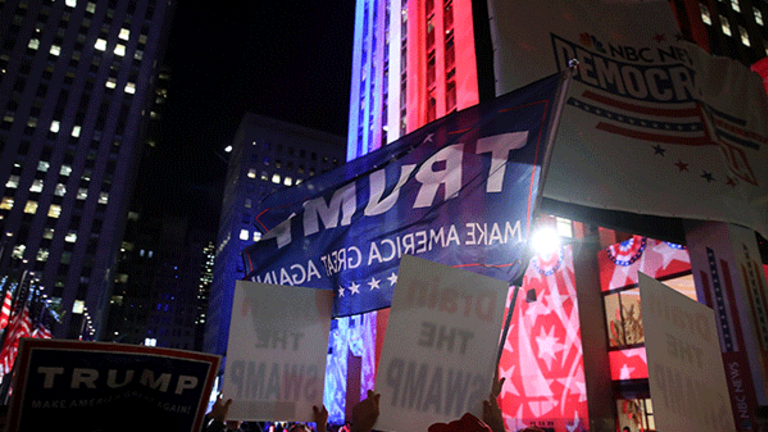 Markets Crater as Trump Doomsayers Appear to Have Been Onto Something
Experts warned a Donald Trump presidency would be harmful to global markets and the economy, and reactions to the real estate magnate's election thus far indicate they could be right.
Analysts and economists warned a Donald Trump presidency would be harmful to global markets and the U.S. economy, and reactions to the real estate magnate's election thus far Wednesday indicate they could be right.
Global markets were rocked as the Republican presidential nominee was elected president of the United States, defeating his Democratic rival Hillary Clinton. Dow futures plummeted nearly 800 points overnight Tuesday but have rebounded and remain down about 350 points, or almost 2%, early Wednesday. S&P 500 futures fell about 1.9% and Nasdaq futures declined 2.3% about two hours ahead of market open.
Gold was trading up 2.2%, above $1,300 an ounce. Japan's Nikkei 225 finished with a loss of 5.4% and Hong Kong's Hang Seng index lost around 2.2%. London's FTSE 1000 was down 0.60%.
In currencies, the U.S. dollar fell 1.9% against the Japanese yen. The Mexican peso plummeted nearly 9% against the dollar. It declined as much as 12% overnight.
"A Trump presidency is an unanticipated -- and unwelcome -- outcome in the eyes of financial markets, so we'll see a large and immediate pullback globally and a flight to quality. Expect a 10%-15% stock market pullback over the next few weeks, a sharp drop in long-term interest rates, and the Fed to remain sidelined next month," said Greg McBride, chief financial analyst at Bankrate.com.
He said the shock of the outcome "makes Brexit look like a picnic" and predicted the reverberations of Trump's election could bring the onset of recession in 2017.
Throughout the election, various entities and figures warned a Trump victory might herald market crashes and economic recessions.
A report from the Washington, D.C.-based Brookings Institution estimated global equity markets could tumble by as much as 15% under a Trump presidency. Economists Eric Zitzewitz and Justin Wolfers, the authors of the report, also estimated the price of oil would be slashed by $4 a dollar and the Mexican peso decline by 25%.
The pair based their estimates on market movements during major campaign developments -- the first presidential debate, the Access Hollywood tape of Trump, and FBI James Comey's first letter to Congress regarding Clinton's emails.
"The initial drop in U.S. and foreign stocks was consistent with our earlier results, but a bit smaller than our estimate. For example, S&P 500 dropped 5% whereas we would've estimated 8% to 9%," said Zitzewitz.
An analysis from Moody's Analytics found that Trump's proposals, if taken at face value, would send America into a "lengthy recession," cause a 2.4% drop in GDP, increase unemployment to 7.4% and result in the loss of 3.4 million jobs. A separate report from Oxford Economics estimated Trump's plans would lead to a recession by the end of 2017 and cause the U.S. economy to contract by 2% in 2018.
Trump has said his policies will lead to 4% economic growth and in his victory speech in midtown Manhattan overnight pledged to make good on that promise. "We have a great economic plan. We will double our growth and have the strongest economy anywhere in the world," he said.
His words appear to have heartened investors a little.
"There was...a recovery around the time of Trump's speech and the opening of European markets. Bigger recovery for equities than for the peso. His speech may have helped -- it seemed sincerely conciliatory, at least to me," said Zitzewitz.