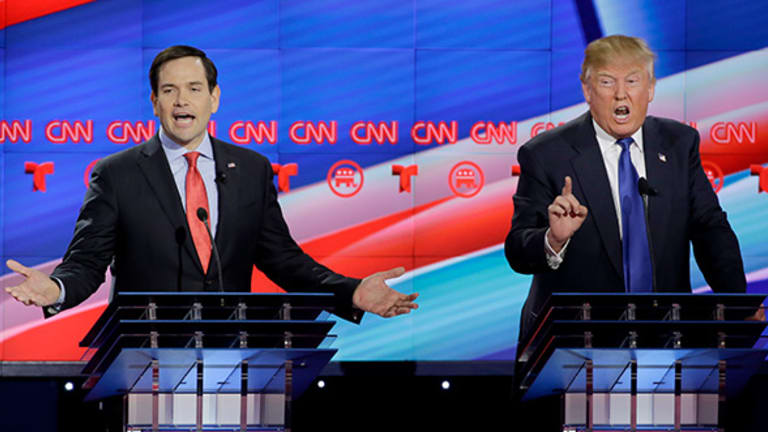 Publish date:
Marco Rubio Totally Dumped on Donald Trump at the GOP Debate
During several thrilling minutes, Marco Rubio hit Donald Trump with everything he had at last night's GOP debate.
During several thrilling minutes, Marco Rubio hit Donald Trump with everything he had at last night's GOP debate.
Marco Rubio really wants you to Google "Donald Trump Polish workers" -- he said so more than once at Thursday's Republican presidential debate. And that's not the only piece of the boisterous billionaire's dirty laundry he aired last night.
With Super Tuesday on the horizon and 595 Republican delegates up for grabs, the GOP race for the White House has hit fever pitch, and at Thursday night's debate, tempers boiled over. Florida Senator Rubio, who has been widely anointed the GOP establishment candidate, came in ready to strike against frontrunner Trump.
He unloaded what seemed like his entire bag of tracks -- as in oppo research -- in about a five-minute span.
Here's how it went down: Rubio stood beside Trump patiently on the debate stage as the former real estate magnate reiterated his call for a wall at the southern border, going as far as to float the idea of engaging in a trade war should Mexico refuse to fit the bill.
When asked if he wanted to respond, Rubio started, "Yeah, a couple points." And then he laid in, attacking Trump on hiring undocumented Polish workers to help build Trump Towers; on his clothing line being made in Mexico; on his four bankruptcies; on Trump University and the lawsuits it's facing; and on how Trump's fortune started with a million dollar loan from his father and a multi-million dollar inheritance.
And all in several thrilling minutes near the beginning of the debate.
"If he builds the wall the way he built Trump Towers, he'll be using illegal immigrant labor to do it," Rubio said. When Trump quipped that the claim was simply a sound bite, he shot back, "No, it's not a sound bite. It's a fact. Again, go online and Google it. Donald Trump, Polish workers, you'll see it."
(By the looks of it, people did.)
According to PolitiFact, Rubio was referring to an episode that occurred between 1979 and 1980, when Trump hired a contractor to demolish an old building in midtown Manhattan to build Trump Tower. The contractor signed on workers from a local union and also brought on 200 undocumented workers from Poland. The "Polish Brigade," as the laborers were called, worked 12-hour shifts seven days a week for $4 to $5 an hour, and some were never paid what they were owed.
In 1983, union members sued a union boss, Trump and his contractor over the episode, claiming the real estate magnate owed their pension fund $1 million -- Rubio also referred to the lawsuit. Trump lost the original suit, but the issue dragged on for years, and he finally settled in the late 1990s. The agreement was placed under seal.
At Thursday's debate, Trump brushed off the Polish workers attack, at one point pointing out that the incident had happened 38 years ago, to which Rubio replied, "Oh, he lied 38 years ago. All right, I guess there's a statute of limitations on lies."
Immediately after his Polish workers reference, Rubio laid out a second offensive on Trump's trade war comments -- namely, that many of the items from his clothing line are manufactured abroad.
"Your ties and the clothes you make is made in Mexico and in China. So you're going to be starting a trade war against your own ties and your own suits," Rubio said. "Why don't they make them in America?"
"Because they devalue their currency, they devalue their currencies," Trump replied. "That makes it, well, you don't know a thing about business. You lose on everything."
When Trump added that Rubio "wouldn't know anything about it because you're a lousy businessman," the senator had a retort ready to go: Trump's bankruptcies. "Well, I don't know anything about bankrupting four companies," he said.
Trump's bankruptcies have been a hot topic at more than one debate this election cycle. The former reality television star's businesses filed for Chapter 11 in 1991, 1992, 2004 and 2009; three of the cases were related to his hotel and casino properties in Atlantic City, N.J. (another sore spot for Trump).
At a previous debate last November, Trump was quick to point out that out of hundreds of deals, on four occasions he's "taken advantage of the law of this country, like other people."
On Thursday night, the GOP frontrunner got little opportunity to defend himself on that front, because Rubio had already launched his next bomb: Trump University.
Trump University (later renamed the Trump Entrepreneur Initiative) was an online education company Trump launched in 2005, offering courses in real estate, asset management and entrepreneurship. Though the entity stopped operations in 2010, in 2013, New York Attorney General Eric Schneiderman filed a $40 million suit against Trump and the company, alleging they had illegally operated an unlicensed university and defrauded students.
Litigation has taken place in California as well, with one class action suit being led by customer Art Cohen, who sped upwards of $36,000 on Trump programs and alleges the university failed to deliver its promises to provide a premier education.
Rubio referenced the suit Thursday. "There are people who borrowed $36,000 to go to Trump University, and they're suing now," he said. "$36,000 to go to a university that's a fake school. And you know what they got? They got to take a picture with a cardboard cutout of Donald Trump."
Trump's response: "I've won most of the lawsuits. And they actually did a very good job, but I've won most of the lawsuits."
Ted Cruz weighed in on Trump University later in the evening as well. "His lawyers have scheduled the trial for July," he said. "I want you to think about, if this man is the nominee, having a Republican nominee on the stand in court, being cross-examined about whether he committed fraud. You don't think the mainstream media will go crazy on that?"
When moderator Wolf Blitzer attempted to move on from the Trump-Rubio scuffle, Trump tossed a wrench into the wheel and made reference to a house sale Rubio made to a lobbyist in 2007.
And yet again, the senator was ready to fight back: "Here's a guy that inherited $200 million. If he hadn't inherited $200 million, you know where Donald Trump would be right now? Selling watches in Manhattan."
On that one, Rubio stretched the truth. Trump started out in business with what he has called a "small" $1 million loan from his father, and as Politico notes, he likely inherited about $40 million.