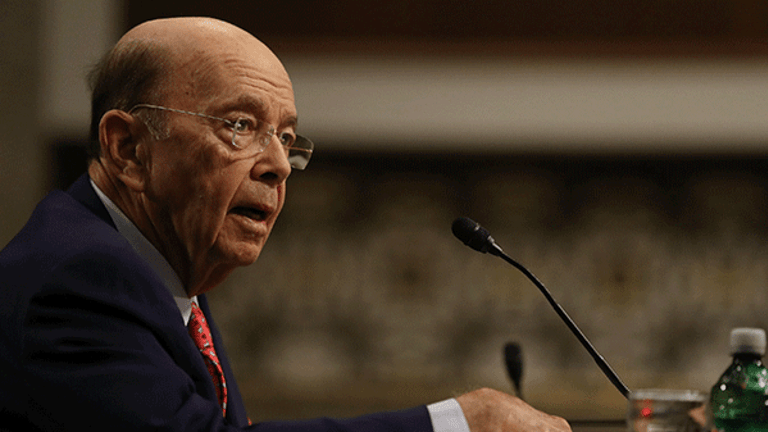 Lumber, Homebuilder Stocks Slip Following Canada Tariff Announcement
The White House's decision to put tariffs on Canadian softwood lumber imports could have stocks moving in the days and weeks to come.
The White House's decision to put tariffs on Canadian softwood lumber imports could have stocks moving in the days and weeks to come.
Homebuilder stocks fell after the White House decided to put tariffs on Canadian softwood lumber imports.
Commerce Secretary Wilbur Ross said on Monday that the United States will impose preliminary anti-subsidy duties averaging 20% on imports from Canadian lumber exporters, marking one of the Trump administration's most dramatic moves on trade yet. The Canadian dollar dipped on news of the announcement.
The Commerce Department's International Trade Administration (ITA) will put import taxes ranging from 3.02% to 24.12% on Canfor Corporation, J.D. Irving, Resolute FP Canada, Toko Marketing and Sales Ltd. and Tolko Industries, and West Fraser Mills and has established a preliminary subsidy rate of 19.88% for all other producers and exporters in Canada.
While most of the companies directly affected are listed on the Toronto Stock Exchange, a handful of U.S.-listed companies have exposure as well.
Shares of Washington-based lumber company Weyerhaeuser (WY) - Get Report fell 2.5% on Tuesday. Timber real estate investment trusts Rayonier (RYN) - Get Report and Potlach (PCH) - Get Report were down 0.8% and 3.8%, respectively.
Homebuilders fell on concern that they will face supply-chain disruptions. PulteGroup (PHM) - Get Report  slipped by 4.0%, Toll Brothers (TOL) - Get Report   lost 0.8%, Lennar (LEN) - Get Report  dropped 1.7%, D.R. Horton (DHI) - Get Report  fell 1.2% and NVR (NVR) - Get Report  fell 0.7% on Tuesday.
Stefanie Miller, analyst at Washington, D.C.-based Height Securities, pointed out that Monday's tariff announcement is just part one of a two-part investigation into Canadian softwood lumber launched in November in the days following Trump's election.
The 20% tariff announced on Monday is a countervailing duty, meaning a tax meant to offset government programs that subsidize the industry in Canada. The Commerce Department is also considering anti-dumping duties, a tariff on imports determined to be priced below fair market value. The administration extended its deadline for deciding what to do there until June, and combined anti-dumping and countervailing duties could push the final number much higher.
"This is only one part of a two-part number," Miller said. The combined duties could reach 40%, she said, or perhaps even as high as 70%, though it's unlikely. "We don't necessarily think it's going to be that high."
The dispute over softwood lumber is a long-standing feature of U.S.-Canada trade relations, as is dairy. Trump tweeted a swipe at the Canadian dairy industry on Tuesday morning.
"It has been a bad week for U.S.-Canada trade relations," Ross said in a statement announcing Monday's countervailing duties.
Ross said in a briefing with reporters on Tuesday that the lumber investigation was under way before "anything came up about milk," but acknowledged the issues are intertwined.
"Everything relates to everything else when you're trying to negotiate," he said. "So, I can't say there's no impact."
Canada has already begun to push back on the Trump administration's measures. In a statement, Natural Minister Resources Jim Carr and Foreign Affairs Minister Chrystia Freeland said the Canadian government "strongly disagrees" with the tariffs and warned the decision will negatively affect workers on both side of the borders - and increase costs for Americans who want to build and renovate homes.
"The government of Canada will vigorously defend the interests of the Canadian softwood lumber industry, including through litigation," they said.
The matter probably isn't going away any time soon.
"We've been arguing with Canada about lumber and dairy for a long, long time," said Mickey Kantor, former trade representative in the Clinton administration from 1993 to 1996 and Secretary of Commerce from 1996 to 1997, in a recent interview. "Ae will continue to argue it because they're both valuable to both countries."
Updated with prices at market close and press briefing comments from Secretary Ross.