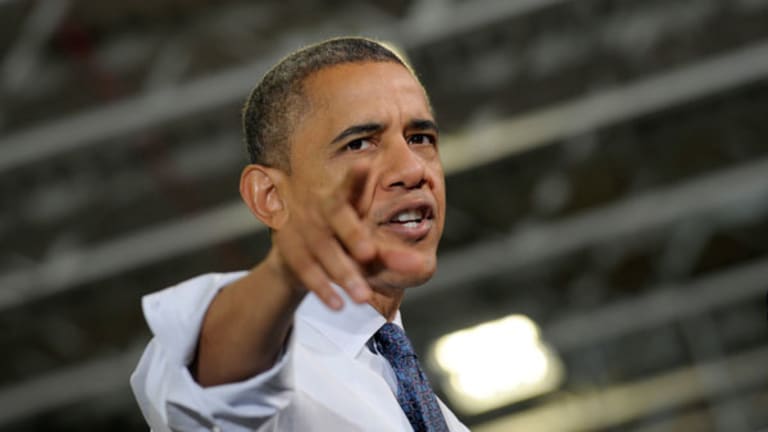 Let's Not Negotiate Fiscal Cliff Through Media: White House
White House Press Secretary Jay Carney says it may be best to not read out the details of conversations between Obama and Boehner.
NEW YORK (
) -- Maybe the best way to reach a so-called
deal is to shield the public from backroom details.
On board Air Force One in a gaggle with reporters, White House Press Secretary Jay Carney said on Monday he believed the best prospect of reaching an agreement was to not read details of the conversations between President Obama and head lawmakers.
"Our interest is in seeing if we can reach an agreement and not trying to negotiate an agreement through the media," Carney said, according to the pool report. "I'm entirely sympathetic to the interest that you have in this, but we believe that it's in the best interest of the prospects of getting an agreement to not read out the details of conversations."
House Speaker John Boehner (R., Ohio) met with Obama over the weekend to hash out more specifics to a plan that may help the United States avoid a fiscal cliff -- when tax relief measures and deep spending cuts will automatically go into effect.
Aides familiar with the discussion between the speaker and the president wouldn't reveal what they talked about, but
"the lines of communication remain open."
Carney reiterated the exact sentiment: "The lines of communication are open. You've seen the president met with the speaker and we broadly speaking continue to engage in this process with important players and stakeholders."
The gaggle occurred during Obama's flight to Redford, Mich., where he would tour a plant of
>Daimler Detroit Deisel
, a subsidiary of Daimler AG, and deliver a speech to workers there about middle-class tax cuts and the fiscal cliff.
-- Written by Joe Deaux in New York.
>Contact by
.