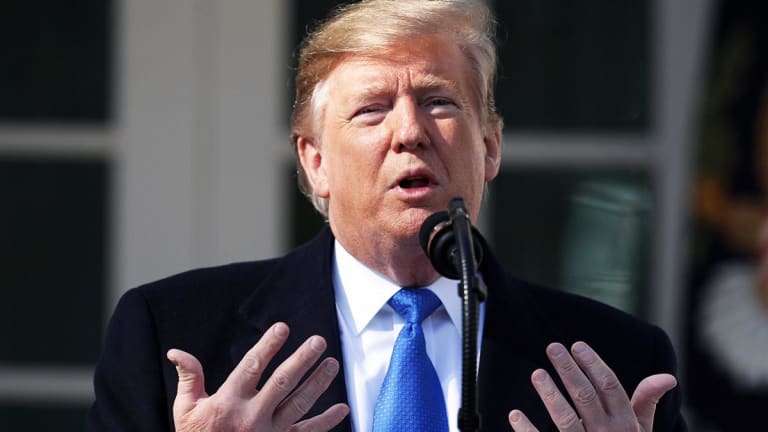 Trump and Acolytes Raise Heat on Fed For Rate Cuts
President Donald Trump's top economic adviser calls for a half percentage point cut in benchmark rates.
President Trump and his economic advisers are urging the Federal Reserve to lower interest rates in the wake of lowered GDP growth numbers released this week.
In a tweet late Friday, Trump said, "Had the Fed not mistakenly raised interest rates, especially since there is very little inflation, and had they not done the ridiculously timed quantitative tightening, the 3.0% GDP, & Stock Market, would have both been much higher & World Markets would be in a better place!"
The GDP grew at a seasonally adjusted 2.2% during the fourth quarter of 2018 compared with the third quarter's 3.4% rate, the Commerce Department's Bureau of Economic Analysis said Thursday.
Earlier Friday Trump economic adviser Larry Kudlow also called on the Fed to "immediately" cut interest rates by 50 basis points.
Kudlow made his argument for lowered rates in interviews with Axios and CNBC on Friday.
Pulling down rates by a half percentage point would bring them just shy of 2% from the current range of 2.25%-2.50%.
Kudlow told CNBC on Friday that he's "echoing the president's view" on rates.
"I concur with that view," Kudlow told CNBC, adding that "there's no inflation out there" and the economy appears strong.
Trump's nominee for a Fed governor's seat, Stephen Moore, who has called for Fed Chairman Jerome Powell's resignation, also called for lowered rates earlier this week.
The Federal Reserve said on March 20 that it would leave rates unchanged and no longer expects to raise rates this year.
President Trump has often criticized Federal Reserve Chairman Jermone Powell on rates, and earlier in the week, Moore told the New York Times that rates should be slashed by half a percentage point.