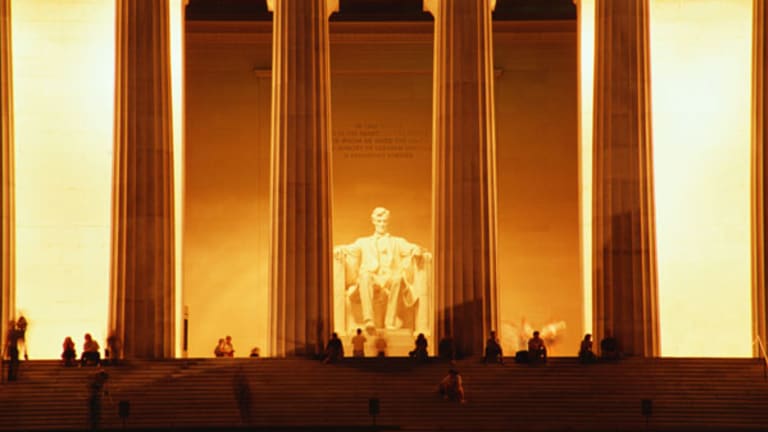 Laffer: Obama Picked a Losing Team
Arthur Laffer, author of 'The End of Prosperity,' isn't impressed with President-elect Barack Obama's economic team, including Warren Buffett and former Federal Reserve chairman Paul Volcker.
President-Elect Obama has lined up what appears to be a formidable team, including
Berkshire Hathaway's
(BRK.A) - Get Free Report
Warren Buffett and former
chairman Paul Volcker, to advise him on the economy.
Economist Arthur Laffer is not impressed.
"I know Paul Volcker very, very well. He was the best Fed chairman ever. Just wonderful," says Laffer in a conversation with TheStreet.com. "Without him, the Reagan revolution never would have occurred. But on fiscal policy, he's not so good."
As for Buffett, and the rest of Obama's economic gurus, Laffer is equally skeptical, especially when it comes to their plans to raise taxes.
"You can't raise taxes on the rich. These people know how to get around taxes," says Laffer. "Warren Buffett pays no taxes because all of his wealth is in unrealized capital gains. There's no tax on unrealized capital gains, so how do you get it? You have to tax poor people."
var config = new Array(); config<BRACKET>"videoId"</BRACKET> = 2216243001; config<BRACKET>"playerTag"</BRACKET> = "TSCM Embedded Video Player"; config<BRACKET>"autoStart"</BRACKET> = false; config<BRACKET>"preloadBackColor"</BRACKET> = "#FFFFFF"; config<BRACKET>"useOverlayMenu"</BRACKET> = "false"; config<BRACKET>"width"</BRACKET> = 265; config<BRACKET>"height"</BRACKET> = 255; config<BRACKET>"playerId"</BRACKET> = 1243645856; createExperience(config, 8);
Laffer makes his case against Obama's tax plan in his new book
The End of Prosperity --How Higher Taxes Will Doom The Economy -- If We Let It Happen
. And while he is forever linked to Ronald Reagan through the curve which bears his name, Laffer says his book isn't political. In fact, he voted for Bill Clinton twice.
"There is a chance that Obama could very much do a Clinton and flip and become one of the best presidents ever," says Laffer. "He's got all the resources, all the abilities to do something like that. I don't think it's going to happen. But wow, you would see a great economy."
Laffer lauds Clinton as a great supply-side President. On the other hand, George W. Bush, despite his party affiliation, has ushered in the end of supply-side economics, says Laffer. Lower taxes have indeed raised revenues, says Laffer, but the Bush administration's inability to cut spending has threatened the economy with huge deficits that Obama will have a hard time erasing.
"Obama's going to probably raise taxes on the upper income groups. He's going to probably be forced to raise other taxes as well. He's going to increase spending which is already a real problem. He said he's going to go much more towards protectionism," says Laffer, adding that all of that will be bad for the economy.
And as for the Laffer curve that vaulted him into the limelight, Laffer says the press continues to get it wrong.
"It's about people's incentives to work. At a 110% tax rate, if you came into the office every day and got a bill instead of a paycheck then you wouldn't work very long," says Laffer. "The government wouldn't collect any money. And obviously if there are no taxes, the government will also collect no revenue. So the whole point of the curve is to figure out where you should be on your taxes depending on which income group you're taxing. Nothing more."
Before joining TheStreet.com, Gregg Greenberg was a writer and segment producer for CNBC's Closing Bell. He previously worked at FleetBoston and Lehman Brothers in their Private Client Services divisions, covering high net-worth individuals and midsize hedge funds. Greenberg attended New York University's School of Business and Economic Reporting. He also has an M.B.A. from Cornell University's Johnson School of Business, and a B.A. in history from Amherst College.