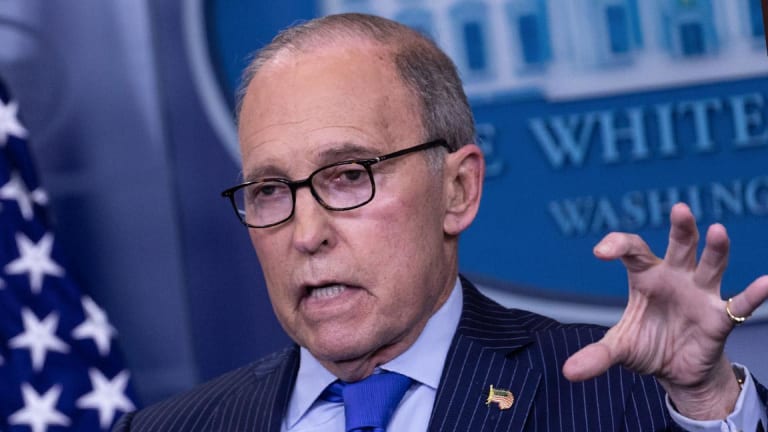 Larry Kudlow: China Trade Deal Still Within Reach
White House Economic Adviser Larry Kudlow appeared on Fox News Sunday to say both the U.S. and China would feel pain from tariff hikes, but that a deal is still possible.
White House economic adviser Larry Kudlow told Fox News Sunday that he still believes trade talks with China are at the 5- or the 7-yard line as he said weeks earlier, but that "those are the toughest yards to get."
And if there's a fumble that costs the game? Within as few as three months full 25% tariffs on hundreds of billions of dollars worth of Chinese imports will go into effect.
Those were two major takeaways from National Economic Council Director Kudlow's interview with Fox's Chris Wallace. The interview came two days after U.S. Trade Representative Robert Lighthizer said that the U.S. was increasing the level of tariffs to 25% from 10% on approximately $200 billion worth of Chinese imports, and that President Donald Trump had "also ordered us to begin the process of raising tariffs on essentially all remaining imports from China," which are valued at approximately $300 billion.
"Look, the situation for us, from our standpoint, we were moving well, constructive talks and I still think that's the case, we are going to continue the talks," said Kudlow. "But the problem is two weeks ago in China, there was backtracking by the Chinese." 
"We can't forget this, this is a huge deal, broadest scope and scale of anything the two countries have ever had before, but we have to get through a lot of issues."
It's expected talks will continue, possibly in June in Osaka during the next G20 meeting, said Kudlow, when "the chances that President Trump and President Xi (Jinping) will get together at that meeting are probably pretty good."
"We don't think the Chinese have come far enough. We will wait and see. The talks will continue," he added.
Still, how the tariffs will unfold -- likely raising prices on a host of goods including iPhones and other goods -- during the booming economy of the U.S. and slowing one in China, and just as the 2020 elections loom, remains to be seen. 
Cellphones and laptops will likely get hit hard, reports the Nikkei Asian Review, as well potentially digital cameras. "The tariff hike would not only deliver a blow to U.S. companies and consumers but also disrupt the technology supply chain that spans across Asia," reported the Nikkei on Sunday.
"In fact, both sides will pay. Both sides will pay in these things," said Kudlow when pressed by Wallace about statements by Trump that indicated only China would have to pay the cost of the higher import taxes. 
It's unclear yet how China will respond to the tariffs, but speculation remains a deal could unfold, as indicated by Kudlow.
"In short, we think Chinese GDP will take a mild hit prompting additional monetary easing, while equities and the renminbi will come under pressure," wrote Julian Evans-Pritchard, Senior China Economist for Capital Economics of the tariff hikes late last week. "China has vowed to retaliate but has not yet announced any concrete measures and trade talks in Washington are still ongoing, suggesting that China's leadership are still hoping for a last-minute agreement in order to contain the damage."
This story has been updated.