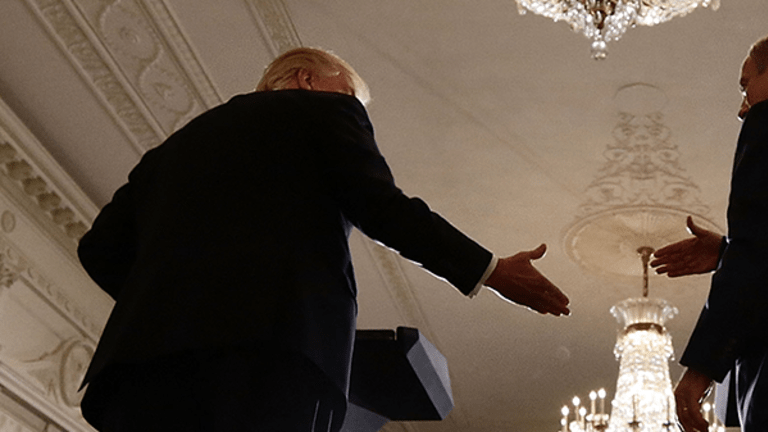 'King of Debt' Trump Seeks to Increase Bankruptcy Filing Fees in Budget
A line in the Trump administration's budget seeks to raise fees on corporate bankruptcies in a manner that would affect the biggest-ticket filings.
A line in the Trump administration's budget seeks to raise fees on corporate bankruptcies in a manner that would affect the biggest-ticket filings.
The White House budget blueprint, released last week, calls for the United States Trustee Program under the Department of Justice to increase fees for filing bankruptcies to "ensure that those that use the bankruptcy system pay for its oversight." The proposal seeks to produce an additional $150 million in 2017 and $289 million in 2018.
The measure would apply only to Chapter 11 bankruptcies, according to a Department of Justice spokesman, and change the current quarterly fee scheme to a percentage-based one instead of a fixed-amount-based one.
It would increase quarterly fees paid by about the largest 10% of Chapter 11 debtors to an amount equal to 1% of disbursements or $250,000, whichever is less.
"That almost certainly means that they're going to increase the fees for the 10% that make the largest disbursements quarterly," said Lynn LoPucki, UCLA law professor and founder of the UCLA-LoPucki Bankruptcy Research Database. "This is actually a Trump issue, it's small business against big business. And they're saying that they're going to increase the fees at the top for the largest debts."
There are two types of fees that are charged in bankruptcy cases - an upfront fee for using the bankruptcy system, and a second type of fee that applies to Chapter 11 cases, i.e., reorganizations. Companies in Chapter 11 have to pay a quarterly fee depending on the amount spent that quarter.
Quarterly fees are currently set at a fixed amount, with the highest a debtor can owe being $30,000 per quarter for those whose quarterly disbursements top $30 million. The adjustment under Trump that shifts to a percent-based scheme increases the limit of the amount owed to $250,000, 8 times where it's at right now.
"As long as your case is open, you pay a quarterly fee, and that depends on how much you spend in that quarter," said Isaac Nutovic, attorney and owner of New York-based law firm Nutovic & Associates. "It certainly would encourage them to speed up the process."
The cost of bankruptcy has been a big issue over the past couple of decades, as government and attorneys' fees have increased rapidly for consumers and business debtors alike.
The current business fee schedule is a graduated one, but perhaps not graduated enough. Quarterly fees are insignificant for large companies but take a big bite out of smaller ones. This seeks to reverse that.
"What the administration is proposing here would be an improvement in that situation," said LoPucki.
Anthony Casey, a professor of law at the University of Chicago Law School and former associate at Wachtell, Lipton, Rosen & Katz, said in mega-cases, the fee scheme change wouldn't have an extreme effect, but it might alter things at the margins.
"The question is in a $50 million case, does this $250,000 matter?" he said. "It's not nothing, but probably not enough to distort behavior in a meaningful way."
It could potentially make it more difficult for some companies to emerge from bankruptcy. It is also worth noting that such an increase could affect creditors as well, as whatever administrative fees are placed in a bankruptcy context will diminish the amounts available to pay other people.
"You're diminishing the dividend that the creditors get," said John Pottow, professor of law at the University of Michigan Law School.
The Trump administration's skinny budget, which calls for a steep increase in defense spending and cuts to most other domestic department, was criticized from the left and the right. Conservative budget hawks say it doesn't do enough to address the deficit, while progressives decried its cuts of numerous social programs.
The White House has indicated it will release a more complete budget by May, and when it arrives, it is unlikely it will get very far in Congress without considerable changes. However, the bankruptcy-specific proposal could appear in Congressional committees and elsewhere.
A call for an increase in bankruptcy fees that would largely affect companies is perhaps a relatively politically-safe avenue for the White House. There is no political affiliation that is attacked by it or a broad constituency it would anger -- it's just a way for the system to pay for itself.
"This is the perennial golden goose of the federal court system," said Pottow. "They treat bankruptcy fees as a cash cow."
Of course, Trump is well familiar with the bankruptcy process. His companies have filed for Chapter 11 bankruptcy protection six times, and this increased fee structure might have affected him, depending on whether it would have fallen into the largest 10% of debtors.
LoPucki said at about $1 billion dollars in sales, the two most recent Trump bankruptcies (2004 and 2009) were almost certainly among the 10% of Chapter 11 cases paying the highest quarterly fees.
"I don't think either the filing fees increases or quarterly fee increase to have had much of an impact on Trump's decision to file his companies," said Ted Connolly, a Boston bankruptcy attorney who studied Trump for his book "The Road Out of Debt: Bankruptcy and Other Solutions to Your Financial Problems." "The greater filing fees would be a minor cost and the additional quarterly fees during the bankruptcy would have had to be absorbed by the company or as a reduction to creditors."
Trump has sought to cast himself as a figure who can parlay his tactics from the business world -- exploiting tax loopholes, schmoozing politicians and, yes, utilizing bankruptcy laws -- into a unique understanding of the public sector. While campaigning, he declared himself the "king of debt" and bragged about using "brilliantly" the laws of the country in his bankruptcies. He might now be trying to prevent others from doing so -- at least those at the very top.
Updated with comments from John Pottow.