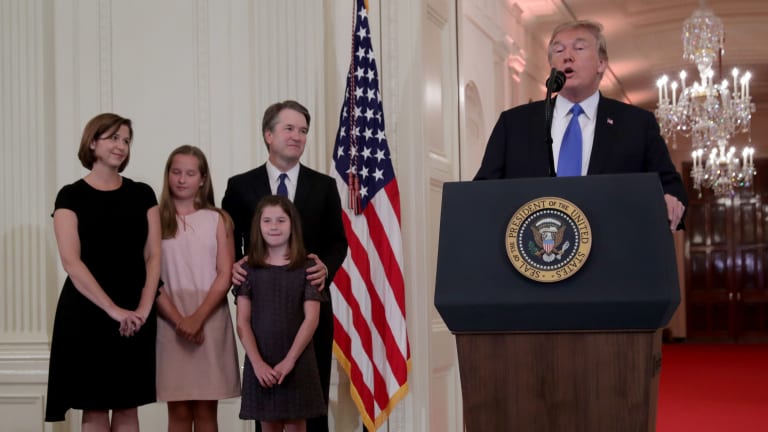 Trump Names Brett Kavanaugh as his Supreme Court Nominee to Replace Kennedy
Trump names Kavanaugh to replace retiring U.S. Supreme Court Justice Anthony Kennedy.
President Donald Trump Monday night announced that Brett Kavanaugh will be his second nominee for the Supreme Court -- a pick widely considered to be of historical significance because it would solidify for many years to come a 5-4 majority on the court for conservatives.
If confirmed, Kavanaugh will replace Justice Anthony Kennedy, 81, who recently announced he is retiring at the end of this month. Kennedy was a key swing vote on issues such as abortion, affirmative action, gay rights and voting rights.
Kavanaugh, 53, was among the front runners for the open position on the high court and even clerked for Kennedy, the man he would be replacing. He is a Yale Law School graduate and has been a D.C. Circuit Court of Appeals judge since 2006; he also worked in the solicitor general's office in the George H.W. Bush administration and was an assistant to Ken Starr, the independent counsel who investigated President Bill Clinton.
During the announcement of Kavanaugh's nomination at the White House Monday evening, Trump described his nominee as being "universally regarded as one of the finest and sharpest legal minds of our time." 
Kavanaugh said, "I am deeply honored to be nominated to fill Kennedy's seat on the Supreme Court." He spoke of how his parents inspired him, of his career in public service, and said his judicial philosophy is that "a judge must be independent and interpret the law, not make the law."
"I believe that an independent judiciary is the crown jewel of our republic," he said.
Kavanaugh is reportedly the favorite of White House counsel Don McGahn. But Senate Majority Leader Mitch McConnell expressed concern that Kavanaugh's long-tenure as a D.C. Circuit judge could result in too many documents for the Senate to examine, which could give the Senate Democrats an opportunity to delay the confirmation vote, the New York Times reported.
Over the weekend, media outlets and politicians narrowed the contenders for Trump's nomination to four:  Kavanaugh, of the D.C. Circuit; Judge Amy Coney Barrett, of the Seventh Circuit, Judge Thomas Hardiman, of the Third Circuit, and Raymond Kethledge, from the Sixth Circuit.
Trump's first nominee for the Supreme Court, Justice Neil Gorsuch, was confirmed in April 2017.