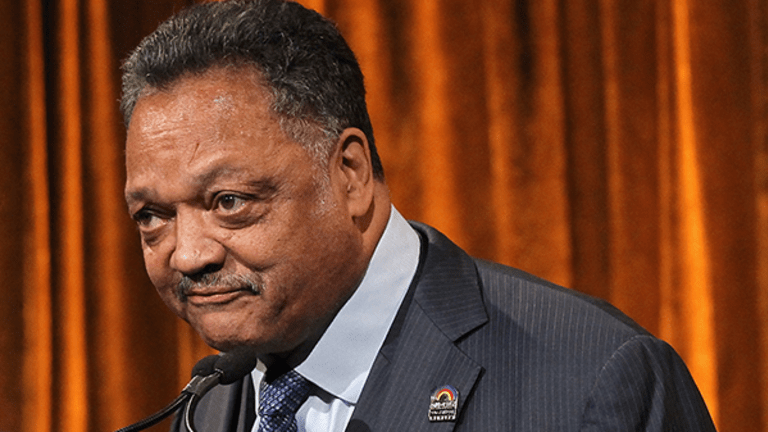 Jesse Jackson to Attend Amazon Shareholder Meeting in Tech Diversity Push
The Reverend Jesse Jackson is headed to the West Coast to push Amazon to up its efforts on diversity.
The Reverend Jesse Jackson is headed to the West Coast to push Amazon (AMZN) - Get Amazon.com Inc. Report and others to increase their efforts on diversity.
Jackson, a long-time civil rights activist and head of the progressive Rainbow PUSH Coalition, will attend Amazon's shareholder meeting on Tuesday in Seattle. It is part of a larger effort by Jackson and associates to advocate for diversity in Silicon Valley and the tech community as a whole.
"We focus on Silicon Valley and Silicon Forest in terms of gender and racial equality on the boards and the C-suites and contracts and procurement and investments," Jackson said in an interview Monday with TheStreet. "There are noticeable gaps, gender and racial gaps."
Jackson plans to meet with Uber on Tuesday afternoon and will attend United Airlines' (UAL) - Get United Airlines Holdings Inc. Report shareholder meeting on Wednesday. He said he will also be at Facebook's (FB) - Get Meta Platforms Inc. Report meeting in June and has already attended Apple's (AAPL) - Get Apple Inc. Report annual gathering this year.
Jackson has long advocated for increased diversity in tech and has made a habit of attending companies' shareholder meetings, including Amazon's, in recent years.
Amazon came under fire in 2014 when diversity figures released by the company showed that 63% of its workforce was male, including 75% of its managers, and its workforce was 60% white, including 75% of its managers.
Amazon CEO Jeff Bezos allowed to Jackson address Amazon's shareholder meeting in 2015.
On Monday, Jackson cited Amazon's decision to hire 1,000 workers in Tacoma, Washington, and his hopes the company will keep diversity in mind. "People who've been locked out should be part of the expansion," he said.
Jackson is also targeting the H-1B visa program for foreign workers, which are especially popular among tech companies including Apple, Amazon, Alphabet and Microsoft (MSFT) - Get Microsoft Corporation Report . On that front, he appears to have some common ground with the Trump administration, which is seeking to curb what it says are abuses of the program.
"The Silicon companies tend to have a way of reaching out to H-1B workers when there are youth at home that have the same capacity but don't have the opportunity or the focus," he said.
Jackson added that Amazon's board of directors "does not yet reflect America's capacity." There are three women on Amazon's eight-member board. There are no people of color.
"We believe that diversity and inclusion are good for our teams and our business, but our commitment is based on something more fundamental than that," an Amazon spokespersno said in an email. "It's simply right. Amazon has always been, and always will be, committed to tolerance and diversity. We are focused on strengthening the pipeline of diverse talent, and we are investing in global programs to accelerate our progress."
In Seattle on Monday Jackson will also meet with local civil rights leaders at Mount Zion Baptist Church. Among the items up for discussion will be the White House 2018 budget, which is set to be unveiled on Tuesday. It contains major cuts to entitlement programs, including Medicaid, and also assumes the passage of the American Health Care Act, which would strip millions of people of health care over the course of a decade.
"[It's] big cuts for health care for the poor and massive tax cuts for the wealthy," Jackson said. "The poor will be sinking, the rich will be rising."