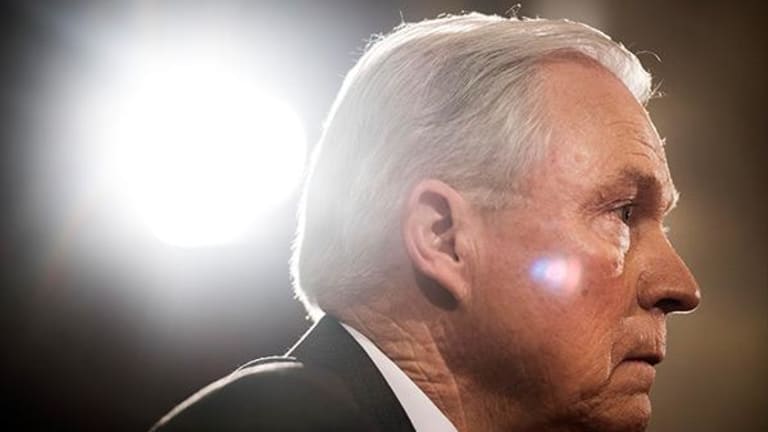 The Senate voted to confirm Jeff Sessions as U.S. Attorney General on Wednesday, bringing to a close what became one of the most contentious debates over President Trump's cabinet picks so far.
The Senate voted 52 to 47 along party lines to confirm the Alabama Senator to head the Department of Justice. (Sessions voted "present"). The fight over Sessions' confirmation reached a boiling point on Tuesday evening when Senate Republicans voted to formally silence Sen. Elizabeth Warren, a Massachusetts Democrat, while she was reciting a 1986 letter from Coretta Scott King criticizing Sessions' record on civil rights.
Trump's Nov. 18 announcement that he had tapped Sessions as U.S. Attorney General was met with immediate backlash from groups citing the former Alabama Attorney General's record on civil rights, voting rights and race. Allegations of racist remarks and behavior kept Sessions from gaining confirmation as President Ronald Reagan's nominee for the U.S. District Judge for the Southern District Court of Alabama in 1986.
Trump's executive orders on immigration since his inauguration, including a call for a wall to Mexico and a temporary ban on immigrants from seven Muslim-majority countries, exacerbated concerns about Sessions, who is a hard-liner on immigration.
In his confirmation hearing before the Senate Judiciary Committee, Sessions, 70, sought to calm concerns over his record.
"The Department of Justice must never falter in its obligation to protect the civil rights of every American, particularly those who are most vulnerable," he said in prepared remarks delivered before the committee.
Sessions' hearing covered a wide range of topics, including his take on mergers and acquisitions policy and whether he believed Russia had intervened in U.S. elections.
The Alabama Republican was also peppered with questions on whether he would be willing to investigate his soon-to-be boss if that became necessary.
He hedged when asked whether he would appoint special counsel to address Trump's possible conflicts of interest with troubled Deutsche Bank (DB) - Get Deutsche Bank AG Report . He said "if there are laws violated," he would investigate and prosecute Trump's family and associates and that he would "evaluate" the situation if Trump were to be found in violation of the Emoluments Clause, which bars the president from taking compensation from foreign governments.
Sessions also said he would recuse himself from any investigations involving former Secretary of State Hillary Clinton, of whom he was a fierce critic during the 2016 presidential campaign.
The Senate Judiciary Committee voted to approve Sessions' nomination on Jan. 31 by an 11 to nine vote along party lines.
The fight over Sessions' appointment reached fever pitch on Tuesday when Senate Majority Leader Mitch McConnell invoked a rule to formally stop Sen. Warren from speaking, alleging she had "impugned" Sessions' motives and conduct. McConnell moved to silence Warrens while she was reading the letter from the widow of Dr. Martin Luther King Jr. opposing Sessions' confirmation 31 years ago.
"Senator Warren was giving a lengthy speech," McConnell said. "She appeared to violate the rule. She was warned. She was given an explanation. Nevertheless, she persisted."
The Senate floor drama quickly swept across the airwaves and the internet, and the hashtags #ShePersists and #LetLizSpeak trended on Twitter.