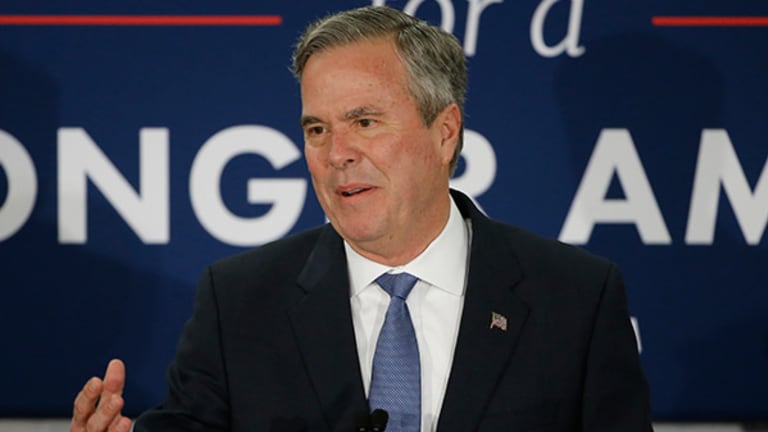 Jeb Bush to President Trump: Quit Tweeting
The former Florida governor, who once called Trump "a chaos candidate who would be a chaos president" said "chaos organizes the presidency right now and that has to change."
Former Fla. Governor Jeb Bush, speaking to hedge fund managers on Friday, urged his once-rival President Donald Trump, to quit tweeting.
Participating in a wide-ranging interview at the SALT conference in Las Vegas, Bush argued that Trump's tweets undermine "a lot of people" that are trying to keep up with him.
"They give our enemies all sorts of nuances, insights," Bush said. "There are lots of reasons why you wouldn't want to send out signals to our adversaries."
Bush, whose father and brother had previously served in the White House, bowed out of the Republican presidential primary in February 2016, after a long slide the polls.
His comments come as President Trump continues to issue tweets, seeking to respond to a series of scandals connected to Russia. Most recently a meeting between the president and Russian Foreign Minister Sergey Lavrov has come under intense scrutiny because it occurred one day after the commander in chief fired FBI director James Comey, who had been leading an investigation into connections between the administration and Russia.
Trump tweeted May 16 "I wanted to share with Russia... facts pertaining to terrorism and airline flight safety..."
Bush acknowledged that he understands that Trump uses the social media site to "go around the press" and directly communicate with millions of people. However, he suggested that the tweets make it hard for the Trump Administration to stay on message. "It's hard to have a unified White House," he said. "Chaos organizes the presidency right now and that has to change."
Finally, Bush ended on a hopeful note, arguing that the Justice Department's recent announcement that it would appoint a former FBI director, Robert Mueller, as special counsel to oversee the investigation into any ties between President Trump's campaign and Russia creates an opportunity for the White House.
"This will take all the swirling controversies off of the headlines and he [President Trump] can go about doing the business of the agenda that he was elected to do," Bush said. "Director Mueller is a great patriot he will follow the facts. He will do it quietly, it won't be leaked and the White house can get back to the business of having an agenda to work with Congress on if he could just stop tweeting."
Bush's comments come after Carlyle Group co-CEO David Rubenstein told fund managers on Thursday that he doesn't expect any major results soon from investigations into whether there were any connections between President Trump's campaign and Russian officials. "This will go on for somewhere between six to 12 months," he said.
Editors' pick: Originally published May 19.