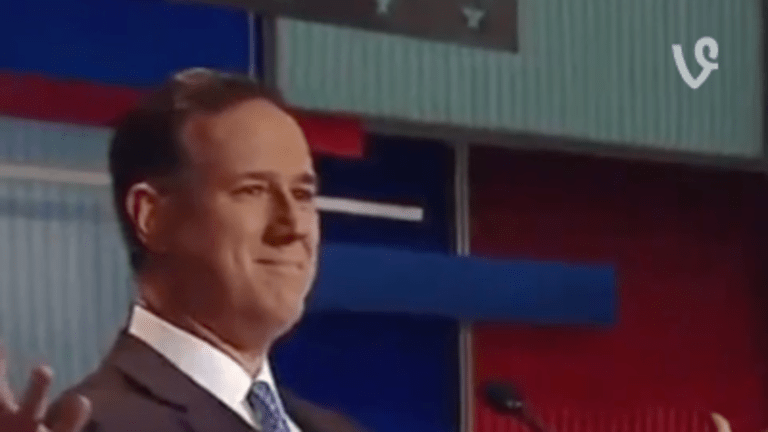 Publish date:
It's the Vine Election, so We Hired a Vine Artist to Cover It for Us
Vine captures moments that you just can't put into words and it's having an impact on the election. So, TheStreet has hired a Vine artist. Here's why.
Vine captures moments that you just can't put into words and it's having an impact on the election. So, TheStreet has hired a Vine artist. Here's why.
Editor's pick: Originally published Jan. 15.
You know why Republican Rick Santorum, the former U.S. senator from Pennsylvania and current presidential contender, respects Democrats? Because they fight! And that tells you everything you need to know about Santorum's 2016 campaign.
Get it? No? Let me try it again.
During the fourth Republican presidential debate on Fox Business Network in November, one of the most telling moments about any candidate came during the undercard portion of the evening. When Rick Santorum was asked to name a Democrat he respected, a question the dyed-in-the-wool red Republican audience didn't seem to like, the former U.S. senator from Pennsylvania gave a counter-intuitive take:
"You know who I respect in the Democratic Party? You know why I respect them? Because they fight!"
He shouted the last line a tad too close to the microphone, creating a distortion that must have shocked the audience, because the zinger did not hit with the intended impact. Yes, Santorum is still out of touch, as he was in 2012, when it comes to understanding what a wide swath of the electorate wants to hear.
That make more sense? No? Here, let me just show you:
In just six seconds, or maybe a tad more if you want to watch it loop a few times, this Vine video tells you so much about Santorum and his floundering 2016 candidacy. I dare you to watch Santorum on stage at the next Republican debate and not see what this video so eloquently shows: that Santorum is tin-eared and doesn't come off to most people as he intends to.
In case you're not familiar, Vine is a small social network owned by Twitter known for comedy and teens -- and, increasingly, politics. Vine artists Vic Berger and Todd Dracula, in particular, have become known for creating insightful shorts that say in just a few gestures and sound effects what takes hundreds of words to not quite completely capture. The impact can be huge: Vines by Berger have been viewed some 64 million times ("loops," as they're called on Vine) and Dracula has amassed about 33 million loops.
The way it works is that you shoot video with your phone or upload something more produced, add some text, hashtags; publishing it shares it with your followers -- like Twitter, but for short, looping video. Your followers can "revine" your posts to share them with their followers (think: retweet) and it's connected to your other social networks, so you can share the videos instantly on Twitter and Facebook. The reach of Vine can sometimes be incredible.
We're living in a highly visual era, one where we all consume more and more tiny bits of content. With a seemingly endless schedule of debates, campaign moments caught by staff, the media and amateurs alike and shared on YouTube, Facebook, Instagram and other social media, not to mention round-the-clock coverage on the news networks, Vine is perfectly positioned to repurpose, remix and share the best moments. Vine artists like Berger and Dracula use clever editing and sound effects to say something more than the original video could.
Sometimes the effects are deeply insightful, like the Santorum Vine above. Sometimes they portray just the facts in a charming way:
Sometimes they're whimsical:
Sometimes they zoom in on a big moment we all remembered to show us its warts:
Or just serve as a fun reminder when something big happens:
And sometimes they just put together two ideas unfairly separated by time and editing:
It seems mostly like fun, but don't dismiss Vine. Already, Vines are having an impact on the election.
The New Republic took an in-depth look at how Vines had been used to portray former Florida Governor Jeb Bush as "a timid and weak loser who can't help but prattle on in therapy-speak as he's trying to convince voters he should be commander-in-chief."
"If there's a moment that's managed to encompass Bush's awkward, stalled-out campaign for the Republican presidential nomination, it's 'Macbook Pro, baby.'," wrote New York Magazine about this Berger Vine on Bush.
Many of the candidates have Vine accounts now: Donald Trump has 97,000 followers and nearly 12 million loops; Jeb Bush is at around 3,500 followers and 1.4 million loops; and both Ben Carson and his bus are on vine -- the candidate has more followers and loops than his ride (about 7,000 and half-a-million). Chris Christie, John Kasich and others have Vine accounts, too. And they're even interacting with the Vine activity around them. Berger said he would get a Jeb Bush tattoo if his "Macbook Pro" Vine got over 1 million loops. It now has over 7 million. (Here's the tattoo.)
So, TheStreet is going all in on this trend. Over the past several Republican and Democratic debates, we've worked with Dracula (not his real name, though we do know who he is). You can see our collaboration at our official Vine account. I'm also pleased to announce that, starting today, we will be working with Dracula to create Vines all year that give you an inside look at politics and the presidential campaign in 2016.
If Vine is new to you, you can also follow along at our politics Twitter account, where we'll be promoting all the Vines, as well as TheStreet's Facebook page, where many will appear, too.
Last, if you have ideas for moments from the race that deserve a looping, shareable treatment by someone who knows just the perfect way to capture that fighting spirit, let me know.