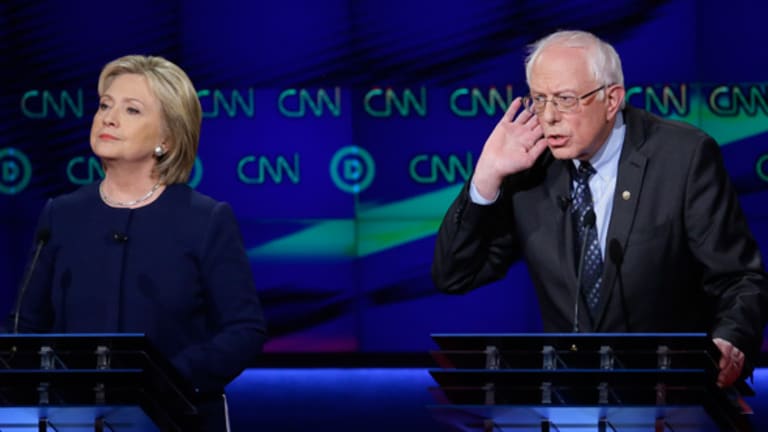 It's Going to Get Nasty at Tonight's Democratic Debate
As the campaign between Bernie Sanders and Hillary Clinton for the Democratic presidential nomination heats up, the two will face off on the debate stage in New York.
As the campaign between Bernie Sanders and Hillary Clinton for the Democratic presidential nomination heats up, the two will face off on the debate stage in New York.
Democratic presidential candidates Hillary Clinton and Bernie Sanders have been trading increasingly sharp barbs on the campaign trail in recent weeks, and Thursday, we'll see how that antagonism plays out when they're face-to-face.
Clinton and Sanders will take part in a presidential debate this evening hosted by CNN and NY1. Set to take place in Brooklyn, New York, the event will mark the first time the pair have crossed paths on the national stage in over a month. (Their last showdown was on March 9 in Miami.)
Thursday's event comes just five days ahead of the New York primary, which is set for Tuesday, April 19. According to a RealClearPolitics average of polls, Clinton appears well-positioned to come out with a win in the state she represented as senator for eight years: she leads Sanders with 52.6% support compared to his 39.3%.
Getting the Democrat duo to even agree to a debate was a feat for organizers. The Sanders campaign originally proposed four dates, April 10-13, in accordance with his availability; Clinton agreed to debate on April 14, which the Vermont senator originally rejected, saying he had a park permit for a rally that day.
New York Mayor Bill de Blasio, who is backing Clinton, even got involved in the back-and-forth, sending a tweet to Sanders encouraging him to agree to the debate date and promising to help him get rally permits:
The mayor's push paid off.
The ninth Democratic presidential debate will start at 9:00 p.m. Eastern Time Thursday evening. Held at the Duggal Greenhouse in the Brooklyn Navy Yard, it will be hosted by CNN's Wolf Blitzer. Dana Bash, chief political correspondent at CNN, and Errol Louis, host of NY1's "Inside City Hall," will also participate.
TheStreet will be covering the event live via Twitter at @TSTPolitics. Here are three things to watch out for.
Things Could Get Nasty
At the outset of his bid, Vermont Senator Sanders appeared to be running a nicer, gentler campaign, boasting that he had never run a negative political ad and famously declaring, "The American people are sick and tired of hearing about your damn emails!" with regard to continued questions of Clinton's use of a private server as secretary of state.
How things have changed.
Sanders has sharpened his attacks on Clinton in recent days and weeks, going as far as to question whether the former first lady, U.S. senator and secretary of state is even "qualified" to be president (he later reversed course on the assertion). The Clinton campaign cited the senator's "tone" as reasoning for initially resisting the debate.
To be sure, Clinton hasn't been nice to Sanders, either. Her camp has gone after the senator hard on gun control in recent days, specifically in relation to his belief that gun crime victims should not be able to sue gun manufacturers.
"That he would place gun manufacturers' rights and immunity from liability against the parents of the children killed at Sandy Hook is just unimaginable to me," Clinton said during an appearance on MSNBC last week, referencing a wrongful death lawsuit against rifle maker Remington over the 2012 massacre at Sandy Hook Elementary School in Newtown, Connecticut.
The Local Backdrop
Perhaps more than any other time during this election cycle, the local backdrop will play an enormous role in tonight's debate.
Both Sanders and Clinton are on home turf in New York: he grew up in Brooklyn, she represented the state for eight years in the U.S. Senate. According to a recent Monmouth University poll, 58% of likely Democratic primary voters in the state say they consider Sanders either somewhat or definitely a New Yorker; 61% say the same about Clinton.
But it won't all be warm and fuzzy feelings for the Big Apple on Thursday. For one thing, New York is home to Wall Street, about which both Clinton and Sanders have been extremely critical this election season.
The Vermont senator consistently rails against the banking and finance industry on the campaign trail, and at the base of his campaign is a movement to dismantle the big banks and take down what he calls the "billionaire class." The former secretary of state has also pledged to take on Wall Street interests and tighten financial regulations, though Sanders' presence in the race has certainly pushed her more to the left on the issue.
New York is also the home of the headquarters of Goldman Sachs, which has become a major flash point in the Democratic race. Sanders released an ad just this week slamming the finance giant over a $5 billion legal settlement reached with the Justice Department related to the 2008 financial crisis. This evening, he's sure to bring up Goldman, and Clinton's paid speeches to the firm, yet again.
That Pesky New York Daily News Interview
Depending who you talk to, Sanders' April 1 interview with the New York Daily News editorial board could have gone better.
The senator's somewhat vague answers on how he would break up the big banks, indict Wall Street wrongdoers and deal with conflict in the Middle East rubbed some the wrong way. Clinton has refrained from attacking Sanders directly on his remarks, though she has alluded to it, saying in a recent interview, "I have noticed that under the bright spotlight and scrutiny here in New York, Senator Sanders has had trouble answering questions."
The Daily Newsendorsed Clinton on Tuesday. "The former First Lady, senator and secretary of state promises to be a true Democratic champion," the publication declared.
The publication's interviews with both candidates, and its endorsement, may come up at Thursday's debate, but even if they don't, they'll be in the background. Sanders will have an opportunity to provide some more detail on his bank-breaking plans. He might also address ongoing dust-ups over his comments about certain corporations while chatting with the Daily News.