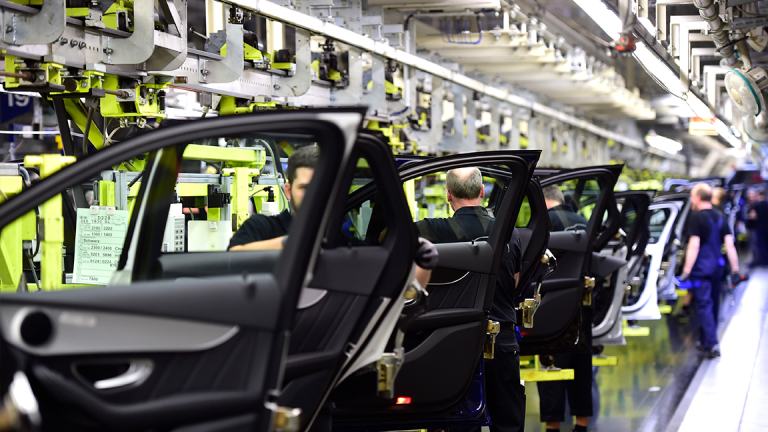 Is President Trump Trying to Ban Mercedes, BMW and Others?
Recent reports suggest President Trump doesn't like seeing so many European vehicles in the U.S., while actions out of the White House suggest there could be some validity.
Can President Donald Trump effectively ban German luxury automakers like Mercedes-Benz (DDAIF) , Audi, BMW, Porsche and others from the U.S.?
On Thursday morning, reports from German magazine WirtschaftsWoche said Trump would uphold his trade policies "until no Mercedes models rolled on Fifth Avenue in New York." This, he apparently said to French president Emmanuel Macron back in April.
Of course, Trump is known to change his mind. He's also known to take a tough stance initially before meeting somewhere in the middle. Part of the "art of the deal," I suppose. In any regard, what are the odds of this actually happening?
To answer that question, we have to look at how Trump would make life tough for German automakers, since an outright ban isn't really in the cards. The easiest way would be with an import tariff.
There's a 10% import tariff for U.S. cars going into Europe and just a 2.5% import tariff for European cars coming into the U.S. The White House could level those tariffs, matching Europe's 10% or possibly going even higher. A similar relationship previously existed between China and the U.S. However, China recently lowered its automotive import tariff from 25% to 15%.
Earlier this month, the U.S. Commerce Department launched an investigation to determine whether auto imports threaten national security. That could increase the odds that perhaps Trump will actually look to take some action against European luxury automakers. Perhaps lower EU automotive tariffs on U.S. cars would be enough to please the White House. Maybe that's all Trump really wants -- although if there's any validity to this morning's report, it doesn't seem like that's the root issue.
Trump's recent hike on metal tariffs shows that he very well may plan to squeeze German carmakers. On Thursday, the White House pushed forward with its 25% steel and 10% aluminum tariffs against Canada, Mexico and the EU. To no surprise, the move is causing plenty of backlash given that each country is an ally to the U.S. 
The One Trade You Must Make to Play a Steel Tariff War
While some steel producers will benefit, the U.S. metal industry isn't necessarily behind the move. Further, international companies exporting into the U.S. don't benefit either. It also doesn't help buyers of steel and aluminum, which ironically, includes U.S. automakers like Ford Motor (F) - Get Ford Motor Company Report and General Motors (GM) - Get General Motors Company Report .
So what's the point? This sums it up pretty well:
The Commerce Department argues that auto imports could be a threat to national security and harm U.S. jobs. Perhaps, though, they should take a closer look at domestic automakers manufacturing their vehicles overseas and then importing them back into the U.S.
That arguably hurts U.S. jobs more than imports of luxury cars from Germany. In that respect, let's not pretend that U.S. jobs are being sacrificed by the thousands due to German luxury automakers. Let's also realize that Mercedes, Audi, BMW and others provide tens of thousands of jobs in the U.S. for their operations.
From Mercedes alone, the company directly employs more than 24,000 workers in the U.S. and estimates that it supports roughly 150,000 indirect jobs in the country as well (through suppliers, contractors, etc.). It's invested more than $6 billion in its Alabama manufacturing facility alone and continues to build and expand various plants across the country. Roughly 23% of Daimler's shareholders are in the U.S., as well. 
Through March 2018 -- the data after which is skewed because GM only reports quarterly numbers -- shows that German brands only made up 7.31% of new U.S. sales. That includes Volkswagen (VLKAY) , Mercedes-Benz, BMW, Audi and Porsche in that order. Further, data from 2017 showed that almost 30% of German automobiles were produced in the U.S. Mercedes, BMW and Volkswagen (which also owns Audi and Porsche) all have production volumes that have been trending higher in the U.S., while relying less on imports.
There seems to be a real disconnect here that doesn't make sense. Sort of like the administration's focus on repealing coal regulations when it's cleaner and in many cases cheaper to build out renewable energy alternatives. So can we really believe that auto imports are a huge threat of national security?
Finally, if a customer wants to buy a Mercedes over a Cadillac, a Porsche over a Tesla Inc.  (TSLA) - Get Tesla Inc Report or a BMW over a Lincoln, who's to say -- from the White House of all places -- that they shouldn't be able to do so for a reasonable price.
This article is commentary by an independent contributor. At the time of publication, the author had no positions in the stocks mentioned.