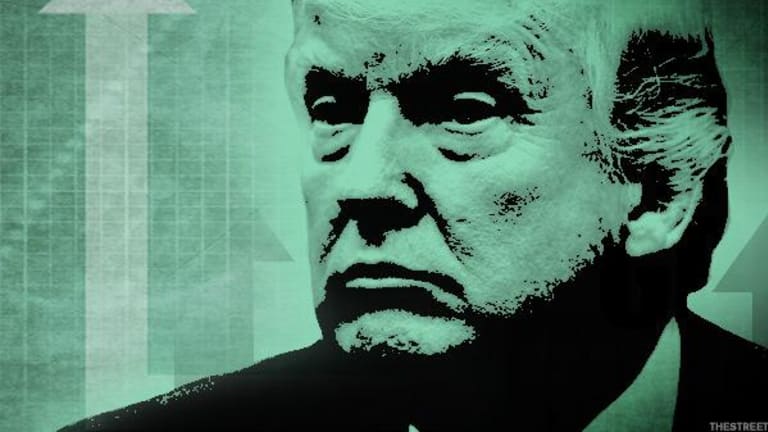 Investors Spooked, Then Shrug Off Trump's Dollar Comments
President Trump's comments on the dollar spooked investors momentarily, but it's has already been on the decline, and his whims aren't necessarily what will determine what it does moving forward.
President Trump's comments on the dollar spooked investors momentarily, but the currency has been declining since January, and his whims aren't necessarily what will determine what it does moving forward.
Trump's remarks in an interview with the Wall Street Journal on Wednesday that the dollar is getting "too strong" caused the currency to waver, with the dollar index, which measures the greenback against a basket of currencies, falling as low as 100.01 in early trading in Asia on Thursday. The dollar index has since rebounded to about 100.4 late-morning, but it's still far off of its late-December and early-January highs.
"Trump's having a temporary impact," said Natixis analyst Nordime Naam, but strong consumer confidence numbers out Thursday helped turn things around. "The market is listening to Trump, but no so much. The economy at the end of the day will be more important."
The greenback took off in the wake of Trump's surprise election, thanks to optimism that having Republicans in control of the White House and Congress would spur action on dollar-strengthening measures like tax reform, deregulation and infrastructure. But since the start of the year, dollar bulls have begun to let the air out of the balloon gradually, with the dollar taking its biggest dive in the wake of the GOP's failure to get a repeal and replace bill for Obamacare onto the House floor.
Views vary on what's next for the dollar, what Trump wants from it, and how much it even depends on him.
Douglas Borthwick, managing director of New York-based Chapdelaine FX, has longheld that the dollar is headed south, even if Trump delivers on tax reform (which isn't guaranteed) and/or the Fed raises interest rates.
"The weaker dollar is something we've been calling since January," he said.
Naam, on the other hand, said he sees the dollar moving upward, though not to December levels. "We expect some recovery in the dollar in the coming months given that we are more positive on growth and therefore expect more rate hikes this year from the Fed," he said.
The U.S. has maintained a strong dollar policy since 1995 under then-Treasury Secretary Robert Rubin. "None of the presidents, and none of the Treasury Secretaries, either, questioned or changed that policy," said Steven Barrow, head of G10 Strategy at Standard Bank.
Until now.
Trump in a January WSJ interview complained that the dollar was "too strong," making it hard for companies to compete. "It's killing us," he declared. And in February, he said he wants to keep the U.S. dollar lower to help U.S. exporters.
Treasury Secretary Steve Mnuchin in his Senate confirmation hearing said the "long-term strength" of the dollar is important but indicated there may be times when it has risen too far.
"The currency is very, very strong," he said. "We just have to protect our U.S. companies so they're not forced abroad."
"The weak dollar policy for Trump is essentially his way of making the U.S. more competitive relative to countries that have trade surpluses compared to the U.S.," Borthwick said, citing Japan, Germany and China.
The Huffington Post reported in February that Trump once called since-ousted National Security Adviser Michael Flynn to ask whether a strong or weak dollar is good for the economy. Given Trump's admitted flexibility on the issues (on Wednesday he seemed to change his mind on a number of matters), it's impossible to know where he'll stand tomorrow.
"Will the real Donald Trump please stand up?" said DBS chief investment officer Lim Say Boon in a Thursday note. "You cannot invest on President Trump's quirks and quips. He could just as well say something else tomorrow."
"There's not been a flip-flop [on the dollar]. His position seems to have been rather consistent," said Barrow. "His flip-flops on other policies suggest to me he could flip-flop on that as well."
Of course, what the White House wants in terms of the dollar is not the end-all, be-all of what will happen. The Federal Reserve, broader economic indicators and geopolitical events are all things to consider, and the market isn't listening to Trump like it used to.
"My problem, and maybe the problem of the market here and maybe why we won't see much response to Trump is that we've moved into an era with respect to dollar policy of consistency into an area where policy allegiance may come and go fairly willy-nilly," Barrow said.
Boon noted the dollar was already vulnerable anyway because of surges in safe-haven buying of U.S. Treasury bonds and the yen and the divergence between the dollar and economic data disappointments. He also noted that outside reasons could push it higher, including the Fed shrinking its balance sheet and Trump's own policies coming to life.
"Yes, the President's comments do matter to the dollar, but only in the very short term," Boon said. "Eventually, it's not what he says but what he does that really matters. And the markets would know he says a lot of stuff -- a lot of contradictory stuff."
Repeats story first published April 13.