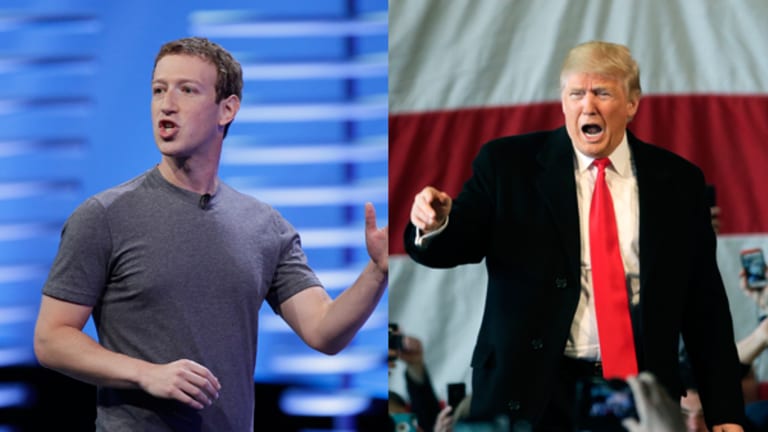 Publish date:
Mark Zuckerberg Responds to Claims of Facebook News Algorithm Liberal Manipulation
Notice your Facebook feed is light on conservative-leaning news content? It might be that way on purpose. Senate Republicans have opened an investigation and Facebook CEO Mark Zuckerberg has responded.
Notice your Facebook feed is light on conservative-leaning news content? It might be that way on purpose. Senate Republicans have opened an investigation and Facebook CEO Mark Zuckerberg has responded.
Facebook (FB) - Get Report is working to calm concerns over alleged political bias in its "trending topics" news section, laying out its internal processes and pledging to continue the conversation as the criticism continues.
CEO Mark Zuckerberg took to the platform in a post on Thursday night to respond to a report earlier this week that workers at Facebook have censored conservative content in its trending topics section. "We take this report very seriously and are conducting a full investigation to ensure our teams upheld the integrity of this product," he wrote, noting that Facebook has not yet found any proof of veracity in the allegations. He also said he would be "inviting leading conservatives and people from across the political spectrum" to discuss the issue.
Facebook also issued a release Thursday explaining how its trending topics section works. It explained that potential topics are first surfaced by an algorithm and then undergo a series of checks and balances by reviewers. "Facebook does not allow or advice our reviewers to discriminate against sources of any political origin, period," the statement reads.
The dust-up over potential bias at Facebook began Monday with a Gizmodostory, citing an anonymous source -- a former journalist who worked on the project -- indicating that former Facebook curators prevented stories about conservative topics from appearing, even if they were trending organically. They allegedly suppressed stories about figures like Mitt Romney, Scott Walker and Glenn Beck, as well as those about the conservative CPAC gathering, or stories coming from news aggregator the Drudge Report. 
Facebook denied any such manipulation late Monday, with Tom Stocky, vice president of search at the company, writing in a post that the company has "found no evidence that the anonymous allegations are true." He said that there are rigorous guidelines in place at Facebook to ensure consistency and neutrality and emphasized that suppression of political perspectives is prohibited. "We are proud that, in 2015, the US election was the most talked-about subject on Facebook, and we want to encourage that robust political discussion from all sides," he wrote.
Senate Republicans, however, were not satisfied with the social media giant's reaction and reached out for answers. 
U.S. Senator John Thune, chairman of the Senate Committee on Commerce, Science and Transportation, sent a letter to Zuckerberg Tuesday asking him to respond to questions about the report and Facebook's curation practices, including who at Facebook is ultimately responsible for approving its content and what steps the company has been taken in its investigation of the matter. The request says Zuckerberg has until May 24 to reply.
This isn't the first time Facebook's internal workings have raised red flags in the political realm this election cycle. In April, Gizmodoreported its employees had floated a poll to ask CEO Mark Zuckerberg whether they should try to stop presumptive GOP nominee Donald Trump from reaching the White House.
This latest report on news suppression might very well be true, but concerns about it are overblown, said Wedbush analyst Michael Pachter in an email.
"I'm always amazed that people care if Facebook filters anything," he said. "Looking at Facebook trending news now, it's about Justin Bieber's face tattoo, Sarah Palin saying Paul Ryan's career is over, and Chris Hemsworth's birthday cake for his daughter. Really? This is the 'influential' news section that they are 'suppressing' important conservative news from?"
Most people don't rely on Facebook for breaking news, he said, and the type of content featured in Facebooks "trending" section indicates the latest stories are inconsequential.
Facebook investors don't appear worried about the report or the government inquiry. Shares were up 0.73% in mid-afternoon trading to $120.11.
Facebook representatives did not return request for comment.
Whatever its employees political leanings, the social media giant plans to play it straight when it comes to convention sponsorship on both sides of the aisle. Facebook confirmed to Recode last week that it plans to sponsor both the Republican National Convention in Cleveland and the Democratic National Convention in Philadelphia, despite calls from some groups that it back away from a Trump-led convention. Alphabet'sGoogle, Coca-Cola, AT&T and others are under similar pressure to steer clear of the RNC.
Facebook and Alphabet are holdings in Jim Cramer's Action Alerts PLUS Charitable Trust Portfolio. Want to be alerted before Cramer buys or sells FB and GOOGL? Learn more now.
Facebook told Recode that its participation in the gatherings, which will include a lounge, should not be interpreted as an endorsement of any candidate, issue or political party.
"This support allows Facebook to facilitate an open dialogue among voters, candidates and elected officials during the conventions, just as it has during other critical moments in the U.S. elections and in elections around the world," said Facebook's vice president of public policy, Erin Egan, in a statement.
Pachter agreed that it's a good idea for Facebook to remain neutral in its sponsorships and avoid alienating users.
"Facebook has 200 million users in the U.S. Presumably, they are relatively evenly split between Democrats and Republicans, so why wouldn't they sponsor the GOP convention?" he said. "Although I'm a Democrat, I don't want public companies to take strong political positions, unless they impact their employees or customers directly (such as the LGBT bathroom ban in North Carolina). Facebook should be impartial and should sponsor both conventions."
Facebook is proving an important but hard-to-pin-down player in the 2016 election.
Zuckerberg raised eyebrows at the company's F8 developer conference in San Francisco in April when he made a thinly-veiled criticism of Trump. The real estate magnate refers to Zuckerberg by name on his campaign website related to his stance on immigration.
But even though there appears to be no love lost between Facebook, Zuckerberg and Trump, their relationship is mutually beneficial in terms of business.