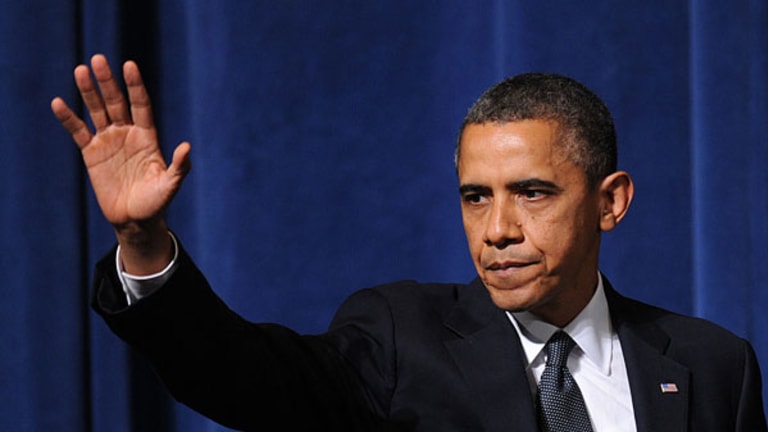 Investors, Republicans and Democrats All Somehow Cheer the Debt-Limit Deal
The three constituencies have different reasons. Here's why.
NEW YORK (
) -- Investors cheered the extension of the debt ceiling. And, improbably, so did the two U.S. political parties.
Mixed trading in stocks
turned positive Wednesday afternoon
after Republicans and Democrats overwhelmingly passed at least a four-month extension that will allow for the government to borrow money to avoid reaching its debt limit.
But why were legislators from both parties in agreement and, as profoundly, why did investors support the government in kicking the can down the road?
"When you think about why the market moves up, it's moving up based on the celebration over these quick-fix solutions," said Jeffrey Sica, chief investment officer of Sica Wealth Management. "As long as there's a quick-fix solution, the market will celebrate that."
Sica said a short-term extension put a spotlight on company earnings instead of the fiscal-cliff deadlock in Washington.
How much longer investors can benefit from these small legislative victories -- deals between two deeply divided political parties -- has yet to be seen as the question of across-the-board spending cuts (the sequester) and a new budget are quickly approaching.
Wednesday's stock-market relief came a week after Rep. Paul Ryan (R., Wisc.) said House Republicans had considered an agreement to avoid the debt issue, which many market analysts started to fear shortly after Congress avoided the fiscal cliff.
"It really helps Republicans right now; they don't want to have this fight right now," said Arnie Arnesen, former Democratic nominee for New Hampshire governor. "It gives those that need to reconfigure the image of the party a chance to do it right now and get some credit for it, rather than trying to fight a debt-ceiling battle that they know they're going to lose anyway."
Arnesen said the delay also allows GOP members some time to avoid having to confront the base of the party just a couple months after it failed to implement bigger spending cuts in the fiscal-cliff package that appeared to be a triumph for President Obama.
TheStreet
noted last week that Republicans were serious about defaulting
as their Jan. 1 agreement to increase taxes in order to avoid the fiscal cliff could lead constituents in deeply conservative districts to question their representatives' commitment to fulfill campaign promises.
A delay allows the GOP to address issues on which it has better negotiating positions: what cuts should remain in the sequester deal, and what the budget package should look like. In other words, it may be more popular to cut a deal to try and reduce the nation's deficit than to eliminate its ability to pay bills.
Obama's administration released a statement on Tuesday that it would ultimately agree to temporarily extend the debt ceiling, but added that a long-term solution would be critical to increase economic stability.
It would appear that forcing Republicans to debate the debt limit would be an advantage for Democrats. Arnesen said Democrats are notorious for kicking the can down the road, but she said she and other party supporters are hoping Obama will seize the moment to address social issues that may be time sensitive.
"He has the gun issue he needs to deal with, he needs to deal with the immigration issue. Those are high-profile issues that people understand; do
most Americans understand the debt ceiling, really? No," said Arnesen.
Americans may soon know more about the sequester, budget, gun laws, immigration and the debt ceiling. But for Wednesday, the stock market was up.
-- Written by Joe Deaux in New York.
>Contact by
.