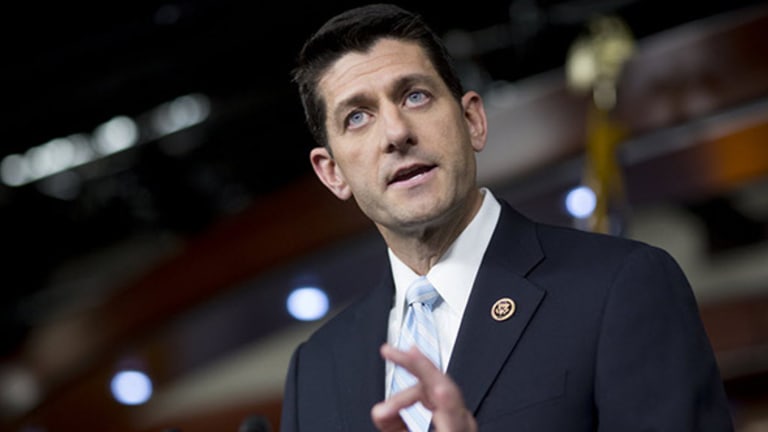 Investors Fret as Ryan Says Tax Reform Will Be Delayed Until Spring
Congress will tackle health care first and tax reform second, said Speaker of the House Paul Ryan, who is helping lead the charge on both fronts.
Congress will tackle health care first, tax reform second, said Speaker of the House Paul Ryan, who is helping lead the charge on both fronts.
The Wisconsin Republican said in an appearance on Fox News' "Fox & Friends" on Thursday morning that GOP lawmakers will focus on repealing and replacing the Affordable Care Act as their first legislative priority and then move on to tackling tax reform in the spring. He said the decision is largely a matter of timing and budget law.
"It's just the sequencing of things," he said. "You can't do them at the same time because of the way the budget system works. So it's repeal and replace Obamacare so we can save and repair the health care system in this country, and then it's tax reform, which gets us economic growth."
Ryan's remarks were met with unease on Wall Street, as investors have been banking on the promise of corporate tax cuts and a repatriation holiday to up earnings for American companies.
U.S. markets opened lower on Thursday. The Dow, S&P 500 and Nasdaq were all down about 0.15% in early-morning trading.
President Trump campaigned on a plan to reduce the corporate tax rate to 15% from 35% and enact a 10% repatriation holiday for profits abroad.
The plan the House GOP put forth last year, "A Better Way," is slightly less aggressive. It seeks to reduce the corporate rate to 20% and subject foreign earnings to an 8.75% tax on cash and cash equivalents and a 3.5% tax on other profits.
Ryan pointed to the proposal on Thursday. "We've already got a tax reform plan, we ran on it," he said.
Republicans on the Hill insist health care reform is a more urgent matter.
"The American health care system is in the middle of a collapse," Ryan said. "We feel the need to rescue the system here, and that's why we're going with health care first, and that's the first budget. And then in the spring, when we do our second budget, that's where tax reform comes."
While Republicans are hell-bent on repealing Obamacare, they have not yet come up with a consensus on how to replace it.
Some in Congress are starting to talk about trying to "repair" former President Obama's signature health care law instead of calling for a repeal, Bloombergreported on Wednesday.
Ryan at a retreat in Philadelphia last week tested out the language shift.
"We've been working with the administration on a daily basis to map out and plan a very bold and aggressive agenda to make good on our campaign promises and to fix these problems -- to repeal and replace and repair our broken health care system," he said.
The Washington Post published a recording of congressional Republicans in Philadelphia discussing the perils of tackling health care reform. About 20 million Americans have gained insurance through Obamacare, and repealing the law without sufficient replacement is a political risk for the GOP, especially with a president who has promised on numerous occasions to take care of everyone.
"We'd better be sure that we're prepared to live with the market we've created" with repeal, said Representative Tom McClintock in the recording obtained by the Post. "That's going to be called Trumpcare. Republicans will own that lock, stock and barrel, and we'll be judged in the election less than two years away."
They'll be judged on the success or failure of their tax reform push, too.