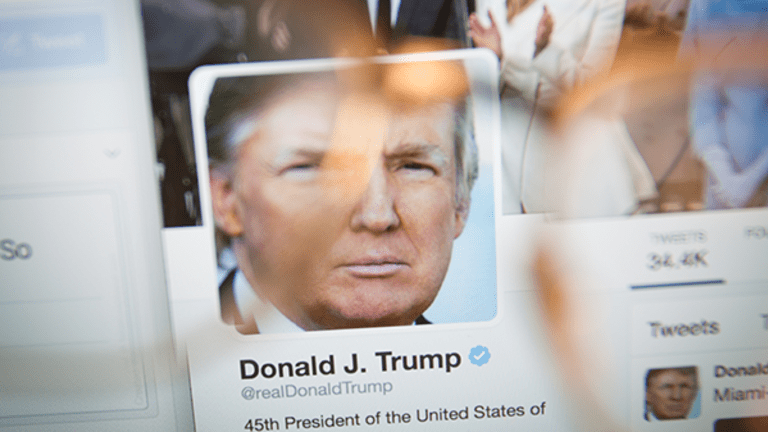 Investors Feared Trump the Candidate, Ignore Trump the President
The stock market used to care about Trump. It doesn't anymore.
The stock market used to care about Trump. It doesn't anymore.
Wall Street has become increasingly impervious to President Donald Trump since his inauguration. The nerves about the potential implications of his presidency that permeated the election season have calmed, and the bullishness that drove markets higher soon after his victory has largely dissipated. Now, when it comes to the goings-on in Washington, investors shrug.
Unfolding revelations about the ongoing investigation into Russian meddling in the 2016 election and possible collusion between the Trump campaign and Russia have barely caused ripples in markets. Stocks have reached record highs even as Congressional Republicans failed to make good on their promise to repeal and replace the Affordable Care Act and President Trump becomes increasingly distracted by often self-inflicted drama.
While Trump likes to brag about the stock market, the growing consensus on Wall Street is that it has nothing to do with him.
"A lot of this has been fundamentally-based. It just so happened that someone was going to be in the White House," said Jim Paulsen, chief investment strategist at The Leuthold Group. "The wind under Trump's magic carpet is broadening and reviving global economic performance."
In fact, since Trump's inauguration, it is ousted FBI Director James Comey who has moved markets most, not the president.
While Wall Street may be relatively immune to Trump's antics now, that wasn't always the case. During the election, it was pretty terrified of him.
Market reactions to the events of the 2016 presidential election indicated investors were fearful of the prospect of a Trump presidency.
Futures markets climbed during the first presidential debate in September 2016, where Hillary Clinton was widely considered to have bested Trump. Standard & Poor's 500 Index futures climbed 0.71% during the debate window, and futures tracking U.S. stock market volatility fell sharply, oil prices rose, gold fell and Treasury prices dipped slightly. Britain's FTSE 100 and South Korea's KOSPI reacted favorably as well, as did the Mexican peso, a currency litmus test on Trump.
Watch More with TheStreet:
5 Ways Companies Are Using AI to Secretly Change Your Life
Markets reacted similarly favorably to the release of the Access Hollywood tape in October. As Clinton's probability of winning rose, stocks climbed, volatility fell and the peso gained.
Stocks took a dive when Comey in late October said in a letter to Congress the FBI would reopen its investigation into Clinton's emails, only to again close the investigation days later.
Investors were similarly rocked when fears about a Trump presidency became reality on election night. Futures markets and oil prices cratered and gold rose overnight as Trump's election appeared increasingly likely, but by the time he delivered his acceptance speech in Manhattan in the early hours of the morning, sentiment had changed -- futures rebounded as Trump spoke of infrastructure and unity, and the day after the election, markets were up.
"Investors simply failed to imagine how they might feel when they woke up to President-elect Trump," wrote Justin Wolfers, one of the many economists who prior to Trump's election predicted he might spur a market meltdown, in a New York Times op-ed reflecting on the results.
"That's a real puzzle," said Jack Ablin, chief investment officer at BMO Private Bank. "Most investors were focused on Trump's capricious personality, not so much the policies themselves."
Markets continued to rally post-election on hopes that Republicans in control of the White House, Senate and House of Representatives would deliver earnings-boosting tax reform and deregulation. "In the following four weeks, investors really focused not only on the prospect of the policies but essentially priced them in," Ablin said.
Trump-trade optimism began to fade heading into the inauguration, though it got a boost from his address to a joint session of Congress. But when House Republicans pulled their healthcare bill from a vote in late March, Wall Street's hopes for Trump largely dissipated.
"When the healthcare bill failed to go through the first time, there was a kind of general resignation that these policies probably aren't going to be signed into law anytime soon," Ablin said.
Investors appear to have largely given up on tax reform, despite the White House's promises it will pass a package this year. Municipal bonds, which are exempt from federal taxes, are outperforming taxable bonds. Small-cap stocks, which would benefit most from tax reform, are underperforming large-cap stocks. Bond yields have fallen. The Mexican peso has regained its post-election losses.
"Now there's virtually no expectation for the Trump presidency," Paulsen said. "I don't think anyone's banking on anything being done at all."
The market's current gains are tied to broader economic trends that predate Trump, he added. "Financial markets started to rally in the summer of 2016," he said. "You started to get a broader recovery that touched more corners of the globe."
Trump on Thursday took to Twitter to tout the stock market's performance, but whether the market goes up (or down) is no longer really tied to him.
"There's a sense that none of these policies are going to pass," Ablin said. "To the extent something does some through, that creates some upshot opportunity."
More of What's Trending on TheStreet: