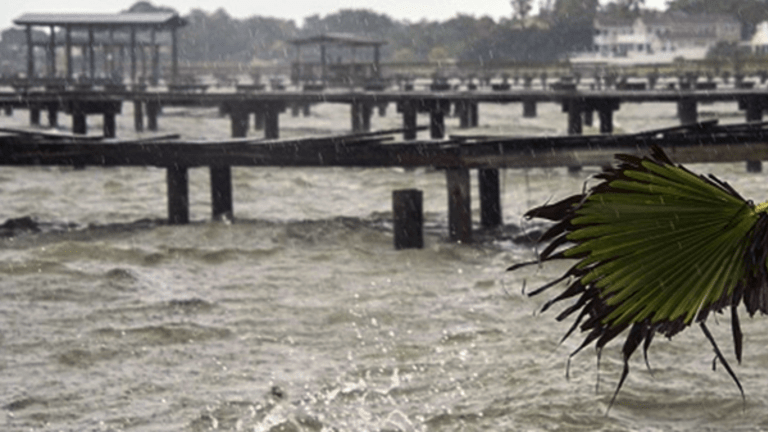 Investors Brace for Market Open After 'Catastrophic' Texas Flooding
Texas reels from dire rain and flood conditions, while Uber picks a new board, and Congress enjoys its last week of vacation before a budget showdown.
Markets ticked up Sunday evening as the Houston area continued to grapple with catastrophic flooding from Hurricane Harvey, while in California, Uber Technologies Inc.'s board votes on a new CEO.
Dow Jones Industrial Average futures rose 0.14% Sunday, while the S&P 500 was up 0.17% and the Nasdaq flat. The euro and the pound both rose about 0.2% against the dollar.
More than 24 hours since Hurricane Harvey made landfall, Texans are facing more rain than they typically receive in a year.
"This event is unprecedented & all impacts are unknown & beyond anything experienced," the National Weather Service tweeted around noon Eastern time. Thousands of national and state guard troops have deployed to aid hurricane survivors and victims in the Houston metro area, which has a population of over 6 million.
Although the rains and flooding are expected to continue for days, President Trump plans to visit the state on Tuesday.
"We think that the flooding impact of Hurricane Harvey could make it more destructive to U.S. crude and product supplies as well as port facilities than the market is currently assuming," Barclays analyst Michael Cohen wrote Friday.
In Silicon Valley, the board of ride-sharing giant Uber is meeting to pick its new CEO months after the ouster of co-founder Travis Kalanick. While Hewlett-Packard Enterprises Inc. (HPE) CEO Meg Whitman previously ruled out the possibility that she'd take the job, the Wall Street Journal on Sunday reported that she'd met with the company's board to discuss its future. General Electric Co. (GE) chairman Jeff Immelt dropped out of the running on Sunday, and there's an unidentified third candidate in the mix.
 I have decided not to pursue a leadership position at Uber. I have immense respect for the company & founders - Travis, Garrett and Ryan.
 On Monday, Amazon.com Inc.'s (AMZN) $13.7 billion acquisition of Whole Foods Market Inc. (WFM) will close, with customers immediately seeing price reductions on some products, including avocados, kale and almond butter.
The Bureau of Labor Statistics releases its monthly nonfarm payrolls report on Friday, with economists surveyed by FactSet expecting 172,500 new jobs in August, down from 209,000 in July.
Earnings season has mostly come to a close, but a few companies report this week, including Best Buy Co. (BBY) , Hain Celestial Group Inc. (HAIN) and H&R Block Inc. (HRB) on Tuesday; Bob Evans Farms (BOBE) , Brown-Forman Corp. (BF.A) , Ctrip.com International Ltd. (CTRP) , Five Below Inc. (FIVE) , Shoe Carnival Inc. (SCVL) , Vera Bradley Inc. (VRA) , Anolog Devices Inc. (ADI) , Box Inc. (BOX) , Greif Inc. (GEF) and Workday Inc. (WDAY) on Wednesday; and Campbell Soup Co. (CPB) , Dollar General Corp. (DG) , Land's End Inc. (LE) , Lululemon Athletica Inc. (LULU) , Ambarella Inc. (AMBA) , Ciena Corp. (CIEN) and Palo Alto Networks (PANW) on Thursday.
September also brings budget drama, a fixture of Washington. Goldman Sachs analysts estimate there's a 50% chance of a government shutdown amid infighting among congressional Republicans and the president's insistence that a budget include funding for a wall on the Mexican border. They'll have to quickly work out a deal after returning from the August recess on Sept. 5. 
More of What's Trending on TheStreet:
Here Comes the End to the Roaring Bull Market in Stocks
Houston's Airports Will Stay Closed At Least Until Wednesday Thanks to Harvey
Can Houston Airports Open Monday? 'Don't Bet On It,' Top Expert Says