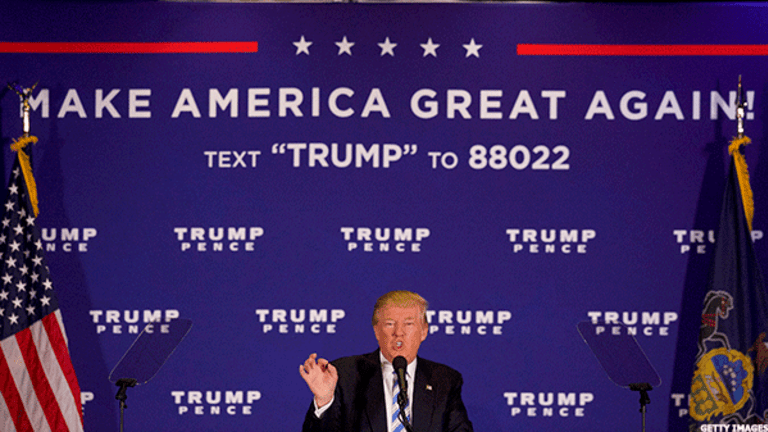 Editors' pick: Originally published Oct. 25.
Global equity markets could tumble by as much as 15% if Donald Trump becomes President of the United States, according to a study by the Brookings Institution.
Though markets have historically risen when Republicans win the presidency and fallen when a Democrat triumphs, election 2016 is a different story. Movements during some key events this cycle suggest a Trump victory on November 8 would rock global markets, according to Brookings' recent report. The Washington-based think tank found that market participants believe a Trump win would cut the value of benchmark indexes in the U.S., the U.K. and Asia by 10% to 15%, slash the price of oil by $4 a barrel and prompt a 25% decline in the Mexican peso.
"The markets' expected effects of a Republican winning the election in this cycle are very different from what they normally are," said Eric Zitzewitz, the Dartmouth College economist who wrote the paper along with University of Michigan economist Justin Wolfers.
The study analyzed the response of financial and prediction markets to two major events this election cycle: the first presidential debate between Trump and Democrat Hillary Clinton, and the release of the 2005 Access Hollywood tape revealing Trump making lewd comments about women. Market changes during both suggest investors fear the prospect of Trump in the White House.
During the first debate at Hofstra University on September 26, which most polls indicated Clinton won decisively, prediction markets swung about six cents in the former secretary of state's favor. Standard & Poor's 500 Index futures climbed 0.71% during the debate window. Futures tracking U.S. stock market volatility fell sharply, oil prices rose, gold prices fell and Treasury prices dipped slightly.
The effect was felt abroad as well -- Britain's FTSE 100 climbed about as much as U.S. stocks, and South Korea's KOSPI increased about twice as much. Mexican and Canadian currencies rose sharply against the U.S. dollar, as did those of South Korea, Australia and New Zealand. The Japanese yen was the only major currency to decline.
In other words, markets around the world reacted positively to what investors saw as a diminished chance of a President Trump.
The effects on Canada are perhaps especially noteworthy, said Zitzewitz. Trump's threats to renegotiate or pull out of NAFTA are widely perceived as a threat to Mexico's economy, but the danger for Canada is often overlooked. "Canada would essentially be collateral damage," he said.
The researchers estimate a Clinton presidency would result in 15% to 30% lower stock market volatility, Treasury yields that are 25 basis points higher, and oil that is $4 per barrel more expensive.
Market shifts following the Access Hollywood tape ahead of the second presidential debate in St. Louis reaffirmed the conclusions -- as Clinton's probability of election rose, stocks climbed, volatility fell and the Mexican and Canadian currencies reacted.
Before the end of World War II, presidential election outcomes had large estimated effects on markets, as candidates ran with more distinct economic platforms. The moderation of left-right economic policy during the Cold War reduced reactionary swings and macroeconomic reactions until recently, according to the report.
"It seems like that's broken down a bit in the last few cycles," said Zitzewitz.
Mitt Romney's outperformance of President Barack Obama during the first presidential debate in 2012 spurred a market move.
Prediction markets swung seven points in the former Massachusetts's governor's favor during the event, and the S&P 500 futures climbed 0.33%. The night Obama won reelection, S&P futures fell by 0.76%. If Romney had won, Zitzewitz and Wolfers estimate the S&P 500 would have been 4.5% higher under his presidency.
"Case in point, normally, when Republicans do well, that's good for the markets," said Zitzewitz.
Which is what makes Election 2016 such an anomaly. The markets view Trump, the Republican nominee, as a real threat and seem much confident with the prospect of Clinton.
"People are expecting stocks to be worth quite a bit more under the Democratic candidate than under the Republican one," said Zitzewitz.