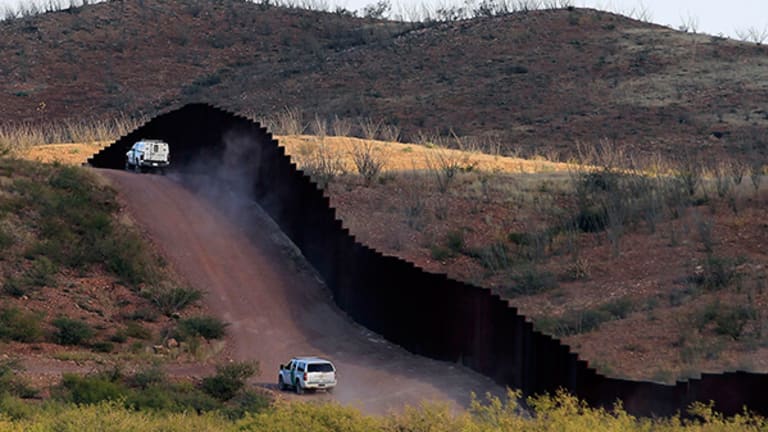 11 Stocks to Buy if Donald Trump Builds His Wall
There are some companies you'll definitely want to pay attention to if Donald Trump gets to build his border wall -- and stocks you might want to invest in, too.
There are some companies you'll definitely want to pay attention to if Donald Trump gets to build his border wall -- and stocks you might want to invest in, too.
A pledge to build a wall at the U.S.-Mexico border has been the cornerstone of the presumptive Republican nominee's presidential platform from day one. "I would build a great wall, and nobody builds walls better than me, believe me, and I'll build them very inexpensively, I will build a great, great wall on our southern border," Trump said in his White House bid announcement.
Trump's wall has taken different shapes and sizes since then -- he initially said it would stretch across the entire 2,000-mile border but now says it should be about 1,000 miles. He has also given varying estimates of how high that wall might be, ranging from 30 to over 60 feet (and whenever he gets angry with Mexican authorities, he says the wall gets 10 feet higher). And while the candidate himself has floated a total cost number of $8-to-$12 billion, experts believe it would be much higher. (But that's fine, because Mexico will pay for it anyway, right?)
Currently, there are a total of 702 miles of fencing already in place at the southern border -- 652 miles of primary fencing, 36 miles of secondary (double-layer) and 14 miles of tertiary (chain-link). It is a mix of pedestrian and vehicle fencing, which according to estimates provided by the U.S. Customs and Border Protection cost $6.5 million per mile on the pedestrian side and $1.8 million per mile on the vehicle end, including the cost of design, real estate and environmental planning, construction and oversight.
If Trump gets his way and gets to add to the barrier already at the U.S.-Mexico border, it would be a boon for a number of companies involved in construction, materials and maintenance.
"It'll be huge contracts, lots of money, and it's going to take a while to do it, it's going to take years to do this," said W. Ralph Basham, founding partner of Command Consulting Group who previously served as commissioner of U.S. Customers and Border Protection.
Much of the work would likely go to companies that assisted in putting up the fencing that's already there through contracts with the U.S. Army Corps of Engineers (USACE).
Granite Construction (GVA) - Get Granite Construction Incorporated Report and Tetra Tech (TTEK) - Get Tetra Tech, Inc. Report were among those contracted to work on fence construction by the USACE, according to a list provided by the Department of Homeland Security. On its website, Granite makes note of in upgrading remote Monument 250 at the California border, including roadways and fencing. Tetra Tech helped build the border wall near San Diego.
Many other companies that have already worked on fence construction and might be looped in again are private: Cerrudo Services, Hal Hays, Kiewit, RMA Construction and Weston. Arizona-based Sundt may also be enlisted -- it has worked on 10 separate fence projects.
The builders would, of course, require materials and equipment to complete the task. Steel could be acquired by companies like U.S. Steel (X) - Get United States Steel Corporation Report , Nucor (NUE) - Get Nucor Corporation Report and Steel Dynamics (STLD) - Get Steel Dynamics, Inc. Report , and concrete and cement from firms like Cemex (CX) - Get CEMEX SAB de CV Report and Lafarge (LFRGY) . Construction equipment companies like Deere & Co. (DE) - Get Deere & Company Report , which brought in $12.5 million in government contracts in 2015, and Caterpillar (CAT) - Get Caterpillar Inc. Report could see an increase in business as well.
And once the fence is up, investment doesn't end -- various entities are enlisted to take care maintenance and repair. According to the Border Patrol, the firms already taking care of the service are Cerrudo Services, Fluor (FLR) - Get Fluor Corporation Report , KBR (KBR) - Get KBR, Inc. Report and ASRC Federal Primus. Others would likely get a piece of the pie as well.
"The big players out there, Boeing or whoever, people who have the technology, who have the resources, who have raw materials, that's going to be a huge boost down there on that Southwest border, bringing in jobs," said Basham, who also led the U.S. Secret Service, the Federal Law Enforcement Training Center and the Transportation Security Administration.
But experts, including Basham, note that securing the U.S. border and overhauling the immigration system is about much more than putting up a wall or fence.
"Border security is provided through a combination of assets (fence, technology, communications, lights, roads, manpower, etc.)," said a spokesman for the U.S. Customs and Border Patrol in an email to TheStreet. "The objective of the pedestrian fence is to reduce the amount of transnational foot traffic. The objective of vehicle is to reduce the amount of transnational vehicle traffic. While fence provides impedance and denial capabilities, agents still need to be able to respond and resolve situations between fences and in areas where the fence is located."
"We're never going to secure the borders to 100%, it's totally physically impossible," said Basham. "It's an incredibly complicated problem, and that's why it hasn't been fixed...let's not just sit here and say, 'Let's build a wall.' That's not going to work," he added.
But if the wall happens, now investors have an idea of what to do.