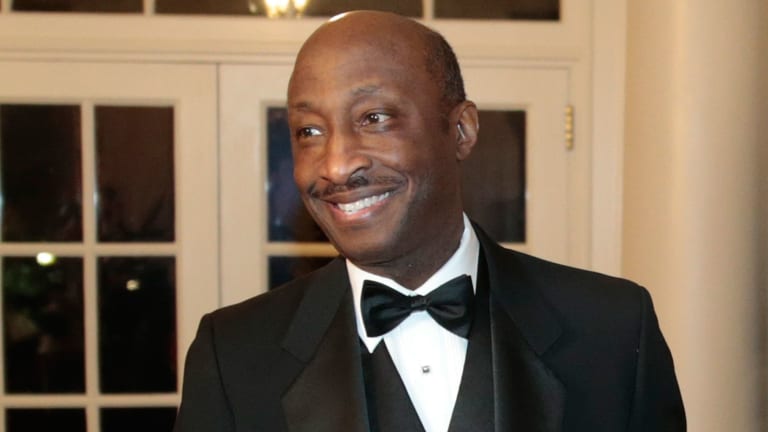 In Trump CEO Council Exodus, Early Movers Stand Out
Some CEOs quit Trump's advisory councils before they were disbanded on Wednesday. Most waited until after.
President Donald Trump's equivocal reaction to racist violence in Charlottesville, Virginia, earned him round condemnation from many of the CEOs who sit on a pair of advisory councils to him. Some expressed their concerns and quit the councils before they were disbanded on Wednesday. Most waited until after.
General Electric (GE) - Get General Electric Company Report chairman Jeff Immelt in a statement called Trump's remarks at a Tuesday press conference in Trump Tower "deeply troubling."
JPMorgan Chase (JPM) - Get JPMorgan Chase & Co. Report CEO Jamie Dimon in the second of two messages to employees this week said he "strongly disagree[s]" with the president. "There is no room for equivocation here," he said.
Johnson & Johnson (JNJ) - Get Johnson & Johnson Report CEO Alex Gorsky said the president's statements "equating race-based hate with those who stand up against it" had spurred his decision to exit Trump's manufacturing council, which he said was made before the group was disbanded.
General Motors'
(GM) - Get General Motors Company Report
Mary Barra said the company "is about unity and inclusion and so am I."
United Technologies UTX (CEO) - Get CNOOC Ltd. Report Greg Hayes said he would leave the manufacturing council as it has becomes "clear that we need to collectively stand together and denounce the politics of hate, intolerance and racism."
Watch: President Trump Has Disbanded His Manufacturing Council
All of the statements landed after President Trump tweeted on Wednesday that he would disband his manufacturing council and strategic and policy forum comprised of dozens of CEO advisers.
After the dam broke, a number of executives who had declined to weigh in on the controversy did so. Only a handful made public statements ahead of time.
Merck (MRK) - Get Merck & Co., Inc. Report CEO Ken Frazier was the first executive to exit Trump's manufacturing council, announcing his resignation on Monday morning.
"America's leaders must honor our fundamental values by clearly rejecting expressions of hatred, bigotry and group supremacy, which run counter to the American ideal that all people are created equal," he said in a statement. "As CEO of Merck and as a matter of personal conscience, I feel a responsibility to take a stand against intolerance and extremism."
The decision earned him a swipe from Trump and spurred a wave of pressure on other CEOs to follow his lead.
Under Armour's (UA) - Get Under Armour, Inc. Class C Report Kevin Plank and Intel's (INTC) - Get Intel Corporation Report Brian Krzanich quit Trump's manufacturing council on Monday. Others, including Dimon, EY CEO Mark Weinberger and Blackstone Group's (BX) - Get Blackstone Inc. Report Stephen Schwarzman, condemned the events in Charlottesville but refrained from stepping back after the president delivered more forceful remarks from the White House than his initial "many sides" comment made on Saturday.
After Trump reverted back to blaming both sides at a Tuesday press conference at Trump Tower, a handful of other council members called it quits: AFL-CIO president Richard Trumka, Alliance for American Manufacturing president Scott Paul, and former AFL-CIO deputy chief of staff Thea Lee.
Explosion Reported Outside New York Building Housing FBI, U.S. Army Offices
And on Wednesday morning as pressure continued to build, 3M (MMM) - Get 3M Company Report CEO Inge Thulin said he would quit the manufacturing council. So did Campbell Soup (CPB) - Get Campbell Soup Company Report chief executive Denise Morrison, marking a reversal from her statement on Monday that she would indeed remain on.
"Racism and murder are unequivocally reprehensible and are not morally equivalent to anything else that happened in Charlottesville," Morrison said in a strongly-worded statement.
Most others waited to say they were exiting or to comment on Charlottesville until after news broke that both councils would be disbanded, either by their own members or, if you believe the president, by Trump himself. Some CEOs drove the bandwagon, while others jumped on it. And some have yet to weigh in at all, including IBM (IBM) - Get International Business Machines Corporation Report executive Ginni Rometty and Harris Corp.'s Bill Brown.
Lockheed Martin's (LMT) - Get Lockheed Martin Corporation Report Marilyn Hewson in a message to employees on Wednesday published by ThinkProgress condemned the events of Charlottesville but said she intended to stay on the manufacturing council -- before, of course, it was disbanded. "My participation on the advisory council is not related to these events," she said.
It is unclear whether the fallout from Trump's equivocal response to white supremacists and neo-Nazis in Charlottesville will be a true turning point in presidency or yet another example one seemingly "last straw" that isn't. Before he was elected president, Trump called Mexican immigrants drug dealers and rapists, was caught bragging about sexually assaulting women and publicly attacked a Gold Star family. He spent last week stoking fears of nuclear war with North Korea.
But this week's events have certainly put elected officials, corporate executives and others in a place where they must speak out against white nationalism or stay silent and, to a certain extent, complacent. That includes members of Trump's own administration -- Steven Mnuchin, Dina Powell, Gary Cohn.
Trump's CEO exodus was a positive step for all of those who took it; unfortunately, it took some a little longer than others.
Don't miss these top stories on TheStreet:
Ford's New CEO Says While the Future Is Now, He Won't Forget Classic Cars
Bitcoin Is Coiled to Unleash a Rip Your Face Off Rally to $5000