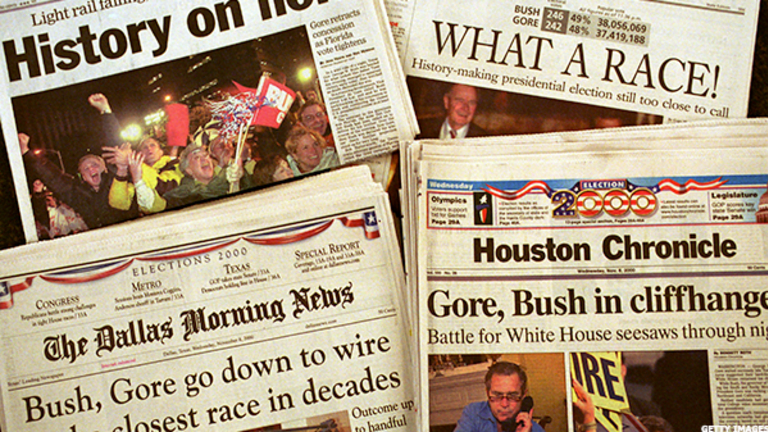 In Case You Missed It Nov. 7: The Final Countdown
Tuesday's Presidential election is expected to be most contentious since 2000, when George W. Bush and Al Gore squared off. Will there be re-count demand? Anything seems possible these days.
If you'd like to receive "In Case You Missed It" in your email inbox every evening, please register for TheStreet Alerts and follow me.
Well, that was brief. The hysteria surrounding the presidential race seemed to die down a bit Monday, just one day ahead of the actual election, as the FBI said it would not change its July decision not to prosecute Hillary Clinton over the use of a private email server. The hubbub came in full force last week as the FBI said it had new emails causing the markets to spiral on fears that Donald Trump would take the White House.
By most indications, Wall Street investors -- and prediction market traders  -- think Clinton's path to victory is relatively clear, and stocks are better for it. Believe it or not, some other things happened today, too. News Corp. (NWSA)  reported earnings, Oracle (ORCL)  finalized its deal for NetSuite (N) and BlueNile  (NILE) agreed to be taken private by Bain Capital.
Here are those highlights plus more from TheStreet and its various properties:
Embattled Wells Fargo Finds Solace in Funding Wall Street Bond Traders
As regulators pressure the largest U.S. banks to reduce risk, most have responded by scaling back in the business of securities lending, known as repo. Not Wells Fargo (WFC) . Full story
Oracle's NetSuite Acquisition Leaves Questions for Ultimate Software Partnership
Maintaining NetSuite's pact with Ultimate Software could help Larry Ellison in his battle with Workday (WDAY) . Full story
Tweet of the Day:
Blue Nile Stock Explodes On Buyout -- Time for Tiffany to Sell?
The target's shares were surging Monday on news of a private equity buyout. Is it time for Tiffany & Co. (TIF)  to explore a deal? Full story
Chart of the Day: FedEx Stock Is Flying

The Transportation Index is trading at new 2016 highs on Monday, with help from FedEx (FDX) . Full story
What's in Store for Private Equity in 2017?
We asked the top investment banks in our private equity league tables to give their outlook for the coming year. Full story
Should You Buy Shares in Hostess Brands or an Indulgent Twinkie?
The Twinkie is part of Americana. But should its maker Hostess Brands be part of your portfolio? Full story
Video of the Day: Cannabis Industry 'Watershed Moment': Tuesday's Election

The marijuana industry may be an increasingly attractive area for investors, should voters approve ballot questions legalizing marijuana in Tuesday's elections. Full story