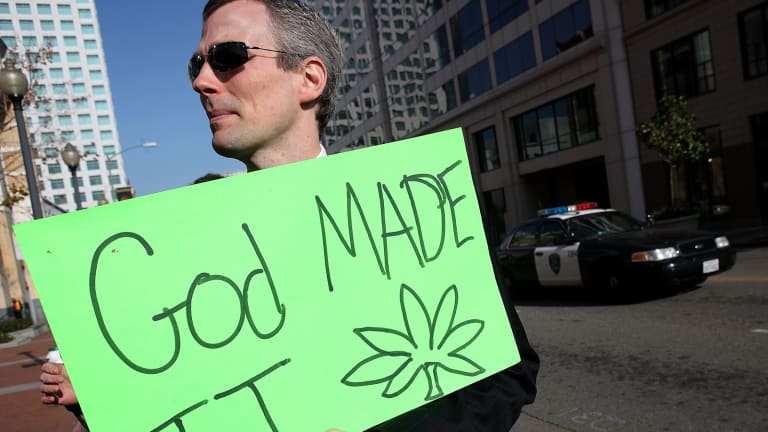 If We Got Boehner, We Can Get Anyone: Washington's Growing Role in Cannabis
Cannabis isn't a red and blue issue in Washington. Here's how the political landscape is changing as marijuana prohibition becomes 'politically untenable.'
"Unalterably opposed."
That was once the stance of former Republican Speaker of the House of Representatives John Boehner on legalizing cannabis in the U.S. That was as recently as 2015. In April 2018, Boehner announced he was joining the board at Acreage Holdings, one of the country's biggest cannabis companies.
Boehner's thought evolution illustrates well the trajectory of legalizing marijuana in the U.S. What was once only supported by about 32% of the population as recently as 2010 now counts 61% of the U.S. as supporters, according to Pew Research. For just medical marijuana, most estimates tally public support closer to 90% of the U.S. last year.
"I had taken a lot of flack for inviting Speaker Boehner to join us. He's a naysayer, he's this, he's that. But at the end of the day Speaker Boehner could join the board of any company he'd like," said Acreage CEO Kevin Murphy to TheStreet. "If we could change Speaker Boehner's mind, we could change a lot more minds."
While the notion of legal cannabis hasn't been as partisan an issue as other debates on Capitol Hill, recent years have seen Democrats with younger voter bases taking on the issue as a main plank on the campaign trail.
"We're at a place now where it's becoming politically untenable to be a mainstream politician in the Democratic party and be in favor of marijuana prohibition," said Kris Krane, president and co-founder of cannabis-focused investment management firm 4Front Ventures.
Krane added that any Democrat with enough public facetime to mull a White House bid in 2020 is "falling all over themselves to show how good they are on marijuana policy."
While Boehner isn't a Democrat and not an obvious presidential candidate, his migration to the pro-legalization camp shows how the worldview on the green plant and its uses has changed, both within and without D.C.
"Ten years ago, or even five years ago, it would have been too big of a reputational risk for him to join the board of a cannabis company, even if they were paying him a large amount of money," Krane said.
The shift in thought leadership is due at least in part to the White House.
Aside from Attorney General Jeff Sessions rescinding the Cole Memo in January, the Trump administration has stayed relatively quiet on cannabis. The Cole Memo was a Justice Department letter crafted during the Obama administration that formalized the federal government's pledge to stay out of state-regulated cannabis industries.
"They haven't really done anything. They've largely acted the same as the Obama administration in this respect. They've been hands off and they've allowed states to move forward," Krane said.
"The one thing he's clear on is that it's a states rights issue and that he's 100% for medical," Murphy said of President Trump. That could pave the way for federal regulation sooner than many industry insiders think, said Bill Caruso, managing director at Archer Public Affairs and leader of the firm's cannabis law practice group.
"I think we're seeing action right now ... I think we're coming in an exponential fashion to that point [of federal legality,]" Caruso said.
Legalizing cannabis does remain somewhat of a political issue, Krane and Caruso agreed, but not at the level it has been in past years. For some Republicans, possibly including Boehner, becoming involved in legal weed is a means of generating post-Capitol Hill income.
"There's a lot of money to be made in cannabis right now. If they're not involved in the political process anymore they might be looking to make themselves more money," Caruso said.
Even still, the debate over legal cannabis has grown into a multifaceted and often bipartisan conversation as opposed to the left-and-right bloodbath it had been in the past. Krane said a high-profile Republican like Boehner joining the pro-cannabis faction is "not an isolated incident at all." In fact, his decision to do so could precipitate similar moves from other reformed moderates.
"I think that this is going to change and change quickly," Murphy noted. "I was in Washington last week and the majority of people I met with were right-wing Republicans who believe this should be legal."