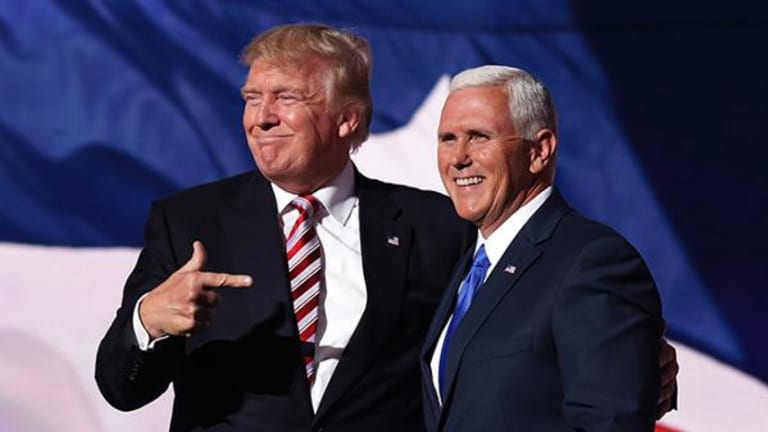 Editor's note: This story was originally published in September. In light of the vice presidential debate, it's worth taking another look at Mike Pence's economic record and how it might translate to the vice presidency. Take a look at how Donald Trump's economic policies would impact the U.S. economy, too. 
The New York Timesreported in July that Donald Trump's eldest son, Donald Trump Jr., in May reached out to a senior adviser to John Kasich, asking whether he would like to be his father's running mate. Whoever got the slot, he said, would be the most powerful vice president in history, in charge of both domestic and foreign policy. Trump's charge would be "making America great again."
The Ohio governor declined the offer, but another Midwest governor -- Mike Pence of Indiana -- stepped up to the plate.
Voters ought to know what the implications of Trump's policies would be on the U.S. economy, but given that Pence may be at least partly taking the reins, it is worth paying attention to his record, too. Under Pence, Indiana's GDP growth, changes in unemployment rate and other economic factors ran roughly in line with national averages and, in some instances, were better than neighboring states.
What Pence Did
Those who know Pence describe him as a classic conservative on both fiscal and social issues. As a member of the U.S. House of Representatives from 2001 through 2012 and as governor of Indiana since 2013, Pence largely stuck to the GOP playbook.
"He, in many respects, is a classic conservative Republican at this time," said Andy Downs, director of the Mike Downs Center for Indiana Politics. "His goal is to eliminate regulation, to lower tax burdens, to do basically the expected things from a conservative Republican."
When Pence arrived at the governor's mansion, Indiana's state budget was already reduced due to revenue losses from the financial crisis, and he made an effort to keep it that way.
"Governor Pence's approach is, 'Hey, we kind of like state government smaller than it was, and we're going to keep it there,'" said Larry DeBoer, a professor of agricultural economics at Indiana's Purdue University.
Pence made that happen by enacting and accelerating a series of tax cuts. In 2014, he hosted a group of tax experts and thought leaders in Indiana to focus on overhauling and simplifying his state's tax code.
He led the way in reducing the state's flat income tax by 5%. The rate dropped to 3.3% from 3.4% in early 2015 and will go to 3.23% in early 2017. He worked to accelerate the elimination of the inheritance tax and the reduction of the state's corporate tax rate. It will drop from 6.5% in 2015 to 4.9% in 2021.
"That amounts to somewhere in the neighborhood of $650 million in revenue that is not being collected, which is the thing that's keeping appropriations lower as a share of the economy than it's been in 20 years," said DeBoer.
The reduced tax revenue has led to slower growth in education funding, which comprises the largest proportion of Indiana's state budget, as well as Medicaid and health and social services.
"He has viscerally approached public policy as a conservative," said Mike Hicks, director of the Center for Business and Economic Research at Ball State University. "But I don't think, whether or not you agree with that approach, that you would look at the pure economic policies that he approached and say they are anything other than fairly pragmatic."
One such example comes in Medicaid. Unlike many Republican governors who eschewed Obamacare's Medicaid expansion altogether, Pence accepted the program. However, he put a conservative twist on what was dubbed the Healthy Indiana Plan 2.0, which expanded access to Medicaid for low-income Indiana residents while at the same time requiring them to share more of the cost.
According to data from Families USA, Indiana's Medicaid expansion stands to benefit up to 320,000 residents.
Pence championed Indiana's existing "On My Way Pre-K" pilot program, a grant program for low-income children. He refused federal preschool funding in 2014 but this year expressed interest in it. He has also spearheaded the Indiana Regional Cities Initiative, a blended public-private urban renewal program.
"He brought strong conservative bonafides to the political environment of Indiana, but he didn't let those concerns overrule the pragmatic needs of the state at any point in terms of economic policy," said Hicks.
On the national stage, Pence has a reputation of prioritizing social issues over economic and business ones, largely as a result of his support of the Religious Freedom Restoration Act, a controversial bill he signed in 2015 that was widely viewed as discriminatory against the LGBT community. The bill was amended after facing backlash.
DeBoer says such a perception of Pence may not exactly line up with reality. "I don't think that his emphasis has been on social issues, I think his emphasis has been on tax cuts and economic growth; however, during his term, we've seen more of the social issues come forward than we did under the last governor," he said.
How Indiana's Economy Did
Economic growth in Indiana accelerated after Pence took office in January 2013. According to an analysis from The Wall Street Journal, the state's economy grew by 0.2% in 2012, far behind national growth of 2%. In 2013 and 2014, Indiana's economy grew at a 2.2% pace, in line with or exceeding the national rate.
The state's unemployment rate has largely tracked the national average, perhaps faring a little better as of late. It fell from from 8.4% when Pence became governor to 4.6% in July 2016, below the national unemployment rate of 4.9% and better than neighboring states Illinois (5.8%), Kentucky (4.9%) and Ohio (4.8%).
Job creation has accelerated under pence, while wage growth has been inconsistent, according to WSJ. Private sector jobs growth has been rather middle-of-the-road, with Indiana lagging behind 20 states and the District of Columbia, according to FactCheck.org. The Indiana Business Review notes that Indiana has trailed the U.S. in GDP growth for three out of the past four years, but it is expected to grow at a slightly faster rate than the U.S. through at least 2017.
Pence gets mixed reviews from Indiana residents, thanks in large part to the Religious Freedom and Restoration Act. In 2014, 62% of Hoosiers approved of the job he was doing as governor. By late 2015, that number had dropped to 47%. 
VP Pence in the White House
So how might Pence's record translate to the federal executive branch?
He would likely prioritize the items he has pushed for in Congress and as governor -- lower taxes, reduced spending and smaller government. In presiding over the Senate, he might not be incredibly pushy.
"As a former legislator, he was very respectful of the legislative process," said Downs. That was especially true, he noted, in the first two years of his tenure while he was considering a bid of his own for the White House. "There is fairly broad agreement that after his run for the presidency ended -- without any committees being formed -- he became much more engaged."
While Pence's legislative track record isn't the most robust, what he did as a member of the House was work his way up to leadership decision and in doing so make himself more influential in which pieces of legislation were being moved, even if he wasn't authoring the bills themselves. He could do something similar as vice president. "You can expect him to exert some pressure on things like the EPA, on the IRS and similar entities to become more business friendly," said Downs.
If the reports about Trump giving his vice president so much power are to be believed, Pence may be able to operate with a heavier hand -- which, according to some, may not be a bad thing.
"Hopefully, if Mr. Trump is elected, he leans very heavily on Mike Pence for that thoughtful, pragmatic conservatism that otherwise appears nowhere in his campaign," said Hicks.