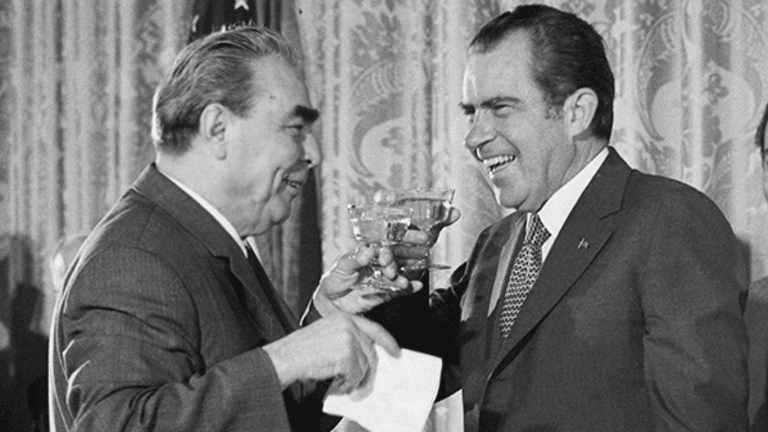 Trump Campaign Chief Indictment Revives Watergate Comparisons
If Donald Trump's presidency turns out to be like Richard Nixon's, investors have reason to be concerned -- major-market-correction-level concern.
The growing cloud of smoke surrounding President Donald Trump and those close to him could result in his being forced to exit the Oval Office, just as Richard Nixon was driven out in 1974. It has investors recalling the major market correction that occurred during and after the Watergate scandal that doomed Nixon's presidency.
Trump's former campaign chairman, Paul Manafort, and an associate were indicted on federal charges that include conspiracy against the United States, money laundering and making false statements on Monday. It marks the first criminal allegations to come from Special Counsel Robert Mueller's investigation into Russian meddling in the 2016 election and potential coordination between the Trump campaign and Russia.
This latest revelation, combined with reports Mueller is also investigating whether the president obstructed justice when he fired FBI Director James Comey and looking into the business ties of Trump and his associates, has intensified comparisons to Watergate. While it's still too early to determine whether the smoke surrounding Trump truly parallels Nixon's Watergate fire, if it does, Wall Street better watch out.
Watergate refers to a 1970s political scandal following the failed break-in at the Democratic National Committee headquarters in June 1972. The event served as a catalyst of a series of revelations about Nixon's abuses of power, including wiretapping and investigations into political opponents and activist groups. It resulted in Nixon's resignation on August 9, 1974.
Trump's ouster of Comey in May drew comparisons to the so-called "Saturday Night Massacre" on October 20, 1973, when Nixon fired the special prosecutor investigating the case and saw both the attorney general and deputy attorney general resign in the process.
"This is not yet Watergate," Bob Woodward, one of the journalists who covered the Watergate scandal, told Fox News' Chris Wallace earlier this year. He later added, "There is an immense amount of smoke."
Carl Bernstein, who reported on Watergate alongside Woodward, offered a more ominous take on CNN. "I think this is a potentially more dangerous situation than Watergate and we're at a very dangerous moment," he said.
The parallels between Trump and Nixon don't end at politics -- they can be seen in the markets as well.
"There are some eerie parallels between now and that time," said New York University financial historian Richard Sylla.
Much like there was a Trump rally after the real estate magnate's surprise November election, there was a Nixon rally after he was reelected.
The Dow hit 1,000 on November 14, 1972, seven days after the presidential election. The index reached 20,000 on January 25, 2017, five days after Trump's inauguration.
"There was a definite up movement there from Nixon's election into the first month of 1973," Sylla said.
From there, the Dow began to drift back down, ending the year at about 851. To be sure, it wasn't just the unfolding Watergate scandal that contributed to the market's decline but also the 1973 oil crisis and a decision by OPEC to halt U.S. oil exports, causing gas prices to soar.
From about February 1973 to the end of the year, the Dow had lost about 15% of its value. And the worst of it didn't come until the following year.
The Dow slipped below 800 in July 1974 and by August, when Nixon resigned, it was below 700. The index fell below 600 by October 1974.
"The Dow ended up losing something like more than 40% of its value from the peak [from early 1973 to October 1974], which occurred right after Nixon's reelection," Sylla said. "This would qualify as a major market down-move."
Scott Lilly, senior fellow at the Center for American Progress Action Fund, pointed out recently in HuffPo that the S&P took a similar dive during that time. "Watergate was a grim period for those who ignored the old adage, 'When the president sneezes, the market catches a cold,'" he wrote.
Watergate wasn't the only event pushing markets downward in the 1970s, noted Reuters' Rob Cox recently. OPEC, Nixon's decision to end dollar-gold convertibility, and market declines in the United Kingdom and elsewhere also contributed.
"Even so, Nixon's travails mattered," he said. "Aside from uncertainty over the presidential endgame, it's arguable he and his administration were distracted and, as a result, failed to provide the caliber of leadership for Western nations that might otherwise have been possible. In turn, that probably worsened the fallout from the oil embargo and financial-market turmoil."
Markets had largely shrugged off Trump's troubles, and investors largely ignored Monday's indictments as well.  
"How does it all end? Not well for Trump," said John Dean, former White House counsel to Nixon, in an interview with New York Magazine. "He's throwing every signal out that he's got a problem, and he's trying to make it go away. So that's why I say I can't imagine it ending real well for him. He's trying to bend reality to his vision of what it should be, and that's pretty hard to do."
Investors, beware.
Here's What Else You Should Be Watching on Wall Street This Week:
More of What's Trending on TheStreet:
Originally published May 15.