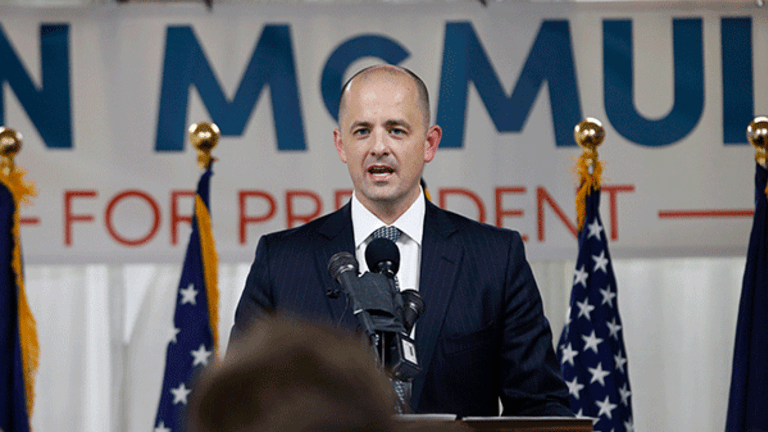 If #NeverTrump Candidate Evan McMullin Was President, Here's What Would Happen to the U.S. Economy
What would the U.S. economy look like if long-shot Evan McMullin were to wind up in the Oval Office? Here's a look.
What would the U.S. economy look like if long-shot Evan McMullin were to wind up in the Oval Office? Here's a look.
Evan McMullin hasn't been running for president for very long. He announced his candidacy on August 8., positioning himself as a conservative alternative to Donald Trump and a flag-bearer for the #NeverTrump movement. The former CIA counterterrorism officer and Goldman Sachs (GS) - Get Report investment banker is trying to make an appeal to voters dissatisfied with the options currently offered by America's both major parties.
To say McMullin's candidacy is a long-shot would be overstating his odds. The Wharton-educated Utah native, who most recently served as a senior advisor to the House Committee on Foreign Affairs and chief policy director of the House Republican Conference, has thus far failed to register in the polls. He anticipates being on the ballot or registered as a write-in in 40 to 45 states by Election Day, but currently, he is only an option in 27.
It would be impossible for McMullin to reach the 270 electoral votes necessary for outright victory in November, but that isn't his plan, anyway.
Instead, his path to the White House entails forcing an electoral deadlock and throwing the presidential election to the House of Representatives, where he believes he could come out on top, he explained recently to The Guardian. "It is what it is," he said. "We are realistic about it."
Per his latest campaign finance filing with the Federal Election Commission, the McMullin campaign has brought in about $320,000 in contributions and spent about $275,000 through the end of August. It entered September with just under $45,000 in cash on hand. This week, it released a campaign ad featuring an insulting, profanity-laced voicemail left for McMullin spokeswoman Rina Shah. The ad will air in select markets.
TheStreet reached out to the McMullin campaign to learn more about the candidate's positions on items related to the economy, including taxes, trade, immigration, health care, entitlements and finance reform. His positions are, as you might expect, largely in line with the Republican party: lower taxes, free trade, secure borders, the repeal of the Affordable Care Act (Obamacare), reformed entitlements and the end of Dodd-Frank.
"There are three primary roadblocks standing in the way of a stronger economy," the McMullin team wrote. "We have a tax code that rewards special interests while hurting small businesses, burdensome regulations that cost businesses about $2 trillion per year and suppress growth and innovation, and runaway entitlement spending that is driving our debt to unsustainable levels."
What would the U.S. economy look like if long-shot McMullin were to wind up in the Oval Office? Here's a look.
Taxes
With the exception of a slightly higher corporate tax rate, McMullin's tax proposal is largely in line with the tax reform plan put forth by House Republicans over the summer. Individual income taxes would be reduced to three brackets from seven at rates of 12%, 25% and 33%. Small business taxes would be reduced to 25%, and the corporate tax rate would also be reduced to 25% (the House GOP plan pegs the corporate tax rate at 20%).
Steve Rosenthal, senior fellow at the Urban-Brookings Tax Policy Center, described the proposal as "pretty standard conservative fare -- tax cuts are the elixir to the economy."
The conservative-leaning Tax Foundation in July produced an analysis of the Republican House tax plan that provides at least a rough idea of how McMullin's proposal could impact the economy, taking into account that the GOP platform is much more fleshed out and that its corporate tax rate is slightly lower. The foundation estimates the plan would lead to 9.1% higher GDP over the long term, 7.7% higher wages and an additional 1.7 million jobs. On a dynamic basis (which essentially assumes lower taxes leads to economic growth), it estimates revenue would be reduced by $191 billion over the next decade.
"You can minimize the deficit and pay for the taxes eventually though growth, but it's a long-term process," said Michael Busler, public policy analyst and professor of finance at Stockton University.
Trade
McMullin's stance on trade is in line with traditional conservative ways of thinking: It is largely good for America. He believes retreating from the global trade stage would be unwise and argues that manufacturing job loss is not a result of trade but instead technology, meaning retraining workers for new jobs in new industries is the better way.
He also backs up his beliefs with facts: the U.S. exports over $2 trillion of goods and services to other countries annually, comprising about 12% of U.S. GDP and supporting around 12 million jobs.
As president, McMullin says he would sign an "improved" version of the Trans-Pacific Partnership (TPP), which he sees as "essential to U.S. leadership and alliances in Asia." Both Trump and Hillary Clinton say they oppose the deal in its current form (Clinton has supported it in the past).
Alan Deardorff, professor of international economics and public policy at the Gerald R. Ford School of Public Policy at the University of Michigan, characterized McMullin's stance on trade as "sensible," though he noted that the notion of improving the TPP at this juncture might not be realistic.
"Once you've negotiated a trade agreement that took many years full of compromises in order to get what you want, opening it up for changes is not necessarily something you could possibly do," he said.
If McMullin were to sign the TPP in its current form, it could have a beneficial impact on the economy. "Like most trade agreements, it's going to be mildly beneficial to our economy and to that of other trading partners, as was NAFTA, even though the public doesn't want to believe that," Deardorff said. "It's minimal to the disruption we've already experienced from the expansion of trade with China, which, by the way, has nothing to do with a trade agreement."
Healthcare and Entitlements
McMullin follows the general Republican tack of repealing Obamacare but says he will incorporate a select number of the legislation's features, such as guaranteed coverage for pre-existing conditions.
As to what he would replace it with, it's not clear. He mentions giving tax credits to households without access to employer-sponsored coverage, expanded use of tax-free health savings accounts and eliminating subsidies embedded in the ACA.
Repealing Obamacare would increase federal budget deficits by $137 billion from 2016 through 2025, according to an analysis from the Congressional Budget Office and the staff of the Joint Committee on Taxation, and increase the number of nonelderly people who are uninsured. Federal budget deficits would increase by growing amounts after 2025.
"The market simply cannot function freely. There is an intrinsic distortion there that has to be addressed somehow by government," said Deardorff.
McMullin does not provide an enormous amount of specifics on how he would approach going about entitlement reform. He suggests shifting to premium support for Medicare, meaning replacing its guarantee of health coverage with a flat payment that beneficiaries can use to help them purchase private insurance or traditional Medicare. And on Social Security, he proposes gradually paring back benefits for the wealthiest seniors over the next 20 to 30 years while at the same time gradually raising the retirement age.
His main line is that he will "reform, protect and strengthen" the programs, which according to Busler is more a reflection of the current political climate where both Clinton and Trump have pledged to expand the programs or leave them untouched, something he doesn't see as feasible.
"There's no way that Social Security and Medicare will continue to be solvent under the current structure," said Busler.
Geared Toward Growth
On financial regulation, McMullin would roll back Dodd-Frank. He would instead replace it with a "market-oriented solution" to provide incentives for banks to maintain higher capital reserves, which he says would reduce the bailout risk to taxpayers.
The economic impact of Dodd-Frank has been mixed. According to analysis from the Brookings Institution and the Bipartisan Policy Center, some elements of the legislation have been clear wins in terms of efficiency, economic growth and/or stability, such as the creation of the Consumer Financial Protection Bureau and increased capital requirements. Others, such as impediments to use of regulatory tools successfully deployed during the financial crisis, were clear losses. For some, it is too soon to tell.
On immigration, McMullin, Like Trump, says he says his primary focus on immigration would be securing the border. But unlike Trump, he would offer a path to legalization for undocumented immigrants already in the United States -- something most agree would be good for those already living here and contributing to the American economy.
For those who believe that lower taxes, less regulations and smaller government fuel the economy, McMullin's plan is on the right track.
"I think the Republican position generally stresses growth, and what McMullin says is essentially that," said Busler.