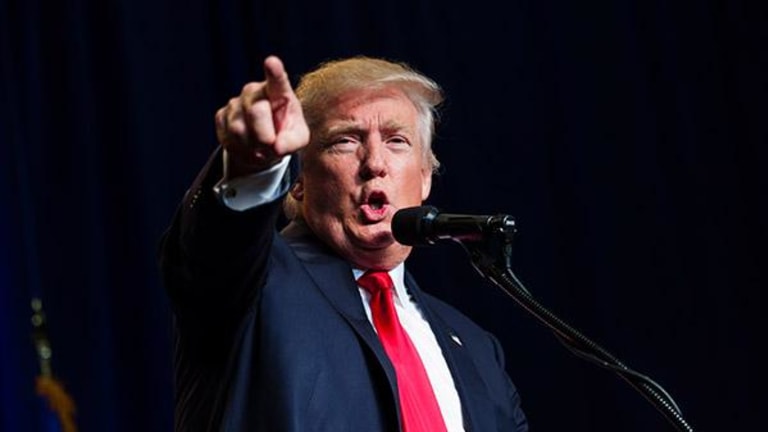 With Donald Trump as President, Here's What Will Happen to the U.S. Economy
Donald Trump has had a lot of success in business, but how will he be for the economy as president? Here's how his economic policies will play out.
Editor's note: This story was originally published in October 2015. As Donald Trump is inaugurated as the 45th president of the United States, it is worth taking a look at what the U.S. economy might look like under his proposed policies. Also, check out our Donald Trump Stock Portfolio, a list of 15 stocks that could do well under President Trump. The introduction and the sections below on immigration, taxes and trade have been updated.
There's no denying Trump has done a good job of making himself rich -- he's worth somewhere between $4.5 billion and $10 billion, depending who you ask. Can he make the rest of America rich, too?
Trump was inaugurated as the 45th president of the United States on Friday, becoming perhaps the most unanticipated figure to ever enter the Oval Office. The economy will be at the top of Trump's agenda as president and serve as the most important barometer of his performance.
On the campaign trail, Trump admitted the economy wasn't something he looked forward to tackling. In a January 2016 interview with "Good Morning America," he offered up a bleak assessment and added that, in terms of fixing it, it's a task he'd rather skip.
"We're in a bubble," he said. "And, frankly, if there's going to be a bubble popping, I hope they pop before I become president because I don't want to inherit all this stuff. I'd rather it be the day before rather than the day after, I will tell you that."
In a subsequent April interview with the Washington Post, Trump reiterated his doomsday view of the economy, suggesting we might be headed for recession. But that time around, he appeared more open to the idea of his being in charge of finding remedies.
"I can fix it. I can fix it pretty quickly," he said. 
He'll soon have a chance to put his -- or rather, our -- money where his mouth is.
Trump was the 2016 election cycle's most riveting figure. He initially focused his attention on immigration reform, calling for a wall to be built between Mexico and the United States and demanding the deportation of 11 million undocumented immigrants. He has wavered on that last point, now promising to initially focus on criminal undocumented immigrants, but he has stuck to his guns on the wall. 
He later rolled out other policies and positions: a major tax code overhaul; repeal and replace Obamacare; renegotiate or "break" NAFTA; stop hedge funds from "getting away with murder" on taxes; reforming the Veteran's Administration; and impose import tariffs as high as 35%. All while keeping the deficit in check, growing the economy and leaving entitlement programs like Medicare and Social Security untouched. 
Those who fear Trump's plans should find common cause with those who love them: "I'm not sure how much of what he actually says today will be his positions a year from now," said Michael Busler, professor of finance at Stockton University.
"Take Trump seriously, but not literally," has become a common refrain. Trump's own campaign suggested he is playing "a part" to garner votes.
While Trump certainly has some grandiose ideas -- and equally lofty rhetoric to accompany them -- deciphering the exact nature of his economic policies is a complex task. Not to mention he won't have a free pass from Congress, even though it remains under Republican control. 
Here are some insights into what the U.S. economy and markets look like under President Trump if he is able to push his agenda through Congress.
Trump's Expensive Immigration Plan
Trump's immigration plans cost him a handful of business deals, but they might cost the United States much more.
The American Action Forum, a right-leaning policy institute based in Washington D.C., estimates that immediately and fully enforcing current immigration law, as Trump has suggested, would cost the federal government from $400 billion to $600 billion. It would shrink the labor force by 11 million workers, reduce the real GDP by $1.6 trillion and take 20 years to complete (Trump has said he could do it in 18 months). 
"It will harm the U.S. economy," said Doug Holtz-Eakin, president of the American Action Forum and chief economic policy adviser to Sen. John McCain's 2008 presidential campaign. "Immigration is an enormous source of economic vitality."
The effect would be felt on both supply and demand.
Check Out TheStreet's Donald Trump Stock Portfolio.
A number of industries that depend heavily on cheap immigrant labor would be devastated -- especially agriculture. "There would be an abrupt drop in farm income and a sharp rise in food prices," said John McLaren, professor of economics at the University of Virginia with expertise in international trade, economic development and the political economy.
Companies that sell to the immigrant population would be affected as well, leading to decreased revenues for local businesses and a loss of American jobs.
"Immigrants, whether they are legal or illegal, always spend a portion of their earnings in the location where they have their jobs," McLaren said. "And in a lot of our urban centers, this is actually an important part of the economy."
He pointed to the case of Postville, Iowa, where in 2008 U.S. Immigration and Customs Enforcement (ICE) raided a slaughterhouse and meat packing plant, detaining 389 undocumented workers (and jailing 300 of them). The raid caused most of the more than 1,000 immigrants not caught to leave the town of 2,300, devastating the local economy in the process.
He also noted his own research, which suggests each immigrant creates 1.2 local jobs for local workers, most of which go to U.S. natives. "Obviously, those jobs would disappear if the undocumented were just yanked away," he said.
It is worth noting that Trump appears to have backed away from his mass deportation stance slightly, outlining priorities that would lead to the deportation of what The Washington Post estimates would be 5 million to 6.5 million immigrants. He has warned, however, that "anyone who has entered the United States illegally is subject to deportation."
Trump has also discussed reducing the number of jobs held by legal immigrants, namely by increasing the prevailing wage requirements for H-1B visas (visas that allow U.S. employers to recruit and employ foreign professionals) -- an element of his plan that is often overlooked. His thesis is that doing so would force companies to give jobs to domestic employees instead of overseas workers. The maneuver would benefit some, but not most.
"If I'm an American software programmer, I probably would benefit somewhat from making it harder for highly-skilled software programmers from elsewhere," McClaren said. "It's really hard to argue that the country, as a whole, benefits from that. It would be bad for most Americans, and it certainly would be bad for corporations."
An extreme anti-immigration policy could also cause collateral damage to the American image. "What's the American brand after we've rounded up 11 million people and sent them packing?" said Jim Pethokoukis, a columnist and blogger at the American Enterprise Institute, a center-right think tank based on Washington, D.C. "Do people still view America the same way?"
Perhaps it's a good thing the real estate magnate's immigration plans are essentially impossible to implement in full. 
Tax Cuts for Everyone, and Deficits, Too
Trump's tax plan, unveiled in September, is perhaps the most detailed proposal he put forth while campaigning. It entails implementing tax cuts across the board, though some in the middle class would see their tax bills go up.
"His tax plan is one of the most dynamic and pro-growth tax plans out there," said Merrill Matthews, resident scholar at the Institute for Policy Innovation, a Texas-based, right-leaning think tank. "You would find a huge amount of new business investment and companies willing to put their money out there to begin growing the economy."
Trump's tax plan stacked up fairly well against his fellow Republican presidential primary contenders. It wasn't as drastic as proposals put forth by Ted Cruz and Ben Carson but did, like most GOP tax structures, favor the rich.
Perhaps the biggest distinguishing feature of Trump's proposal is his hard cap on business taxes at 15%, which might be especially appealing to freelancers and the self-employed.
But there's a catch: Trump's tax plan would reduce revenue enormously, and the federal budget deficit would almost inevitably skyrocket.
Nonpartisan tax research group the Tax Foundation calculated that Trump's plan in its original form would cut taxes by $11.98 trillion over the course of a decade. It would lead to 11% growth in the GDP, 6.5% higher wages and 29% larger capital stock as well as 5.3 million jobs. However, it would also reduce tax revenues by $10.14 trillion, even when accounting for economic growth from increases in the supply of labor and capital.
"That tax cut would produce faster economic growth and a bigger economy -- as long as you pay zero attention to the fact that it would dramatically increase the deficit and budget debt," said Pethokoukis.
Trump in August adjusted his platform, calling for a top income tax rate of 33% rather than a past plan for 25% as well as the full expensing of capital investment and a deduction for childcare costs. 
An updated version of the Tax Foundation's analysis determined Trump's more fleshed-out tax plan would reduce federal revenue by between $4.4 and $5.9 trillion, depending on how it handles pass-through businesses. The group noted that the change would reduce the revenue loss from his original plan, but it would depend significantly on how wide the new bracket thresholds are. 
Trump has promised to reduce spending, though he hasn't explicitly said how. Moreover, he has said he will maintain entitlement programs like Social Security and Medicare, two of the costliest parts of the federal budget.
"If there weren't any spending cuts that materialized, you would see the deficit widen substantially the moment the plan was enacted," said said Alan Cole, an economist with the Center for Federal Tax Policy at the Tax Foundation.
In the face of such an enormous deficit, creditors might begin demanding higher interest rates on U.S. bonds, and the markets would be spooked.
"I can't imagine markets would react well to it. I can't imagine global investors looking to relocate will look on a United States that is driving deliberately over a fiscal cliff," said Holtz-Eakin. "Sending the U.S. into a debt spiral where you're borrowing interest on previous borrowing will generate a market reaction that will be far from benign and that will, I think, in the end overwhelm the beneficial effects."
Of course, just because Trump hasn't yet explained how he will cut spending doesn't mean he won't. "It's not unusual for a politician to say, 'I'm going to cut spending,' and not give specifics," Matthews said.
Check Out TheStreet's Donald Trump Stock Portfolio.
Changing Views on Health Care
Health care appears to be the number one item on Trump's and Congressional Republicans' agenda. The GOP has already taken steps to begin the process of rolling back the Affordable Care Act, and Trump has said he will fill in the blanks on repealing and replacing President Obama's signature law once his Health and Human Services Secretary, Georgia Representative Tom Price, is confirmed. 
In his 2000 book, The America We Deserve, Trump touted universal health care and laid out an ideology on the subject that, frankly, looks pretty un-Republican. On the campaign trail, he promised to "take care of everyone." But his campaign health care plan, released in March, sang a different tune.
While campaigning, the Trump camp outlined a seven-point plan for health care in America, including the repeal of Obamacare, the allowance of purchases of health insurance across state lines and block-grant Medicaid to states, among other things.
"This strikes me as a mixture of what is mostly Republican orthodoxy...with a couple of oddball proposals," said Roger Feldman, professor of health policy and management at the University of Minnesota. One of the unique aspects of the plan: allowing consumers to re-import drugs from overseas.
At a February town hall event hosted by CNN, Trump was critical of Obamacare, noting that "rates are going up 25, 35, 45, 55 percent." He emphasized that he was not receiving campaign money from insurance or pharmaceutical companies "so I can do what's right."
"I don't think [Trump's health care proposal] is based on economic analysis, I think it's based on channeling a populist dislike of insurance executives," said Feldman. "If he really tried to do the things he said he would do the insurance industry would be in the crosshairs."
The ability for consumers to buy their health insurance in other states is perhaps the health-related proposal Trump discussed most on the campaign trail. The idea is not new -- such a bill was introduced in Congress a decade ago -- but it is impactful.
When pressed for detail on his plan at the February 25 Republican debate hosted by CNN, Trump focused on the state lines issue, repeating on a handful of occasions his proposal to get rid of "the lines" around each state "so we can have real competition."
"You get rid of the lines, it brings in competition," he said. "So, instead of having one insurance company taking care of New York, or Texas, you'll have many. They'll compete, and it'll be a beautiful thing."
"I think it could be a potentially significant improvement in insurance," Feldman, who in 2011 co-authored a paper on consumer response to a national marketplace for individual health insurance, said. "It would do that by allowing people to buy insurance in states with fewer regulations, and that would, in turn, cause a restructuring of the health insurance industry."
Based on a pre-Obamacare baseline, Feldman and other researchers concluded such a system would result in seven million more people being insured by opening up the insurance markets to more competition.
Of course, not everyone agrees.
"It doesn't actually achieve you much," said Matthews, pointing out that a policy in another state may not translate to access to the network of physicians and pre-negotiated prices locally-purchased policies often afford. "It's not a bad idea, but it is no panacea."
Too Tough on Trade?
Trump likes to talk trade. And while has said he is a "free trader," he has also clarified he doesn't like the deals the U.S. has done, such as NAFTA and the Trans-Pacific Partnership. The Art of the Deal author has promised to negotiate better agreements.
"One of the things that's often lost is that [Trump] has a strong business background, he understands how commerce works," said John Hudak, a fellow in governance studies at Washington, D.C.-based think tank the Brookings Institution.. "He has more business training than any American president we've ever had."
Check Out TheStreet's Donald Trump Stock Portfolio.
But the ramifications of some of Trump's proposals might be less than ideal.
Take China, one of his top talking points. He has proposed negotiating with the country to prevent it from manipulating its currency and keeping it too low for American manufacturers -- and workers -- from competing.
"The reality is that when China devalues its currency, the goods that they produce become cheaper, and as a result, while we may lose some manufacturing jobs, the rest of the population gets to buy things a lot cheaper than they would if the products were made [in the U.S.]," said Busler. "The jobs he would bring back are yesterday's jobs."
In November, Trump released his full plan for U.S.-China trade reform, in which he pledged to immediately declare it a "currency manipulator," force it to uphold intellectual property laws and end its "illegal export subsidies and lax labor and environmental standards," among other measures, in order to help American manufacturers -- and workers -- compete.
He has continued his aggressive rhetoric since the election, and the figures who will serve as top trade advisers in his adminitration -- Peter Navarro, Robert Lighthizer and Wilbur Ross -- signal a tough stance on China as well.
Trump has also pinpointed imposing tariffs on imported goods, for example, suggesting a 35% tax on automakers that manufacture cars in Mexico. Such a maneuver might bring jobs back stateside, but it might not. Instead, it could just mean people paying more for what they're buying.
"If he puts 35% taxes on products, the manufacturing will still not come back to the U.S., and all it will mean is U.S. consumers have to pay 35% more for the products that are made outside the country," said Busler.
"American consumers would end up paying more for things, and that hurts the economy if you're putting tariffs on those other things," said Matthews.
The Trump Effect
Trump's brand has contributed an enormous amount to his net worth -- he says more than $3 billion. But how will that Trumpiness translate to the White House? Perhaps not well, especially if he keeps up with his Twitter habits.
"That off-the-cuff, gruff, tell-it-like-it-is approach that Donald Trump has may be great for headlines and a stadium full for supporters, but what unguarded comments like that from a president do is make dramatic fluctuations in the world economy, in stock markets in the United States and in the world," said Hudak. "Think about how much the market reaction is to the choice of two or three words from the Federal Reserve chairman."
The words chosen by American officials can have serious economic repercussions, and the country -- and the world -- have equally high expectations for their commercial and diplomatic capabilities. The blunt way of speaking that has made Trump so popular among Republican voters could be detrimental once he's in the Oval Office.
"His brand of rhetoric would actually make for profound economic instability," Hudak said.
He has already proven the ability to shake markets with a tweet.
But Trump is a smart guy, and he may be able to adjust. Matthews pointed to the Clinton administration, which took a few months to settle in.
"You wonder if the Trump administration would be the same until they got things under control, or got him under control," he said.
And some say Trump's style bodes well for the future of America and its economy.
"I think Donald Trump is good for the Republican Party, and I think he's good for the country," Busler said. "Donald Trump is not afraid to face the public and raise his voice, even if it is politically unpopular."
Check Out TheStreet's Donald Trump Stock Portfolio.
This article is commentary by an independent contributor. At the time of publication, the author held no positions in the stocks mentioned.