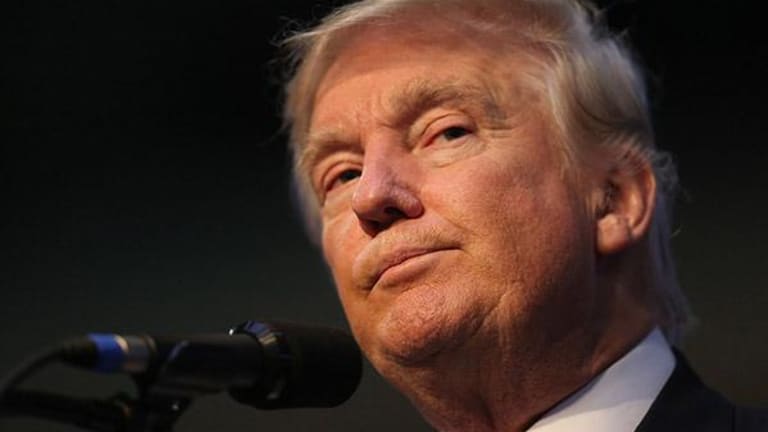 If Donald Trump Builds a Digital Wall, This Israeli Company Could Take Off
If Donald Trump's Mexico wall is digital, there's one Israeli company that would be in a good position to clean up.
Editors' pick: Originally published August 31.
Donald Trump has long promised he'll build wall at the U.S.-Mexico border. Some in his camp have suggested the barrier might be digital, rather than physical. If that ends up being the case, there's an Israeli company investors will be wise to keep an eye on.
At the center of Trump's immigration platform is a pledge to erect a wall at the Mexican border -- a wall he insists will be real. Some close to him, however, have indicated that wall may instead by virtual. Former Texas Governor Rick Perry made such a suggestion in July (though he has recently backed off of the claim). Former New York Mayor Rudy Giuliani has said the wall will be "technological as well as physical," and others in the Trump camp have made similar suggestions as well.
If Trump's wall does go digital, even in part, here is a company that could be enlisted to do the job: Elbit Systems (ESLT) - Get Elbit Systems Ltd Report . The firm has already undertaken such an endeavor in Arizona. 
Elbit Systems of America, a wholly-owned subsidiary of Israeli-based defense electronics company Elbit Systems Ltd., was in 2014 awarded a $145.3 million contract from the U.S. Department of Homeland Security to erect a virtual detection system at the U.S.-Mexico border, beating out out companies like Raytheon, Lockheed Martin and General Dynamics. Elbit Systems was involved in the West Bank wall separating the Occupied Palestinian Territories and Israel. For Arizona, the company was enlisted to install and maintain an integrated fixed towers system at the border for eight years, until the process would be transferred to U.S. Customs and Border Protection's (CBP) in-house division. An Elbit Systems representative did not return request for comment on the matter.
Thus far, nine of what will eventually be a total of 52 towers have been deployed, largely in and around Nogales, Ariz. The towers entail both radar and cameras, forming what a CBP spokesman described as a sort of "interlocking web of our ability to see what's going on out there." They transmit data over a microwave link to a station where agents can determine a course of action.
"We're saving a lot of manpower...having that constant capability, that persistent surveillance capability," the spokesman said.
Elbit Systems wouldn't necessarily be the only company in a position to build a virtual wall.
Boeing (BA) - Get Boeing Company Report could be involved as well. The company was awarded a multibillion-dollar contract in 2006 as part of the Secure Border Initiative-network (SBInet), a high-tech surveillance system at the border. The project was eventually abandoned in 2011 after over $1 billion were already spent, and the project was widely criticized as inefficient and costly. Boeing declined to comment on the project.
Immigration hard-liners don't as impressed with Trump's plan if it is more digital than physical. 
Mark Krikorian, executive director of the Center for Immigration Studies and staunch opponent of illegal immigration, said he believes the term virtual wall is, generally, little more than a buzzword without actual meaning. "My concern is that the very use of the term 'virtual wall' is a signal that the person using it is not serious about immigration enforcement," he said, though he conceded that an Israeli company being contracted to do the work inspired some confidence. "Frankly, they know what they're doing borders-wise."
Krikorian wasn't impressed, however, with Boeing's earlier efforts in the arena. 
"It was over-ambitious," said Krikorian, adding it was an attempt by U.S. immigration authorities to "leapfrog" technological laggings it's suffered for years. "I think they bit off more than they could chew."
Trump is set to deliver a speech on his immigration policy at a rally in Phoenix on Wednesday. Heading into the event, his camp is insisting his immigration wall continues to be at the forefront of his plan and will be a real one (in which case, think about investing here).
Those with expertise in border patrol say virtual or real, the wall -- or, more likely, fence -- isn't the end-all, be-all solution to America's immigration woes. "The fence is a critical piece, but it's a piece, and the same thing with the cameras, they're a piece," said the border patrol spokesman.