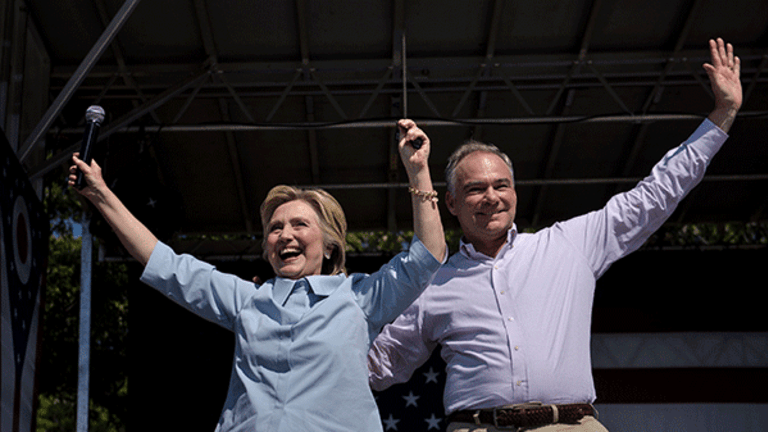 If Clinton Pick Tim Kaine Was Vice President, Here's What Could Happen to the U.S. Economy
Tim Kaine has an extensive record in government. What does that say about how he might act as vice president?
Editor's note: This story was originally published in September. In light of the vice presidential debate, it's worth taking another look at Tim Kaine's economic record and how it might translate to the vice presidency. Take a look at how Hillary Clinton's policies would impact the U.S. economy, too. 
Hillary Clinton's pick of Tim Kaine as her running mate was seen as a safe choice. He wasn't a nod to the Bernie Sanders wing of the party (as Senator Elizabeth Warren might have been) or to other party progressives, considering that Kaine, as a Catholic, is pro-life in his personal life.
Rather, he's known for working well with Republicans and has a solid economic record as governor of Virginia. 
Politico reported recently that many Congressional Republicans envision themselves working well with Senator Kaine -- who, as vice president, would be charged with presiding over the Senate. Tennessee Senator Bob Corker predicted Kaine could be a "tremendous asset," and Arizona Senator Jeff Flack said he doesn't "know anybody on the Republican side who has a bad thing to say about him."
Many of those who have observed him in Virginia -- as mayor of Richmond, governor of the state and now as a U.S. Senator -- agree.
"His approach was very centrist. He tried to support trade agreements that helped the state's economy, he tried to support equal opportunity and things that enhance economic opportunity for individuals," said Bill Shobe, director of the Center for Economic and Policy Studies and professor of public policy at the University of Virginia. "His approach was very much in the political mainstream, and I think we can expect that from his as vice-president."
Kaine's Record
Kaine's most significant executive experience to date has been as governor of Virginia, an office he assumed in 2006.
During his four-year term, Kaine was proactive in promoting business development and striking a balance among promoting social programs, educational initiatives, workforce development and raising incomes, said Stephen Fuller, an economist at George Mason University who served on Virginia's economic advisory board under Kaine as well as Governors Terry McAuliffe, Mark Warner, George Allen and Doug Wilder.
"His reasoning is that you build a strong economy and that provides better jobs for people who have been left out of the economy," he said.
Kaine, who studied economics as an undergrad at the University of Missouri, drew from his experience as mayor of Richmond in forging ways for the government and business leaders to work together to strengthen the state's economy. He is largely remembered as an advocate of trade and supporter of Virginia's access to global markets, a trait consistent across Virginia's governors.
He inherited a tax package pushed through under Governor Warner that rendered the state tax code fairer and less regressive. He pushed to raise taxes, specifically to pay for transportation funding (a perennial issue in Virginia), but faced tough opposition in the state legislature, which instead preferred debt financing and transfers. He advocated several tax relief measures and signed three tax holidays into law, and, in a move that is perhaps especially out-of-sync with Democratic Party politics, signed the repeal of Virginia's estate tax.
Before leaving office, Kaine proposed a state budget that would have increased Virginia's top income tax rate and swap out its personal property car tax. His Republican successor eventually dropped the proposal.
"There's a sense in which that initiative was a lot about simplifying things and making them more straightforward. It was not an aggressive move to raise more money," said Shobe.
Kaine was perceived as aggressive in health and human services, pushing for increased preschool funding and appointing Marilyn Tavenner as his secretary of health and human resources.
"I remember her being one of the stronger personalities on the governor's cabinet, pushing to improve health care and to improve access to care in Virginia," said Shobe.
When Kaine took office, times were good in Virginia. The economy was strong, and defense spending -- an important part of the state's income -- was high. Soon after, the financial crisis hit, and his state, like all of them, suffered.
Many of the spending initiatives Kaine had initially hoped to accomplish were squashed by the Republican legislature, and instead, the recession fueled a need for cuts. According to an analysis from PolitiFact, by the time Kaine left office in January 2010, he and the General Assembly had filled in cumulative budget holes totaling about $7.28 billion -- around $4 billion came from budget adjustments, and about $3.3 billion came through cuts to general fund programs.
"Virginia, like a lot of states, operated under a balanced budget requirement, so if you want to do something new, you have to figure out a way to pay for it," said Daniel Palazzolo, professor of political science at the University of Richmond. And if revenues are down, that means cutting -- which Kaine did.
What Happened in Virginia
Virginia's economy outperformed the U.S. in several key measures during the financial crisis, the Wall Street Journal points out. While the U.S. economy fell into recession in 2008 and 2009, Virginia's economy managed to eke out growth, expanding 0.1% in 2008 (versus a 0.3% decline nationally) and 0.5% in 2009 (versus a 2.8% contraction).
The state's unemployment rate rose to 7.4% in January 2010 from 3.2% four years earlier. However, it fared better than the national rate, falling 2.4 percentage points below it in January 2010 and 1.5 percentage points below it in 2006. Virginia's reliance on federal government contracting and employment likely helped stem job losses.
Virginia was named the best-managed state, the best state for business and the best state to raise a child during Kaine's term.
VP Kaine in the White House
Kaine would have experience to draw on in the vice presidency, not only as an executive but as a legislator in the U.S. Senate, to which he was elected in 2012.
In the Senate, Kaine has taken on foreign policy as a key interest; however, he still advocates for opportunity and access and has an eye on the economy (he serves on the Armed Services, Foreign Relations and Budget Committees).
The Trans-Pacific Partnership could be an issue Kaine would have to face in the White House. He has backed the TPP in the past but now, like Clinton, says it is something he cannot support. In Virginia he was a proponent of trade (something common to many of the state's governors), and while he has said he cannot support the TPP in its current form, it's unlikely we'll see a Vice President Kaine who is vehemently anti-trade.
"I don't think we can really say much about Tim Kaine based on the TPP, but I think that his general approach has been support more beneficial trade regulations, and I wouldn't expect to see anything different in him as vice president," said Shobe.
To be sure, if Clinton is elected in November but Republicans continue to control the House or the Senate, Kaine's ability to work across party lines could come into play, said Palazzolo.
"He is friendly. He is engaging. He is a problem-solver. He is a policy wonk. That's all true. There's not a lot of evidence that he works across party lines," he said. "It's a good pick, but don't imagine him to be some kind of bipartisan dealmaker."