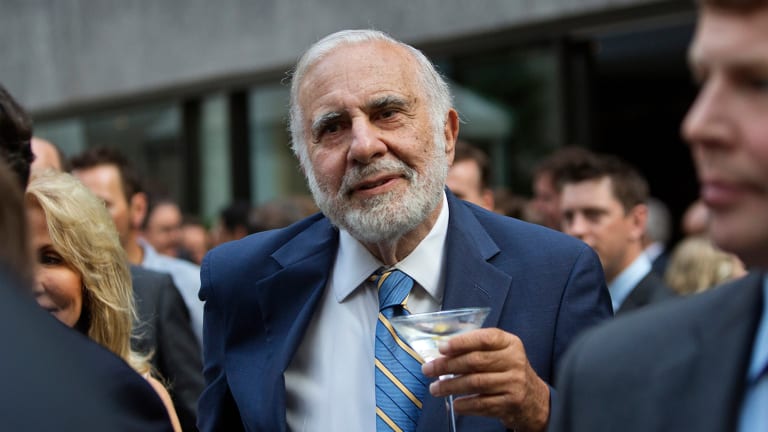 Icahn's Mission: Search For and Destroy 'Job-Killing Regulations'
Carl Icahn apparently will have a broad spectrum of federal rules and regulations to take aim at in his role as President-elect Donald Trump's special adviser on deregulation.
Carl Icahn apparently will have a broad spectrum of federal rules and regulations to take aim at in his role as President-elect Donald Trump's special adviser on deregulation.
The activist investor and former corporate raider won't just be giving the future president his two cents on regulations for finance and M&A but will look at how nearly every federal agency that has oversight duties over American industry is doing its job.
"Mr. Icahn will be a leader in helping American entrepreneurs shed job-killing regulations that stifle economic growth," said Republican National Committee's communications director Sean Spicer during the Trump transition team's daily press call to discuss the president-elect's nominations and appointments.
"Over the course of six decades Mr. Icahn has distinguished himself as one of America's most successful businessmen and investors," Spicer said. "He was one of the president-elect's earliest supporters and his intimate knowledge of what businesses need to grow and thrive makes him a trusted voice in developing the president-elect's America-first agenda."
The transition team said Icahn will be advising Trump in his individual capacity and will not be a federal employee or a Special Government Employee and will not have any specific duties.
The two men know each other well, in no small part because of Icahn efforts to shore up casinos that have carried the Trump name. Most recently, Icahn was an investor in the last remaining Atlantic City, N.J., casino Trump's name, which closed its doors in October.
Icahn acquired the hotel out of bankruptcy in 2015 after Trump Entertainment had declared Chap. 11 several months earlier. The Taj Mahal was the fifth casino to close in Atlantic City since 2014, when the Trump Plaza Hotel and Casino was shuttered.
"Mr. Icahn been an absolute business giant for decades in America," said Jason Miller, the transition team's communications director, who also helped lead Thursday's press call. Icahn is "someone who has put together a number of fantastic deals, someone the president-elect has worked on the same side with and worked on the opposite side and someone whose reputation speaks for itself."
Asked about Icahn's extensive investment portfolio and the potential for conflicts of interest, Miller said, "We'll make sure that there are proper oversights and plenty of transparency in how this all ultimately comes together."
In 1968, Icahn formed Icahn & Co., and over that time had held substantial or controlling positions in numerous companies, including RJR Nabisco; Texaco; Phillips Petroleum; Western Union (WU) - Get Report; Gulf & Western; Viacom (VIA) - Get Report; Revlon (REV) - Get Report ; Time Warner (TWX) ; Motorola Solutions (MSI) - Get Report; Chesapeake Energy (CHK) - Get Report; Dell; Netflix, (NFLX) - Get Report; Apple (AAPL) - Get Report; eBay (EBAY) - Get Report and other companies in real estate, telecommunications, transportation, industrial services, oil refining and manufacturing.
It was also disclosed that the president-elect has picked Peter Navarro to be assistant to the president and director of the Trade and Industrial Policy Council. He called Navarro "a visionary economist who will develop trade policies that shrink our trade deficit, expand our growth, and help stop the exodus of jobs from our shores." Navarro, he said, "has been instrumental in challenging the prevailing Washington orthodoxy on so-called free trade."
The University of California-Irvine professor earned his Ph.D. from Harvard University.
Navarro, with Commerce Secretary-designate Wilbur Ross, developed Trump's trade economic agenda and the result is "a new vision to bring back America's manufacturing wealth," Spicer said.
Navarro and Ross "were a great team during the campaign and will be a great team in president-elect's administration," he added.
Spicer said President Trump will also create a White House National Trade Council to lead a "Buy America, Hire America" program" in government procurement and in projects ranging from infrastructure to national defense. "The formation of the Trade Council further demonstrates the president-elect's determination to make American manufacturing great again and to provide every American the opportunity to work in a decent job at a decent wage," he said. "For the first time, there will be a council in the White House who puts American manufacturing and America workers first. And thanks strategically, with the help of America's defense industrial base in the role of trade and manufacturing and national security."
A tireless writer, Navarro's books include "The Coming China Wars," "Always a Winner: Finding Your Competitive Advantage in an Up and Down Economy," "Seeds of Destruction: Why the Path to Economic Ruin Runs Through Washington (with Glenn Hubbard)," "Death by China: Confronting the Dragon—A Global Call to Action," and "Crouching Tiger: What China's Militarism Means for the World."