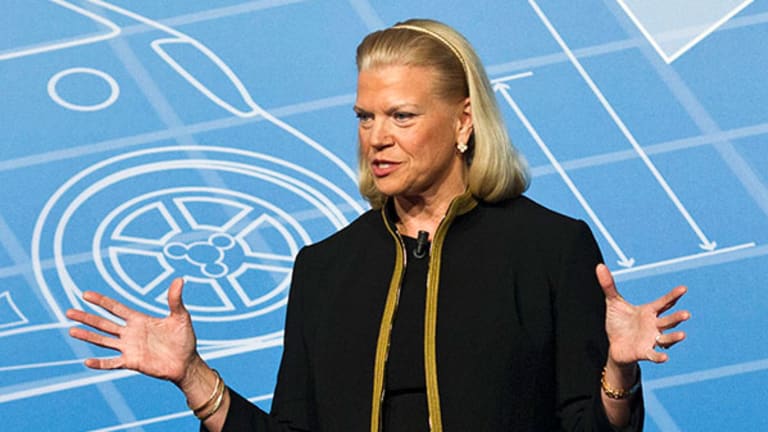 IBM's Rometty Tells Trump Company Supports His Plans for Tax Reform Early in 2017
IBM's Ginny Rometty shared her ideas for Donald Trump's presidency in an open letter to him on Tuesday afternoon.
IBM's Ginny Rometty shared her ideas for Donald Trump's presidency in an open letter to him on Tuesday afternoon.
Editors' pick: Originally published Nov. 15.
Corrects amount of IBM's cash and marketable securities to $10 billion in the U.S. and overseas from $61 billion.
IBM's (IBM) - Get Report  Virginia Rometty told Donald Trump that her company will support the efforts of a Trump administration and Congress to pass tax reform early in 2017, in an open letter to him published on Tuesday afternoon.
The 59-year-old chief executive penned a letter to the president-elect congratulating him on his victory and laying out ideas she believes "will help achieve the aspiration [he] articulated and that can advance a national agenda in a time of profound change." She outlined her thoughts on a litany of issues, ranging from job creation to healthcare, tax reform and veterans, offering up her suggestions as "ways we can work together to achieve prosperity that is broadly shared in our society."
Many of the issues addressed by Rometty's line up with IBM's stated positions on a variety of political issues.
"IBM supports your proposal to make American's tax system more competitive," she wrote. Trump has proposed reducing the business tax rate to 15% from 35% and enacting a repatriation holiday for corporations holding assets abroad to bring them back to the United States at a 10% rate.
"Many billions of dollars of American companies' earnings do not come home because of an outdated and punitive tax system. Your tax reform proposal will free up capital that companies of all sizes can reinvest in their U.S. operations, training and education programs for their employees, and research and development programs."
IBM has about $10 billion in total cash and marketable securities combined in the U.S. and overseas as of September and does not break out how much of that amount is held abroad. 
Rometty called for "new collar" jobs, citing vocational education as a viable area about which she believes her company and Trump agree. IBM has pushed for six-year public high schools that combine traditional education with community college, mentoring and real-world experience. They have opened 100 such schools across the country.
Trump on the campaign trail did not provide an enormous amount of detail on his plans for education. He has adopted traditional Republican talking points like school choice and has suggested he would seek to eliminate the Department of Education.
His campaign website promises he will "ensure that the opportunity to attend a two-year or four-year college or to pursue a trade or skill through vocational educational "will be easier to access, pay for, and finish."
Rometty also outlined her thoughts on healthcare, reiterating a number of ideas IBM put forth in 2009 on reforms it says will help America save over $900 billion over the course of a decade. The suggestions include the use of data analytics to reduce fraudulent Medicare claims, improving the exchange of information among providers and leveraging government purchasing power to lower drug costs.
One issue to go unmentioned in Rometty's letter is trade, or, more specifically, the Trans-Pacific Partnership. IBM strongly supports the deal, while Trump spoke out vehemently against it over the course of his campaign.
Many expect Trump to drop out of the agreement in the early days of his administration.
IBM was among a number of companies Trump hit on the campaign trail for shipping jobs overseas. He accused the company of laying off 500 workers in Minneapolis and moving their jobs to India at a Minnesota rally just a day before the election. He made similar attacks against Ford (F) - Get Report , Apple (AAPL) - Get Report and General Motors (GM) - Get Report , among others.
IBM spent $4.6 million on federal lobbying in 2015 -- lower than some other tech giants -- and does not have a super PAC. According to its corporate policies, it does not make any contributions to political parties, candidates or PACs. Federal Election Commission filings do not show donation records for Rometty.
According to campaign finance tracker OpenSecrets, IBM employees made more than $700,000 in political contributions during the 2016 election cycle. The company's lobbying expenses have hit $3.2 million this year.