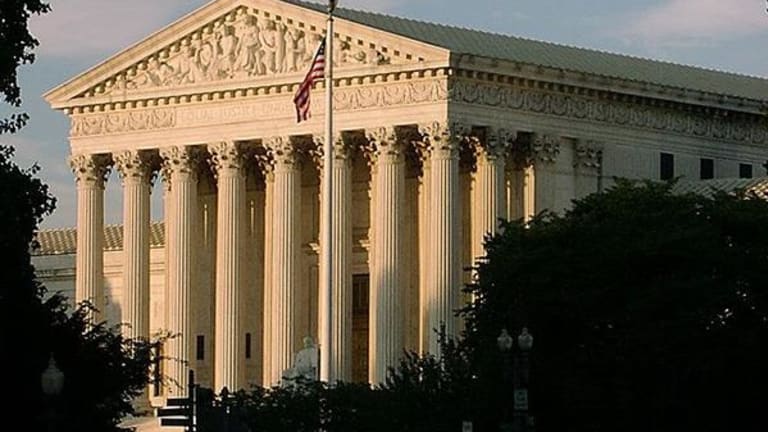 Husband of Top Trump Adviser Conway Said to Be a Finalist for U.S. Solicitor General
The lawyer is the husband of Trump adviser Kellyanne Conway and works in corporate litigation.
George Conway III, a litigation partner at law firm Wachtell, Lipton, Rosen & Katz in New York and the husband of Kellyanne Conway, one of U.S. President-elect Donald Trump's top advisers during the presidential campaign, is a finalist for the position of U.S. solicitor general, the federal government's primary advocate before the U.S. Supreme Court, CNN and other news outlets reported over the weekend.
Unlike many recent lawyers to hold the post, Conway does not come from the Washington appellate bar, though he's perhaps best known for a 2010 matter that he argued and won in the U.S. Supreme Court, Morrison v. National Australia Bank Ltd..
The late Justice Antonin Scalia's decision there barred so-called "f-cubed litigation", suits brought by foreign investors who bought shares of foreign companies on a foreign exchange. Scalia held for a unanimous court that that the antifraud provisions of the Securities and Exchange Act of 1934 apply only to purchases and sales of a security listed on a U.S. stock exchange or within the U.S.
Conway is currently one of the lawyers advising Abbott Laboratories (ABT) - Get Abbott Laboratories Report in its effort to walk from its $5.8 billion agreement to buy Alere (ALR) , though Wachtell's William D. Savitt is the firm's lead lawyer on the matter, as he is on many of Wachtell's cases in the Delaware Court of Chancery.
Conway has worked on a number of M&A cases since joining Wachtell in 1988 after graduating from Yale Law School the previous year and then clerking for Judge Ralph Winter, Jr., of the U.S. Court of Appeals for the Second Circuit. He's also advised on a wide range of matters in his time at Wachtell in which he's represented clients as diverse as the National Football League, Swiss installation artist Christoph Buchel and Kenneth Langone, a longtime confidante and client of Wachtell's Martin Lipton.
Conway is a member of the Federalist Society, which champions a conservative approach approach to legal issues. the federal government's primary advocate before the U.S. Supreme Court. 
In the 1990s, he helped advise Paula Jones in her sexual harassment lawsuit against then-President Bill Clinton.