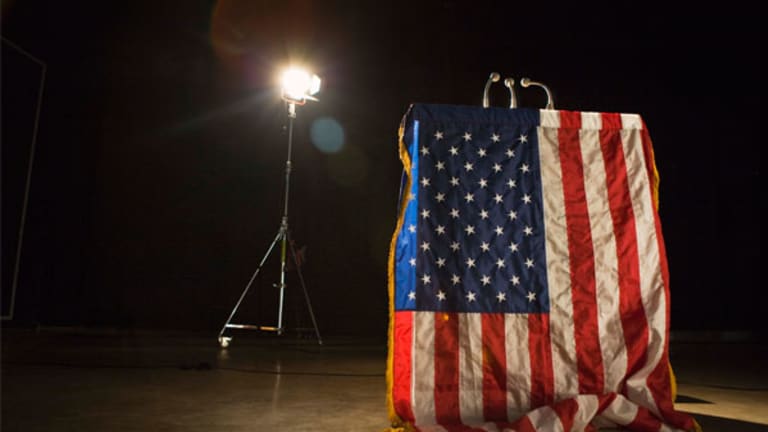 Huntsman Outlines Sweeping Tax Reform
Former Utah Gov. Jon Huntsman expects to outline his presidential platform for tax reform on Wednesday as his campaign hopes to boost the governor's voter recognition as a candidate with tangible policies.
NEW YORK (
) -- Former Utah Gov. Jon Huntsman was expected to outline his presidential platform for tax reform on Wednesday as his campaign hoped to boost the governor's voter recognition as a candidate with tangible policies.
The plan would focus on four categories that include tax reform, regulatory reform, energy independence and free trade, Huntsman's campaign said.
Former Utah Gov. Jon Huntsman
As Huntsman Spokesman Tim Huntsman
told
TheStreet
last week, the governor advocates a "revenue-neutral" tax hike that would reinvest the resultant revenue into the tax code. The expected plan would remove loopholes, deductions and tax expenditures through consolidation.
Huntsman would separate the tax code into three individual tax brackets of 8%, 14% and 23% and completely eliminate capital gains and dividends taxes. The former U.S. ambassador to China is also expected to reduce corporate rates to 25% and kill the alternative minimum tax.
"The president believes that we can tax and spend and regulate our way to prosperity," Huntsman will say in prepared remarks.
Polls have consistently
ranked Huntsman near the bottom among Republican presidential hopefuls with average voter favor somewhere between 1% and 2%.
One of Huntsman's largest hurdles has been to separate himself from former boss President Barack Obama. Obama appointed the twice-elected Utah governor as ambassador to China in 2009.
The choice to shape a specific tax plan so early in the race is rather ambitious, but someone like Huntsman -- who trails in the polls -- has greater incentive to lay out a policy plan, Ray La Raja, a political science professor at University of Massachusetts-Amherst, told
TheStreet
.
"
Candidates try to put
plans off as long as possible," La Raja said. He said someone like former Massachusetts Gov. Mitt Romney has almost no incentive to delineate specific policies while he is a comfortable front-runner.
Former Minnesota Gov. Tim Pawlenty similarly gave an early speech on a "serious" foreign policy plan on June 28 that he hoped would jump-start a flagging campaign. La Raja said that Pawlenty did this to stand out as the smartest candidate. But Pawlenty's strategy backfired, and a month later the governor resigned from the race.
As a former ambassador fluent in Mandarin and familiar with diplomacy with one of the world's rising powers, Huntsman's strength might be in foreign policy. But the 2012 election has taken shape around the economy, and maybe more specifically it has veered toward jobs.
Since the second round of quantitative easing ended in June, markets have been volatile and economic indicators have been flat. Job creation has stagnated so much that President Obama is expected to launch a crucial American job plan in September, which was further highlighted when Obama
nominated labor economist Alan Krueger as his new chairman of the Council of Economic Advisors.
"We need American entrepreneurs not only thinking of products like the iPhone or Segway; we need American workers building those products," Huntsman is expected to say. "It's time for 'Made in America' to mean something again."
-- Written by Joe Deaux in New York.
>To submit a news tip, send an email to: