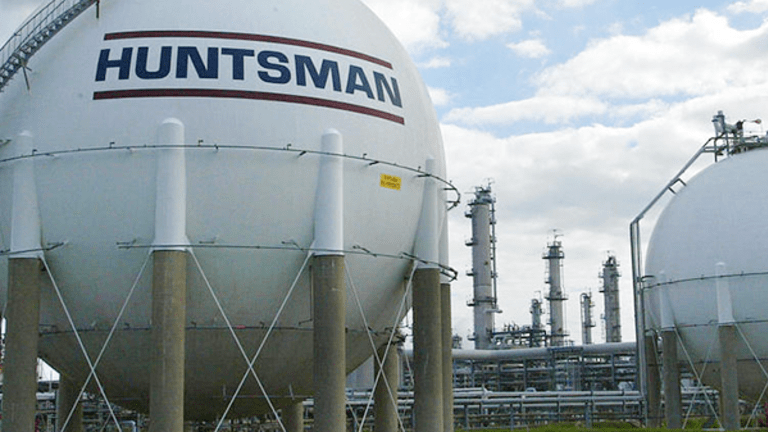 Huntsman-Clariant Deal May Be a Sign of Inversions to Come
The Huntsman-Clariant deal has the makings of an inversion -- and it may be a sign of hopes the Trump administration will ease regulations on such cross-border deals.
The Huntsman-Clariant deal has the makings of an inversion -- and it may be a sign of hopes the Trump administration will ease regulations on such cross-border deals.
Huntsman Corporation (HUN) and Clariant AG on Monday announced a $20 billion "merger of equals" that will see the combined company, HuntsmanClariant, headquartered in Pratteln, Switzerland. The transaction has the qualities of a corporate inversion aimed at avoiding taxes in the United States, experts say, and signals optimism Trump will roll back Obama-era rules curbing such transactions.
"It's the first large-scale combination designed to side-step statutory and regulatory inversion rules," said Steve Rosenthal, senior fellow at the Urban-Brookings Tax Policy Center.
"It's clearly an inversion," said Bob Willens, New York-based tax analyst and former managing director at Lehman Brothers. "The ownership pattern is consistent with an inversion in the sense that a U.S. company is being acquired by a foreign company, the U.S. company will become a subsidiary of the foreign company, and that is what an inversion is in the colloquial sense."
A corporate inversion is a strategy employed by companies to reduce their tax burden by having a foreign company buy its operations to then reincorporate abroad.
The Treasury Department considers a transaction an inversion if U.S. shareholders of the old company end up owning at least 60% of the new company. The Huntsman-Clariant deal doesn't meet those standards -- Huntsman shareholders will have 48% ownership of HuntsmanClariant, and Clariant shareholders 52% -- a setup that is likely intentional.
Huntsman is planning to separate its pigments and additives business in an IPO of a newly-created U.K. subsidiary. Company CFO J. Kimo Esplin called a "natural inversion" on a Goldman Sachs webcast last week. The IPO, which is expected to take place this summer, will allow the company to lower its ownership in the combined HuntsmanClariant and "facilitate the new combination," Rosenthal said.
Interestingly, it will also allow Huntsman shareholders to avoid taxes on the combination. Under IRS rules, when a company moves abroad, the buyer's shareholders have to pay capital gains if they hold 50% or more shares.
While the deal doesn't meet the ownership thresholds that technically define inversions, its goal is certainly inversion-esque.
"It would position the companies to achieve tax savings, which is obviously what an inversion has as one of its objectives," Willens said.
The press release announcing the deal includes mention of "cash-tax savings."
A Huntsman representative did not immediately return request for comment.
The Huntsman-Clariant merger also signals hopes that the Trump administration will roll back Obama-era rules to curb inversions -- specifically, those barring earnings stripping.
President Trump in April signed an executive order instructing Treasury to review tax regulations since the beginning of 2016, which many read as a way to set the stage for the repeal of rules issued by the Obama administration in October to prevent earnings stripping in inversions.
Earnings stripping is a technique inverted and multinational companies use to convert U.S. income into foreign income, thus benefiting from lower tax rates abroad. Corporations make inter-company loans where the debtor is the U.S. company and the creditor a foreign parent. The U.S. subsidiary pays interest on those loans (and uses those payments to reduce taxable income), and the interest income received by the foreign creditor isn't taxed or is taxed at a lower rate.
"I think they hope Trump will repeal the Obama earnings stripping rules, which would add a lot of juice to the new combination," said Rosenthal. "This is directed at Trump."
"I think the betting is that those regulations will be withdrawn, and if so, that will make the transaction really attractive," Willens said.
The White House has said its proposal to reduce the corporate tax rate and cut red tape for business will reduce the temptation for companies to invert or go abroad in the first place. The Huntsman deal, which marks the first big-ticket such transaction in quite some time, could be an indicator that companies are losing faith in the prospect of tax reform on the horizon.
Huntsman had $390 million in unrepatriated earnings at the end of 2016, Rosenthal noted, and may plan to bring back that money to the U.S. after its combination with Clariant. "Huntsman may have given up on another repatriation holiday soon, in light of the tax reform stalemate in the U.S.," Rosenthal said.
"If Trump had his way, there presumably wouldn't be a need for inversions because U.S tax rates would be going down dramatically to be competitive with foreign tax rates," Willens said. "But I think people are starting to feel like tax reform is not such a sure thing anymore, so maybe they better take matters into their own hands."
Jim Cramer has a private investment club. Try Action Alerts PLUS for free.  
Editors' pick: Originally published May 22.