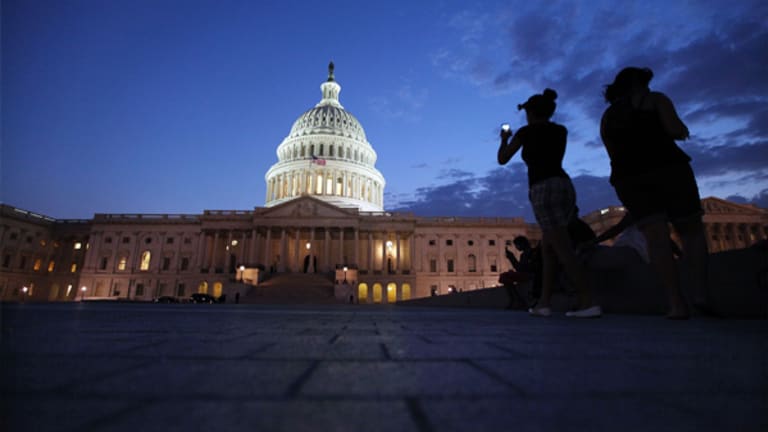 Humana Capitalizes on Preventative Care at Conventions
Humana launches a reformed 2008 preventative care campaign for the conventions.
TAMPA, Fla. (
) -- Keep your eyes peeled for a green, human-powered, gargantuan bicycle when you reach Charlotte for next week's Democratic National Convention.
The
Humana
(HUM) - Get Humana Inc. Report
-sponsored pedal bus -- which debuted here in Tampa -- is the health care company's attempt to raise voter awareness of preventative health care at a time when Obamacare is steering a chunk of the 2012 election conversation.
"Certainly it's good for us from a business standpoint that people aren't utilizing the emergency room when they have gone to the primary care doctor," said Mitch Lubitz, a Humana spokesman. "They might have been able to identify some kind of a health issue, that's certainly good for Humana."
Each of the 20 "people-powered" buses allows up to six passengers and one driver to pedal the vehicle throughout the downtown areas of the convention. It's a fairly convenient way to navigate around the heavily secured streets.
There was a cost to Humana's sponsorship at both conventions, but the contracts with the Republican and Democratic National Committees differed. When asked which party charged more, Lubitz deferred and said he really doesn't know.
This is a renovation of the company's "Freewheelin" campaign that launched in 2008. Then, Humana put 1,000 trek bicycles in St. Paul, Minn. and Denver at both national conventions as an early attempt to spread health awareness through social media.
Lubitz said he doesn't know if enrollment with Humana increased as a result of Freewheelin in 2008, but he does say the company has expanded in the Twin Cities area and Denver since then.
There are 20 Freewheelin buses roaming around Tampa, and the same amount will be available in Charlotte.
A peak at the Freewheelin Web site reveals a counter that tracks the number of rides, miles ridden, calories burned, and a co-called carbon footprint reduction. Next week, Democrats will have the chance to surpass the totals earned by Republicans during its party's convention. And, because Tropical Storm Isaac forced cancellation of the first day in Tampa, Democrats will have an equal number of days for the good- natured competition.
The eight pit stops for riders offer water and local produce.
Amid all the health care chatter, though, the sector is mostly absent from the RNC. Humana appears to be the most visible health care company here -- a suggestion Lubitz agreed with -- but attendees can find one other.
On page 81 of the official RNC program,
UnitedHealth Group
(UNH) - Get UnitedHealth Group Incorporated Report
took out a full page ad that displays the silhouette of an elephant running across an American flag: "UnitedHealth Group is proud to support the Republican National Convention."
The ad doesn't offer any goodies.
-- Written by Joe Deaux in Tampa, Fla.
>Contact by
.