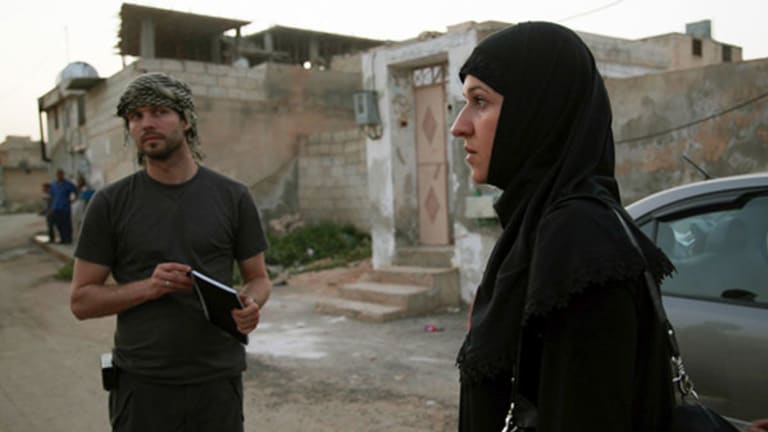 'E-Team,' Human Rights Atrocities Seen Through the People Who Record Them
Four investigators of Human Rights Watch eschew their reservations about being the subjects of a film to help create 'E-Team,' a riveting look into the lives of the people who track the atrocities.
Four investigators of Human Rights Watch eschew their reservations about being the subjects of a film to help create 'E-Team,' a riveting look into the lives of the people who track the atrocities.
PARK CITY (TheStreet) -- I met Fred Abrahams in 2000 at a time when he was painstakingly documenting the murder, rape and torture of Kosovo civilians at the hands of a Serbian state and military drunk on nationalism.
It was a dark time for human rights workers whose cries for a stop to the brutal killing and torture of civilians in the south Serbian province had mostly gone unheeded until a U.S.-led bombing campaign in 1999 largely halted the terror. Abrahams, a field investigator and member of Human Rights Watch's Emergency Team, also documented abuses by Kosovar forces.
Fred labored on through that trying work and in 2002 faced Slobodan Milosevic at the United Nations war crimes tribunal in The Hague as the former Yugoslav president was tried for crimes against humanity and genocide in Kosovo, Bosnia and Croatia during the 1990s, a broad way of saying the murder, torture and rape of civilians, non-combatants, whole families.
Whenever Fred talked about the events of Kosovo, he kept the focus on the Kosovars. It was never about him. Pressed to describe the fear of being in such a place during a cruel war, Fred would become uncomfortable, deflecting the conversation back to the Kosovars.
It was not surprising then that when the documentary filmmakers Ross Kauffman, who produced Born into Brothels, and Katy Chevigny, who made Deadline, asked Human Rights Watch whether they would be open to a film about the work of Abrahams and some of the organization's other field investigators, they balked. Human Rights Watch had never allowed an independent film team to follow its investigators for an extended period of time.
"The members of the E-Team were fairly reticent to be the subjects of a film," Kauffman said in an interview at the Sundance Film Festival where E-Team is entered into the U.S. Documentary competition. "For them, it is all about the issue and all about the work. But as we progressed, we had full access to them in their homes and in the field."
The film moves between Abrahams and his colorful colleague Peter Bouckaert (pictured above, Abrahams holding the poster), as they investigate Gaddafi's mass graves as well as murder and torture by both sides in the Libyan civil war. It also focuses on the work of Anna Neistat and her husband Ole Solvang as they run through the night over the border into Syria from Turkey to interview survivors of carpet bombing and house-to-house murders by the forces of President Bashar al-Assad.
But rather than focusing on the wars' events, Chevigny and Kauffman focus on the lives of Abrahams and his colleagues, especially Neistat, whose passion and perseverance to continue to juggle her family life, her son from a previous marriage and her pregnancy with the work of a human rights investigator, is both poignant, amusing and heroic.
"Our goal wasn't so much to amplify the news or to tell a specific story about something you may have seen about Syria or Libya, but rather to infuse a sense of humanity into these crises that maybe we hear about a little bit but block out because it's so painful and difficult to hear about," Chevigny said.
Much of the footage is riveting. Rare are the times when the headlines of war are made real by the sight of families anxiously rushing about their cramped apartment as bombs are dropped on their small city. A mother whose two sons were ripped from their home and shot in the street by Assad's troops stops midway through her account to cry out "what's the point of all this writing, what's the point of talking. There is no point."
Neistat makes for a terrific character and the filmmakers are right to focus on her. She is dogged and witty and sometimes blind to the impact her time away from her 12-year-old son may have on his psyche. For Neistat, the intervention of Human Rights Watch into these conflicts can and has made a difference. Abrahams' work in Kosovo prompted the U.S. to lead NATO to halt the Serb attack, forcing negotiations that eventually led to the war's end.
And just this week, a Jan. 22 front page New York Times story reported on a slew of new evidence of alleged torture, starvation and execution by the Syrian military smuggled out of the country by a police photographer who defected. The documents follow a 2012 Human Rights Watch report on Syria that included testimony by 200 former detainees and inspections of former government torture facilities in rebel-held territory.
Yet the strength of E-Team is its decision to focus on the lives of the four investigators, ordinary in so many ways, and through those portraits illuminates the overriding truth of so many modern conflicts: the victims are mostly civilians. That focus was always Abrahams' preference.
"Our thought was once you get to know and fall in love with Fred or Anya or Ole or Peter and you just really care about what they're doing, then all of a sudden you'll find yourself caring about what they care about," Chevigny said. "And what they truly care about is what's happening on the ground in Libya and Syria and trying to make a change so that the abuses can stop."
E-Team, which premiered at the Sundance Film Festival" has yet to find a distributor for the film. The festival ends on Jan. 26.
--By Leon Lazaroff in New York.
>Contact by Email.