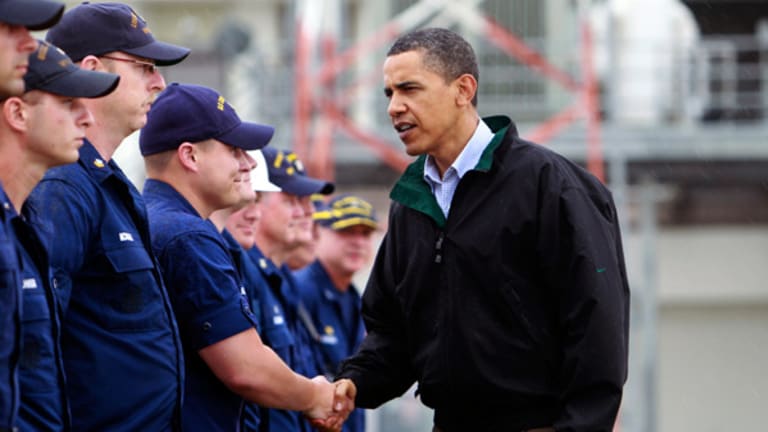 How Will Obama and Romney Respond After Sandy?
Barack Obama will remain in Washington on Wednesday and Mitt Romney will return to the campaign trail.
Barack Obama will remain in Washington on Wednesday and Mitt Romney will return to the campaign trail.
NEW YORK (
) -- It's the October surprise few pundits would have forecast: A hurricane barreling down on the East Coast a week ahead of the presidential election.
While residents from Virginia to the New England region braced for the so-called superstorm, Barack Obama and Mitt Romney chose Monday to break from a brutal campaign cycle to monitor the impact of Hurricane Sandy.
The president cancelled his appearances for Monday and Tuesday to be in Washington for briefing on the massive storm, while the former Massachusetts governor also chose to cancel the majority of his appearances on Monday and all of them on Tuesday.
But Romney will return to the campaign trail in Florida on Wednesday while Obama remains in Washington.
"Due to Hurricane Sandy, President Obama will no longer travel to Ohio for campaign events on Wednesday," Obama's campaign said in a statement to reporters. "The president will remain in Washington D.C. to closely monitor the impact of and response to the hurricane."
Romney's team announced a multi-rally Florida swing through Tampa, Coral Gables and Jacksonville.
"He
Romney will be joined at all events by Gov. Jeb Bush, and Rep. Connie Mack, U.S. Senate candidate and at the first and second event by Sen. Marco Rubio," Romney's campaign said in a statement.
The Republican nominee attended a storm-relief event in Kettering, Ohio, on Tuesday to collect donations for relief efforts, while Obama Campaign Manager Jim Messina wrote an email to supporters that asked for them to make a financial contribution to the American Red Cross.
"Soon enough we'll need to get back to work on the most important campaign of our lifetime," Messina wrote in the email. "But the most important thing at this moment is that you and your loved ones are staying safe, and that the rest of us do what we can to help speed the recovery."
The decision by the president to stay in the nation's capital and by Romney to return to business may work out for both of them.
"At some point both of these men need to go back and resume their schedules, but certainly it's more important for Obama because Obama is the president," said Jim Denton, a Republican political consultant in Nevada. "As for Romney, I think going back to campaigning is the right decision as well."
Democratic strategist David Di Martino agreed.
"The president has a responsibility to do his job, and that's what he's doing," said Di Martino. The polling indicates, anyways, that we're already at the same point today that we were several months ago ... and it's unlikely that the storm has any impact on that."
Regardless of Sandy's impact on the election with a week to go, Americans can expect that polls will be open on Nov. 6 to make a choice for president.
-- Written by Joe Deaux in New York.
>Contact by
.