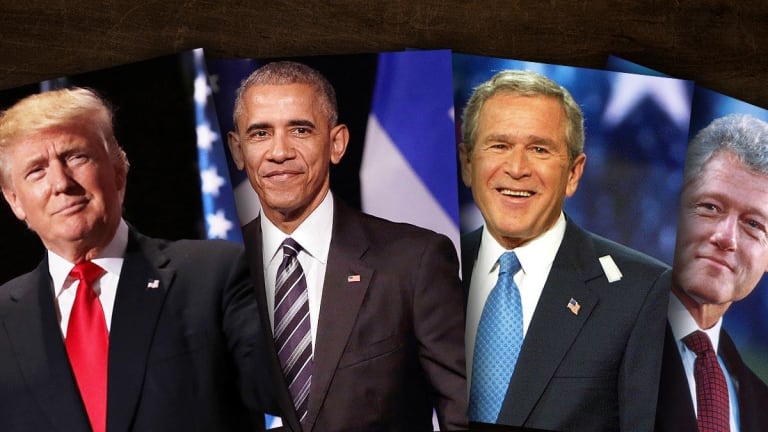 How Much Does the President Make?
Today a sitting President of the United States can make $400,000 in salary alone. What did that salary used to be, and how do U.S. Presidents get paid after they leave office?
President of the United States is one of the most powerful positions in the world. It's a job associated with long hours, decision making and constant travel, one where you are in the public eye and always in the news.
Unsurprisingly, all of those responsibilities lead to a hefty paycheck. U.S. President is a job that pays, if you can get it - and historically many presidents already had great wealth prior to holding the office. What is the yearly salary of a sitting U.S. President?
How Much Does the President Make?
Current U.S. President Donald Trump makes $400,000 a year in salary, according to Title 3 of the U.S. Code, with an additional expense allowance of $50,000. That yearly salary became official in January of 2001, meaning former Presidents George W. Bush and Barack Obama made the same yearly salary.
$400,000 a year puts the job firmly in the top 1% of yearly salaries. And as mentioned previously, many presidents have already had wealth through the jobs they had prior to politics, in industries like real estate, law, entertainment, or having prior family money.
Compared to the salaries these men made in former jobs, $400,000 is barely a dent to them. So wealthy presidents made the decision to give their salary away. President Trump reportedly did this in his first year, as White House press releases after each fiscal quarter said he was donating that quarter's salary to different government departments: National Parks Service in the first quarter, Department of Education in second quarter, Department of Health and Human Services (HHS) in third quarter, and the Department of Transportation in fourth quarter. His first-quarter salary of 2018 went to the Department of Veteran Affairs (VA).
He's not the only one to do it; John F. Kennedy (who, like Trump, came from a family of wealth) and Herbert Hoover (a successful mining engineer and businessman prior to being the president) also gave away all of their salaries. Others, while not donating their entire salary, made their share of sizable donations. Barack Obama, per his 2012 tax return, donated more than $150,000 of his salary to charities that year.
In addition to the hefty salary, the POTUS also gets free housing via the White House, free transportation in limos and hotels, and health insurance that includes a medical staff available in the White House.
How Much Does the President Pay in Taxes?
There is no presidential exception, you'll have to pay taxes.
Donald Trump is notoriously cagey, to put it mildly, about releasing information on his tax returns, but we know from the tax releases of former Presidents that this is true. The 2015 joint tax return of Barack and Michelle Obama had them paying $81,472 in federal taxes that year.
Presidential Salary History
Several times since the position was created, the official salary of the president, dictated by the U.S. government, has been changed.
When the nation's first President, George Washington, was elected in 1789, the yearly Presidential salary was $25,000. With inflation, that would be equivalent to about $680,000 today. For nearly a full century, that salary went unchanged, but in 1873 it was doubled and increased to $50,000 - equivalent to over $1 million today.
This salary increase became effective midway through Ulysses S. Grant's tenure as U.S. President and lasted through Theodore Roosevelt's tenure. In 1909, when Roosevelt left office and William Howard Taft entered, it increased another $25,000 up to $75,000 a year (over $2 million today given inflation). In 1949, as Harry Truman's second term as president began, it was upped to $100,000 a year (about $1.06 million today).
This was doubled 20 years later in 1969, in time for Richard Nixon to take advantage, to $200,000 ($1.37 million today).
Those are much larger numbers, when inflation is taken into account, than what the president makes today. The most recent increase to $400,000 began in 2001 - the equivalent of a little over $569,000 today.
Presidential Pension: Do Presidents Get Paid for Life?
Do former presidents still get compensation of some kind after their tenure ends? Yes, once a sitting president completes his final term and leaves office he receives a yearly pension, as well as additional expenses meant for things like salaries and benefits for staffers. The yearly pension for former presidents matches the salary of Cabinet Securities (Executive Level I). In 2015, that number was $205,700 according to a report from the Congressional Research Service.
Former presidents are also free to make money in other ways - and they very much do. In under two years as a former president, Barack Obama has made an impressive amount of money in speeches alone. In 2017 he could make as much as $400,000 for a single speech, making him one of the top 10 highest-paid public speakers. Former Presidents Bill Clinton and George W. Bush were also in the top 10. Turns out being a former president is way more lucrative than being the current president.
Obama, in particular, has been adept at finding multiple types of post-presidency work. He and Michelle signed a joint book deal with Penguin Random House Publishing in 2017 with a reported advance of around $65 million. This is in addition to the continuing income Obama makes from his popular pre-presidency book Dreams From My Father. In May of 2018, Netflix announced its own agreement with the Obamas to produce content like film and television series for the streaming service.
Bill Clinton and George W. Bush may not have received $65 million for their books, but they were still paid handsomely for their written efforts post-Presidency; Clinton received a $15 million advance for his 2004 autobiography My Life, while Bush reportedly got a $7 million advance for 2010's Decision Points. Continuing book sales and public speaking events have allowed each to comfortably stay wealthy and even grow their net worth since leaving office. Jimmy Carter has written 14 books since he left the office, making him enough money to comfortably travel the world for humanitarian efforts.
Vice President Salary
Certainly the vice president isn't making as much as the president, but it's still an exceptionally comfortable living - not to mention one that just got a raise. According to the Chief Human Capital Officers Council, in January of 2018, the VP's salary was increased to $243,500. This is a 5.5% increase from the $230,700 it had been for several years prior.