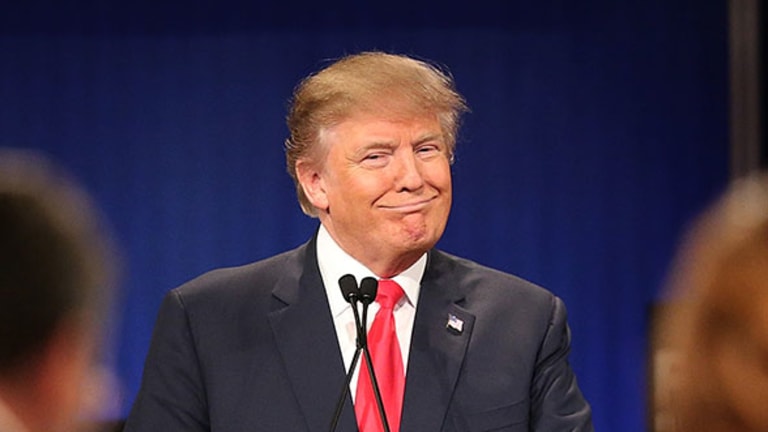 How Donald Trump Wins the White House
It's all over but the shouting. Only one question remains. Where will the president-elect be on Jan. 20 2017?
After Donald Trump's rousing victory in last week's Fox News Republican debate, a triumph he secured without even showing up, the race for the GOP presidential nomination is basically over. In Thursday night's performance, Trump easily vanquished his last serious rival: That big loser, whatever his name is.
In the process, the billionaire developer has defied critics within his own party, chased from the race candidates who seemed to enjoy greater advantages and scrambled conventional political thinking. He has been so successful that Republican leaders who once discounted his chances are now rooting for him to succeed, lest Texas Senator Ted Cruz -- almost universally reviled among the GOP's Beltway contingent -- emerge as the party's standard-bearer. The theory is that Trump will do less damage in down-ballot contests than the ideologically astringent Cruz because The Donald secretes winning like a pheromone. 
Trump victories, however narrow, in Iowa and New Hampshire will be followed by a relentless march through the remaining primaries and caucuses all the way to the podium at the Quicken Loans Arena in Cleveland on July 21. Assuming that the polls on the Democratic side are correct, Hillary Clinton will accept her party's nomination a week later in Philadelphia. (Trump will portray Clinton as NOT a winner. She will get the nomination by virtue of having collected more votes than her rivals. That's a loser's way of winning.)
First, expect some drama about whether Trump will actually travel to Cleveland. The convention, after all, is the Republican National Committee's show. Party officials want their nominee on stage -- and that means leverage for Trump and opportunity to make a deal.
Mitt Romney's acceptance speech in 2012 drew 30.3 million viewers -- a lot of folks, but still a significant decline from the 2008 speech delivered by Sarah Palin's loser running mate. Of course, Romney was hurt by competition from Honey Boo-Boo. The RNC will desperately want better ratings and Trump is a ratings machine. He could easily beat Romney's number by holding his own rally in a more glamorous venue --  say, the Waffle House in Owasso, Okla. The GOP is going to have to make it worth Trump's while to attend his coronation, perhaps by agreeing to stage an actual coronation. For both Donald and Melania. And possibly Charlotte. That's the kind of deal a President Donald Trump would get.
Wherever he ends up, Trump will no doubt deliver a wide-ranging stemwinder, peppered with ad-libbed insults hurled at all those who have dared to criticize the great man or doubt his invulnerability.
Substantively (let's define that term broadly), the speech will hit the same policies (again, using the official broad definition here) that formed the core of his primary campaign. Build a wall along the Mexican border that Mexico will pay for. Deport 11 million undocumented immigrants immediately if not sooner. We are led by stupid people. Hillary Clinton has been a disaster. Donald Trump is a winner who will make America Great Again by winning with wins.
But we can also expect more proscriptions aimed at independent voters than Trump has deployed over the course of the fall and winter. He will likely offer a robust defense of Social Security and Medicare. He'll emphasize his experience as a builder capable of erecting not just foreign-financed fences but the biggest, most spectacular roads, bridges and golf courses anyone has ever seen. And he'll promise to shoot your neighbor.
That speech will be repeated throughout the campaign. To the extent that Trump buys broadcast advertising, the spots will hit on the same themes, though the insults will be more polished and nuanced -- unless the polls turn ugly. In that case, the advertising will follow suit. For the most part, though, Trump will do his jabbing and counterpunching on Twitter and in interviews with reporters who will compete for the coveted title of "Not a Third-Rate Journalist." Receiving that honor will yield access to the campaign and the candidate -- perquisites not to be lightly tossed aside by posing questions about bankruptcy, misogyny or dalliances with autocracy.
The main events, though, will be the Clinton-Trump debates. Or, as Trump will insist, The Donald Trump Debate Show, Featuring Donald Trump. The debates would each tackle a critical question driving the campaign -- starting, of course, with "Will Donald Trump Show Up?" Subsequent encounters will explore such difficult issues as "Will Donald Trump Walk Out?" "Which Moderator is Donald Trump Most Angry With?" and finally "What Will it Take to Convince Donald Trump to Show Up for One of These Things?"
Each successive debate will produce a bounce in the polls that builds on each previous bounce. By the last week in October, Trump will have completely erased Clinton's lead and negotiations will begin over the terms of Trump's inauguration.
First of all -- the Capitol steps? In January? I don't think so. We're talking Mar-a-Lago or Trump says "bye-bye."